Last April, four men tired to gun down Thai editor Amnat Khunyosying in Chaing Mai. The journalist wants to know why.

Bangkok, August 23, 2000 — Last April 18, Thai journalist Amnat Khunyosying was climbing into his pick-up truck near a friend's house in Chiang Mai, where he is editor and publisher of the daily Phak Nua. Four men in a blue Toyota sedan pulled up alongside him.
When Amnat saw the 9mm automatic pistol pointed through the car's window at his head, he had only an instant to twist away from the shot. The bullet pierced his left side, tearing through his abdomen. Friends ran to his aid while the attackers fled the scene.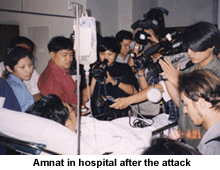 Amnat believes that whoever ordered the attack was angered by Phak Nua's relentless coverage of political corruption and organized crime in Chiang Mai, northern Thailand's largest city. One typical exposé described how a leading politician had used his position to steer public-works contracts to a sand-and-gravel business that he owned. And just two weeks before the shooting, the hot-tempered Amnat got into a public argument with a politician at a press conference held by the powerful Chiang Mai city council, a body his paper has criticized fiercely in recent years.
Within days of the shooting, police had made four arrests, all of them soldiers based in Chiang Mai. Arrest warrants are outstanding for two other men with known links to a Chiang Mai political boss.

The four suspects have now been charged in the attack; their trial is scheduled for late August in Chiang Mai. Amnat hopes that these four men will eventually lead authorities to whoever ordered him killed. But he is not relying entirely on the official investigation, having hired his own lawyer to shadow the government prosecutor. "I am going after this," he says. "I want to know what really happened."
Amnat spent fifteen days in hospital after the attack, undergoing major surgery to repair severe internal damage caused by the bullet. During his stay, he received some 1000 visits from readers and supporters. After a long convalescence at home, he recently returned to Phak Nua on a part-time basis.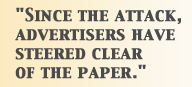 Since the attack, Amnat says, advertisers have steered clear of the ten-year-old paper, perhaps because they fear retaliation from his enemies. Phak Nua's staff of 20 reporters shrank to a half-dozen as journalists quit, fearing for their own lives. Amnat and his wife continue to receive anonymous telephone death threats at home. He travels with police bodyguards on the rare occasions when he goes out in public. And he can now only afford to publish every other day.
Police investigators believe Amnat was under surveillance for several days before the attack. "We know that they were watching me, watching the house," Amnat says. "My family saw a suspicious car drive by several times on the day of the shooting, but we didn't know then what was going on."
The four attackers left a clear trail for police to follow after the shooting, making arrests relatively easy. Yet the local prosecutor in Chiang Mai refused to file charges against them for several weeks.
As a July 14 deadline loomed for filing formal charges, after which the men would have to be released under Thai law, Amnat grew frustrated. On the afternoon of July 14, he took a group of some 20 television and newspaper reporters to the prosecutor's office. With cameras rolling, an impromptu press conference unfolded.
The journalists asked the prosecutor why he had not yet pressed charges, despite the urgings of local police. Finally, just before five p.m., the prosecutor relented and signed the charges. Bail was cancelled, and a trial date was set.
Three Bangkok television stations aired stories about Amnat that day. Interestingly, however, Chiang Mai-based reporters for national dailies filed nothing on the day's dramatic events. "Maybe they are afraid," Amnat says.
He knows how difficult it can be to ask colleagues with families and responsibilities to face mortal danger for the sake of a story. "I guess we are trapped between two sides," he says. One says, 'fight or die.' The other says, 'Don't fight or you will die.' I want to fight."
A. Lin Neumann is CPJ's Asia program consultant, based in Bangkok. He will cover the trial of Amnat's attackers for the CPJ Web site.