Why Colombia's top investigative journalist fled his country
Washington, D.C., June 15, 2000 — On May 24, Colombian journalist Ignacio Gómez, known as "Nacho" to his friends, walked out of his home in Bogotá and tried to hail a taxi. He didn't have to wait long: an eager driver saw him, swerved through traffic, and screeched to a halt with one tire up on the curb.
Gómez approached the taxi. While opening the door, he glanced in the driver's side mirror and noticed a man approaching him from behind. Gómez thought the man might have hailed the taxi first, so he politely held the door open and invited him to get in.
The man froze, and then stared menacingly at Gómez for a few moments without moving. At that point, Gómez realized that the man's face matched a composite sketch that an artist had drawn from descriptions provided to police by survivors of a 1997 massacre in the village of Mapiripán, where right-wing paramilitaries killed 49 people with the help of Colombian army forces.
Gómez abandoned the cab and crossed the street through traffic while he dialed the police on his cell phone.
The 38-year-old Gómez is among the most respected journalists in Colombia; he grew up in the slums of Bogotá, and now heads the investigative unit of the Bogotá daily El Espectador. In February of this year, Gómez reported that the Mapiripán massacre had been carried out by paramilitaries under the command of the notorious Carlos Castaño, leader of the United Self-Defense Forces of Colombia (AUC).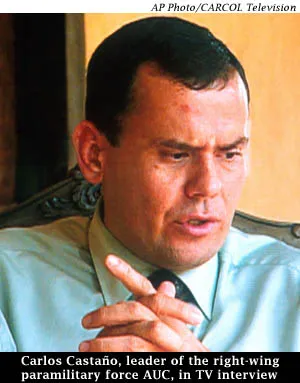 Reporting on any aspect of Colombia's escalating civil war is a dangerous business; 36 journalists have been murdered there in the last decade, more than any other country in Latin America. Covering the AUC, however, is Colombia's most dangerous assignment, because the organization is simultaneously ruthless and extremely sensitive about its public image.
The violent, right-wing militant organization, which has close ties to the Colombian military, has been linked to hundreds of human-rights violations in Colombia. AUC leader Carlos Castaño appears to have launched a two-prong approach to improve his group's image: he has recently granted a series of television interviews in Colombia while sending a blizzard of communiqués to the print media. Meanwhile, those who dare to criticize the AUC know they could face violent reprisal. The August, 1999 murder of Jaime Garzón, Colombia's most popular political satirist, has been linked to the AUC, as have at least four other murders of journalists in the last few years. Journalists covering the AUC have been attacked, threatened, and forced into exile. El Espectador columnist Alfredo Molano left for Spain in January 1999 after Castaño faxed a letter to the newspaper which described the journalist as "an enemy of the nation."

Despite the clear risks, Nacho Gómez and his colleagues at El Espectador continued to report aggressively on the AUC. In his story on the Mapiripán massacre, Gómez reported that the AUC acted in concert with Colombian Army forces under the command of a Col. Lino Sánchez. Not long after that story broke, Gómez began receiving threatening letters. By late April, he had received 56 letters. They were signed by various individuals who all identified themselves as military personnel, and they were strikingly similar in tone and phrasing. Police later determined that all 56 letters had been generated by the same three computer printers.
Some of the AUC paramilitaries implicated in the Mapiripán massacre were convicted last year for participating in a 1998 massacre in the town of Barrancabermeja. They were subsequently sentenced to serve prison terms in La Modelo. Although La Modelo is a maximum security prison, many prisoners have been killed inside its walls.
The casualties include a former naval intelligence operative, Saulo Segura, who was jailed for testifying against senior naval commanders about their alleged connection to military death squads. In December 1995, Segura was killed inside La Modelo by an unknown man who left the murder weapon, a handgun, next to his corpse.
It was another brave reporter at El Espectador, Jineth Bedoya, who began to pursue the story about the abuses being committed by members of the AUC who were being held in La Modelo prison. In April, tensions in the prison flared, as AUC paramilitary inmates clashed with leftist inmates and common criminals. During the riots, AUC leaders ordered several summary executions of fellow prisoners. Bedoya broke this story for El Espectador.
Over the next few weeks, Colombian military officials with reputed AUC links began spreading rumors that the El Espectador journalists were agents of Colombia's Marxist guerrilla movement. Meanwhile, anonymous sources warned Bedoya that she had been placed on an AUC death list.
On May 24, Gómez checked his office mailbox to find a small envelope with his name stenciled on the front. Inside was a photocopy of Bedoya's La Modelo exposé. Bedoya and her editor at El Espectador, Jorge Cardona, received identical notes.
About an hour and a half later, Bedoya's cell phone rang. The caller identified himself as "El Panadero" ("The Baker"), who is reputed to be the ringleader of the AUC paramilitaries held in La Modelo. "The Baker" denied that he was planning to kill Bedoya, and offered to meet her inside La Modelo for an interview the next day, May 25, at 10 a.m.
Although "The Baker" had instructed Bedoya to come alone, she arrived at La Modelo with Cardona and a photographer. At the entrance, a guard announced that the journalists were expected and that the interview had been approved. He encouraged them to hurry, as prison authorities were waiting to process them. At this moment, the photographer had left to buy a soda, so Cardona left Bedoya and went to find him.
When Cardona and the photographer returned, Bedoya had disappeared. Neither the guards nor anyone else there admitted to having seen anything.
Cardona thought Bedoya, always an independent-minded journalist, had decided to enter the prison alone. But at 5:00 p.m., when all visitors are required to leave the prison, she had still not reappeared.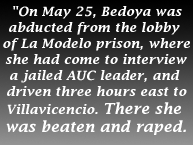 By then, Cardona had called the Colombian attorney general's director of investigations, who began investigating the prison logbooks. At the same time, he put an electronic trace on Bedoya's cell phone.
At 6:30 p.m., investigators picked up a signal from the cell phone. It came from the city of Villavicencio, a known paramilitary stronghold that is several hours away from Bogotá by road. While the investigators were still organizing a search party, a taxi driver saw Bedoya crawling out of a roadside garbage dump.
Later, Bedoya told police that right after her editor left to find the photographer, two men approached her in the prison lobby. One pressed a gun against her side, while the other apparently put a drug-soaked cloth over her face causing Bedoya to pass out.
Floating in and out of consciousness, Bedoya was taken to a house across the street from the prison. The kidnappers bound her hands and feet, taped her mouth, and blindfolded her eyes. Then they drove her to Villavicencio, where she was savagely beaten and raped. During the assault, the men told her in graphic detail about all the other journalists who they planned to kill, including her colleague Gómez.
Bedoya's assailants did not explain whey they chose to free her. A week later, Gómez fled to the United States.
Frank Smyth is CPJ's Washington representative