Charles Taylor, the former warlord who rules Liberia, has little tolerance for "anti-patriotic" media
New York, May 16, 2000 — When Sierra Leonean rebel forces took 400 U.N. peacekeepers hostage on May 3, Liberian president and former warlord Charles Taylor became an unlikely peace broker. That same day, Liberian police violently dispersed members of the Liberian Press Union (PUL), who had gathered in front of their organization's Monrovia office to celebrate World Press Freedom Day.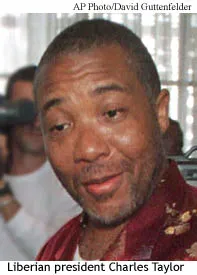 Asked to explain his men's action, Deputy Police Director Sas Gbollie said he had been given "strict instructions by the Justice Ministry to stop all outdoor events in commemoration of World Press Freedom Day." He also quoted "intelligence reports" alleging that certain individuals had planned to use the festivities "to cause chaos in Monrovia."
Invoking imminent popular unrest to justify the harassment of journalists is common practice in Liberia, a country that is still recovering from an eight-year, ethnically divisive civil war. Taylor often invokes the specter of "agents provocateurs" who allegedly use local independent media to create security problems in the country. His administration takes this as a warrant to conduct punitive raids against outspoken journalists and news outlets.
On March 14, the independent Star Radio station broadcast an item about the U.S. State Department's human rights report on Liberia. The next day, without warning, police stormed Star Radio's Monrovia studios, interrupted its broadcast and Internet news service, and manhandled its staff. Meanwhile, police invaded and sealed off the compound of the Catholic Church-owned station Radio Veritas, which the government seems to have targeted to forestall accusations that they had singled out Star Radio. A statement from President Taylor's office cited "rising incidence of inflammatory comments and programs filling the airwaves" as grounds for the raid.
In response, the local independent press launched a week-long news blackout on government activities, while the Press Union of Liberia described the closure of the two stations as "outrageous, most unfortunate, and disturbing." Authorities then threatened to punish "dissident newspapers" via tax audits, revoking press credentials, and withholding government advertising.
Because government ads are an important source of revenue for Liberian newspapers, many of which hover on the brink of bankruptcy, the latter threat tends to have a particularly chilling effect on objective news gathering. According to Abdullah Dukuly, associate editor at the independent Monrovia daily The News, Liberian journalists "have been facing numerous threats from government, to the extent that the media has adopted too much self-censorship." Dukuly also noted that local papers "are getting empty," and that "there are no more critical editorials and stories worth the reader's money."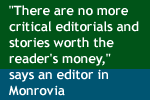 President Taylor, a former rebel leader with his own record of atrocities, seems unfazed by his reputation as an enemy of independent journalism. On March 22, the ban on Radio Veritas was lifted. On March 23, The News reported the station's reinstatement in an article headlined, "Amidst Mounting Tension, Government Reverses Decision."
President Taylor quickly called a press conference to make it clear that Star Radio would not come on the air again, and that Radio Veritas had only been reinstated because its directors had agreed "to ensure that all tenets of professionalism are adhered to." He also lashed out at The News for being "anti-patriotic" and bent on "abusing freedom of the press, creating hatred in the society and preventing investors from coming to the country."
Government officials have intensified their verbal assaults on the press in recent months, usually justifying them as constitutionally-protected free speech. One official accused the entire independent media of being paid by a Western government to write "all kinds of lies" against the Liberian government. And President Taylor himself has repeatedly attacked what he describes as an international "cyber-war" against Liberia, more than once ordering his secret services to screen e-mail coming in and out of the country.
With the ban on Star Radio in its third consecutive month, Liberian broadcasting is dominated by two stations, KISS FM and Radio Liberia International. Taylor owns both; neither devotes much airtime to criticizing the government. Three other stations, the low-watt DC FM, owned by a private Monrovia corporation, and two religious stations, Veritas and the Baptist Church-owned ELWA, have limited editorial scope and broadcasting range. Due to Liberia's dire economic straits, private stations often have difficulty buying expensive fuel to run their generators. As a result, most limit their broadcasting hours and periodically cease operation.
Until the Liberian government withdrew its short-wave frequency in October 1998, Star Radio was the only private broadcaster that could reach all corners of Liberia (Taylor's Radio Liberia International is the only other station with similar range). Launched in July 1997 as a not-for-profit news outlet, Star Radio is funded in part by the Swiss-based Fondation Hirondelle, which backs similar projects in Kosovo, the Central African Republic and Rwanda.
"Illiteracy is very high in Liberia, and people have come to identify with Star Radio as an independent source of news, which is brought to them in 17 languages: English, French, Liberian English and 14 local vernaculars," says Michel Kuenzli, who oversees Fondation Hirondelle's Africa activities. "Our aim is to help Liberians rebuild their country."
Kuenzli wants Liberian authorities to meet with Star Radio's management and board of directors and find a consensus that would allow the station back on the airwaves. "If the ban on Star Radio is maintained, you'll soon have some 40 Liberian families without any means of subsistence," said Kuenzli, emphasizing that Star Radio employs an all-Liberian staff. "For now, Hirondelle still manages to pay them enough money to survive. But we are quickly running out of resources."
Yves Sorokobi is CPJ's Africa Program Coordinator