On World Press Freedom Day
ENEMIES OF THE PRESS 1999
ENEMIES OF THE PRESS 1998
ENEMIES OF THE PRESS 1997
ENEMIES OF THE PRESS 1996
New York, May 3, 2000 —The Committee to Protect Journalists (CPJ) released its annual list of the Ten Worst Enemies of the Press today, calling to account those whose actions make them personally responsible for the abysmal press conditions of their countries. Sierra Leone's Foday Sankoh, Iran's Ayatollah Ali Khamenei and Yugoslavia's Slobodan Milosevic head this year's list.

Sankoh is leader of the Revolutionary United Front (RUF) a rebel movement that targeted journalists for murder during his country's civil war. Khamenei, as supreme leader of Iran, has fostered an anti-reform climate that culminated in the dramatic closings of 16 publications over the past week. Milosevic returns to the list for a second year, as he continues his concerted campaign to destroy his country's independent media.

CPJ also placed Kazakhstan president Nursultan Nazarbayev and Angolan president José Eduardo dos Santos among the ranks of the world's worst press enemies. They join Alberto K. Fujimori of Peru, and Mahathir Mohamad of Malaysia, who are each listed for a second year, as well as repeat offenders President Zine al-Abdine Ben Ali of Tunisia (three years), President Jiang Zemin of China (four years) and President Fidel Castro of Cuba (six years).

"These enemies of the press use methods that range from outright torture and murder to more subtle techniques aimed at keeping uncomfortable truths from being told," said Ann Cooper, CPJ's executive director. "In Yugoslavia and Iran, threats are so severe that independent media are in grave danger of becoming extinct in the near future. Elsewhere, in China and Cuba, opposition voices have used new technology to circumvent restrictions, prompting new reprisals from leaders determined to control information."
ENEMIES OF THE PRESS 2000
Foday Sankoh, leader of the Revolutionary United Front, Sierra Leone.
Sankoh's rebel RUF force, along with allies from the Armed Forces Revolutionary Council (AFRC,) targeted journalists as "enemies" during the civil strife that ravaged Sierra Leone for eight years. During a bloody three-week occupation of the capital, Freetown, in January 1999, rebel forces executed at least eight journalists, some together with their families, before being ousted by the Nigerian-led West African peacekeeping force. In all, ten journalists were killed in Sierra Leone in 1999 because of their work. Despite his faction's long record of human-rights violations and atrocities, Sankoh was made part of the government in last year's UN-brokered peace agreement. As chairman of the Management of Strategic Mineral Resources Committee, he answers only to President Ahmad Tejan Kabbah. Chances are slim that Sankoh and his organization will ever face charges for their deadly campaign against journalists.
Ayatollah Ali Khamenei, supreme leader of Iran.
In Iran's theocracy, where Khamenei exercises tremendous influence over key institutions, particularly the judiciary, the hard-line ruler has been presiding over the relentless repression of a burgeoning pro-reform press. In the past two years, courts have tried and imprisoned outspoken journalists at a dizzying pace. This April, following an inflammatory speech by Khamenei, Iran's judiciary banned 16 publications in less than a week, decimating the reformist press. In his speech, Khamenei charged: "[T]here are newspapers whose only aim is to create tension and make people cynical of the regime… It seems that 10 to 15 newspapers are guided from one center; they write similar headlines … They insult official institutions…" Within days, these publications were banned.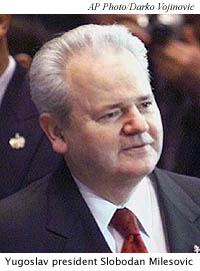 Slobodan Milosevic, president of Yugoslavia.
Authorities intensified their crackdown on the independent Serb media with an almost daily barrage of attacks on press freedoms in the first few months of 2000. An unprecedented wave of attacks on newspapers and broadcast stations throughout the country followed vitriolic remarks against the press made by Serbian deputy prime minister Vojislav Seselj in February. Radio and television stations were closed and equipment destroyed or damaged. Newsrooms were raided, and newspaper publishers prosecuted and fined huge sums. Several independent and opposition media organizations were shut down under Serbia's notorious Information Law. Many more face closure as a result of Milosevic's ongoing effort to silence all opposition voices.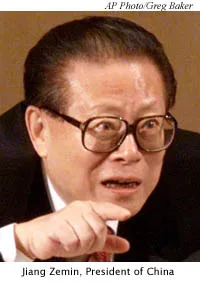 Jiang Zemin, president of China.

China's abysmal press freedom record is getting worse. The government maintains total control over all domestic media and disregards international norms of free expression. At the start of the year, 18 Chinese journalists were in jail, six of them convicted in 1999 because of their use of the Internet. Now, even as Jiang edges China toward fuller participation in the global high-tech economy, he continues to use his country's secret police to monitor the Internet. Under new regulations issued this year, anyone found guilty of transmitting ill-defined "state secrets" online can be jailed.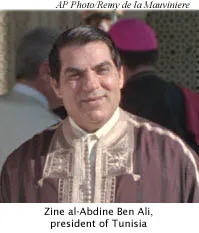 Zine al-Abdine Ben Ali, president of Tunisia.
During 12 years of authoritarian rule, Ben Ali has brought Tunisia's press to its knees with newspaper closures, the prosecution of reporters, economic pressures against publications, and intimidation by security forces. In recent years, the few journalists who dared to defy authorities have been subjected to swift retribution: they have been dismissed from their jobs and denied accreditation; they have been put under police surveillance, had their telephone lines cut, or been prevented from leaving the country. Meanwhile, Ben Ali's propaganda machine shamelessly attempts to portray the strongman as a brave defender of democracy.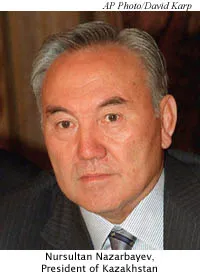 Nursultan Nazarbayev, president of Kazakhstan.
Although Nazarbayev promised press freedom when his country became independent in 1991, the president's stranglehold on information is now reminiscent of the days of Soviet rule. During Nazarbayev's 1999 re-election campaign, government authorities brought criminal cases against several independent media outlets, charging them with "freedom of speech abuses." After the election, private newspapers were fined on defamation charges, subjected to tax audits, and shut down. The opposition paper 21st Century, which was firebombed in September 1998, has now been forced underground, along with other papers unable to publish because of government control over printing presses. Nazarbayev claims credit for "privatizing" formerly state-run media, but fails to mention that most privatized media were bought covertly by his close associates, including his daughter and son-in-law.
Fidel Castro, president of Cuba.
Castro's government continues its attacks on independent journalism by interrogating and detaining reporters, monitoring and interrupting their telephone calls, refusing to let them travel freely, and routinely putting them under house arrest to prevent coverage of political or religious events. After the Ibero-American Summit in Havana last November, when independent reporters received widespread international attention, Castro's government clamped down even more harshly against local journalists, who are now fleeing Cuba in unprecedented numbers. Four independent journalists remain behind bars, convicted of such vaguely-defined crimes as "dangerousness" for reporting that is critical of the Cuban system.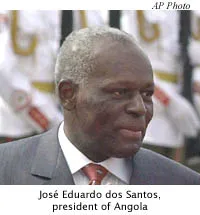 José Eduardo dos Santos, president of Angola.
Press freedom is virtually non-existent in war-torn Angola, where a crackdown on independent journalism goes hand-in-hand with government-sponsored disinformation campaigns. Under the country's notorious Law 7/78, dos Santos has effectively made any public mention of the UNITA rebel organization, or of the war that has now gone on for 25 years, a crime against state security. Self-censorship is common, and the few journalists who dare call dos Santos a dictator are systematically harassed, both legally and physically. Those arrested for "press crimes" may be detained on no further evidence than "suspicion," and then tried in secrecy. Journalists are often beaten by pro-government thugs or sentenced to prison and hit with enormous fines for defaming government officials.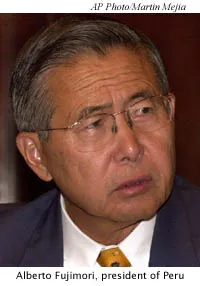 Alberto K. Fujimori, president of Peru.
Fujimori has thrown all the resources at his disposal, including his near-total control of the legislative and judicial branches of government, into decimating what was, just five years ago, a thriving and vigorous press. His arsenal includes surveillance, smear tactics, and trumped-up charges against journalists and publications. Fujimori's systematic campaign to destroy independent television journalism gave his re-election bid an overwhelming amount of broadcast coverage, while tabloids and a Web site controlled by people close to the president's inner circle featured character assassinations of journalists who reported critically on the president.
Mahathir Mohamad, prime minister of Malaysia.
Mahathir has governed Malaysia for nearly two decades, owing his longevity in great measure to his control over the media. This past year he tightened the screws on his country's small opposition press, following an election in which the opposition made significant gains. Five newspapers were threatened with closure. The most popular of these, Harakah, was restricted to publishing only twice monthly, while its editor and publisher were arrested on sedition charges. With all major media owned or controlled by Mahathir's ruling coalition, the Internet is increasingly used as an alternative news source. And even as Mahathir vowed not to censor the Internet, one of his deputy ministers warned that "the government may have to be given the right to enforce regulations on the contents of the Internet."