Cartoon by Dogan Guzel (Published in Ozgur Ulke on December 11, 1994)
On May 17, 1996, an Istanbul criminal court convicted Güzel, a cartoonist with the Kurdish nationalist daily Özgür Ülke,under Article 160 of the Turkish Penal Code (insulting the Turkish Republic). He was sentenced to 10 months in prison.
The basis of the conviction was a Güzel cartoon that ran in the December 11, 1994 edition of Özgür Ülke,.The cartoon depicts a group of men in a tea house complaining that some customers are being served high quality smuggled tea while others drink "inferior Turkish Republic tea." One daring patron even complains that the police are being served higher quality tea than the others.
The case awaits review by the Court of Appeals. Güzel is already serving a 40-month sentence for other cartoons that were published in the now-defunct daily Özgür Ülke, in 1993. He was jailed on July 31, 1998, following the Court of Appeals's ratification of four separate convictions under Article 159 of the Penal Code (insulting state institutions).
---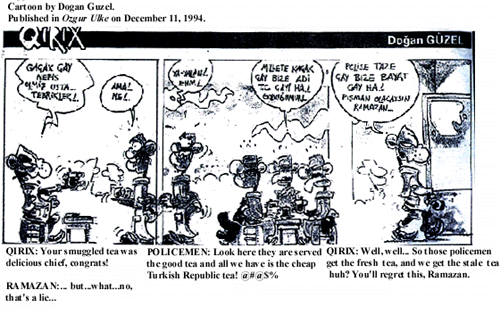 ---
Back to the introduction.