Palestinian journalist Taher Shriteh has been a virtual prisoner in Gaza since 1995. In this exclusive essay, he describes his struggle to report the news.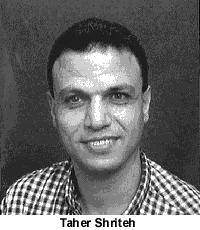 Gaza, October 27, 1999 – In 1985, I was a 24 year-old Palestinian with few prospects. Seeking a better life, I obtained a tourist visa to the USA. I thought my life had turned around when I was accepted for graduate studies in the mechanical engineering department of the University of Wisconsin. But I couldn't afford the tuition, and so my studies lasted less than a year.
Soon after returning home from the US in 1986, I happened to meet Paul Taylor, a senior Reuters correspondent in Jerusalem (in those days I was often in Jerusalem visiting my fiancée, Zahra.) I asked Taylor why the foreign media did not write about the nearly one million Palestinians in Gaza. He replied that Reuters and other foreign news organizations didn't have anybody who was qualified to cover the area. I told him I was ready to help. That's how I started working as a journalist in Gaza.
A few months later, on December 9, 1987, the Intifada erupted. I was one of the few journalists in Gaza who could cover the daily violence from the inside.
My first arrest
On the second day of the Intifada, Col. Yossi Zief, the Israeli military commander of Gaza, saw an Arab-looking man standing with Bob Simon of CBS News and his crew, translating for Simon what
Palestinians had written on the walls of Omar
Al Mukhtar, Gaza's main commercial street.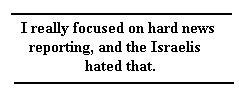 "Where are you from?" the commander asked.
"From Gaza, " I said.
"What are you doing here?"
"I'm a journalist working for CBS," I replied.
The commander said, "What? A journalist from Gaza? " He was shocked to meet a Palestinian journalist from Gaza. For more than two decades, after all, the Israeli military authorities had succeeded in imposing a virtual news blackout on Gaza.
He ordered my arrest right away. I spent two days in solitary confinement in an Israeli military base in Gaza. I was beaten and denied access to a toilet. Meanwhile, Simon contacted the Israeli Defense Ministry and tried to get me out of prison.
That was the first in a long series of arrests that began when the Israelis discovered this new phenomenon, a Palestinian journalist who lived in Gaza.
[Click for a complete account of Shriteh's arrests]
The Gaza beat
From 1988 onward I worked as a freelance reporter with various Western news media including The New York Times, the BBC, Reuters and CBS News. I was often in danger, reporting from the middle of clashes between stone-throwing Palestinian protesters and the Israeli troops, who used tear gas and sometimes live ammunition. Israeli troops aimed at me twice, but luckily I survived. Once, in 1992, a bullet penetrated my CBS Hi8 video camera while I was videotaping. On another occasion an Israeli soldier took aim at me, and I took cover in a gas station. The soldier laughed and drove away.
In 1991, during the Gulf War, the Shin Bet (Israeli secret service) arrested me and held me for 38 days. Most of the time I was in solitary confinement. The one by one-and-a-half yard cell was windowless, wet and cold. There were no blankets. It was January and I could not sleep in the cold. I could only use the toilet once a day, when the Shin Bet officer allowed me to.
Sometimes, I was forced to sit on a baby chair with my hands and my feet cuffed and my head covered by a sack made of thick fabric. I was isolated from the outside world for 26 consecutive days. I lost track of the time and the date. I also lost 28 pounds. The Shin Bet interrogators kept asking me to disclose my news sources. They wanted to tell my employers that I was an activist, not a journalist, so they kept pressuring me to admit that I was a member or supporter of a Palestinian political group. Any group would do.
My sins
After the Committee to Protect Journalists, the New York Times, CBS and Reuters put pressure on the Israeli government to release me on bail, Shin Bet fabricated four charges against me:
1. Possessing a fax machine.

2. Using the fax machine

3. Writing a book without a license.

4. Failing to report information about Palestinian activists to the Israelis.
Later, the Israelis dropped the charges and refunded the bail money that the New York Times,CBS, and Reuters had paid on my behalf.
Despite this harassment, I managed to cover every major story in Gaza from the Intifada onward. I won the confidence of all Palestinian activists. Moderate groups, radical groups, and ordinary Palestinians would talk to me because they trusted me to cover the news in a professional and objective manner. My office really focused on hard news reporting, and the Israelis hated that.
In 1992, the Israelis put me in a bus with 415 Hamas and Islamic Jihad members who were being deported to Lebanon. I was handcuffed, my legs were chained together, and my head was covered with a cloth bag. But after pressure from CPJ and my overseas employers, I was returned to the prison in Gaza.
The Shin Bet officer in the prison told me that I had been expelled by mistake. But he was lying. He had seen me in the prison two days before my deportation, and he knew that I was about to be expelled. It was very clear that the Israelis were eager to get rid of me.
Life in a cage
Ever since the Palestinian Authority took over in 1994, the Israelis have only allowed me to visit the West Bank once. In March 1995 I was given permission to travel to the West Bank for half a day. Otherwise I've been stuck here: if there's no news in Gaza I have to sit at home doing nothing. I can no longer cover stories outside Gaza, for example in Jerusalem and in the West Bank, which is 18 times the size of Gaza.
It becomes very boring to be restricted to one small area. Also, my freelance career has suffered because it's difficult for me to stay in touch with foreign correspondents, most of whom are based in Jerusalem. My income has diminished year by year, and I have been forced to lay off my office staff in order to save expenses.
When my wife Zahra and I got married in 1987, we never anticipated that I would be unable to visit her family in Jerusalem. Nor did she think that she would need Israeli permission to remain in Gaza with me and our four children. Every two months she has to leave Gaza (without our children) to renew her permit.
According to the Oslo agreement, signed in September 1993, Palestinians who are not allowed to enter Israel still have the right to travel between Gaza and the West Bank. In August 1998, I hired an Israeli lawyer from Tel Aviv to sue the Prime Minister of Israel and the head of the Shin Bet for not allowing me to leave Gaza. I won the case. This gave me the right to travel overseas, but the ban on travel through Israel to the West Bank remained in place.
My four sisters all married Palestinians from the West Bank and Jerusalem. But even though it is only a one-hour drive from Gaza to the West Bank, I haven't seen my sisters and their families for more than five years. I can travel anywhere in the world, but I can't travel 28 miles to see my family.
Denied
This year, Israel and the Palestinian Authority finally agreed to open this corridor. I applied for a travel permit on October 12, 1999, which was the first day for submitting applications. I was very happy. Finally, I would be able to see my sisters, relatives, and friends in the West Bank and Jerusalem. I called everybody I knew in the West Bank to tell them I would be there soon.
On October 20 I went to pick up my safe passage permit. My name was listed under the refused. I was even barred from the police-escorted shuttle bus service set up for Palestinians who are considered security risks and are not allowed to enter Israel.
I'm 39 years old, and still I wonder when the Israelis will let me do my job like any other professional journalist. I have committed no crime against the state of Israel, and I pose no security threat. Why does Israel insist on punishing me?
---
Taher Shriteh: Chronology of Arrests
Shriteh, a Palestinian journalist from the Gaza Strip, is widely recognized as one of the most accomplished Palestinian journalists in the West Bank and Gaza. During his 12 years as a freelance reporter for The New York Times, CBS, Reuters, and the British Broadcasting Corporation, he has encountered harassment from both Palestinian and Israeli authorities, including physical attack, arrest, threats, and restrictions on his freedom of movement.
Since March 1995, Israel's General Security Services (also known as Shin Bet) has denied Shriteh permission to travel to Israel and the West Bank, effectively barring him from meeting with current and prospective employers, and from gathering news and information beyond Gaza. The apparent justification for the ban is Shriteh's reporting about the activities of the Islamic Resistance Movement (Hamas) in Gaza. Israeli authorities seem to have been particularly irritated by the fact that Shriteh has transmitted Hamas press releases to Western news agencies.
On May 5, 1998, Shriteh's attorney filed a petition with the Israeli High Court of Justice seeking to lift long-standing restrictions on his freedom. This petition was the first legal action of its kind to challenge the often arbitrary travel restrictions that Israel places on Palestinian journalists attempting to travel between Israel, the West Bank, and Gaza.
In August 1998, the court ruled that Shriteh should be allowed to travel internationally outside of Gaza. But he is still prohibited from traveling to Israel and the West Bank.
Over the past 12 years of reporting for major international newspapers and news agencies, Shriteh has developed a reputation for professionalism and objectivity. In March 1993, Shriteh received the U.S.-based National Press Club's Freedom of the Press award as recognition for his distinguished and courageous reporting.
Documented Cases Involving Taher Shriteh:
December 1, 1992 In the first week of December, soldiers fired a percussion grenade at Shriteh while he was filming violent clashes between Palestinians and soldiers in Gaza City's Palestine Square. The grenade hit his leg and burned his trousers.

December 9, 1992 Shriteh received a telephone call from an anonymous source who began to tell him about clashes that had occurred that day. The call was interrupted when a man broke into the line and identified himself as a Shin Bet officer. Shriteh hung up the phone.

October 1, 1992 At Shin Bet's request, Israeli soldiers confiscated Shriteh's magnetic ID card at the Erez checkpoint between the Gaza Strip and Israel. Palestinians must display this card in order to enter Israel; as a result, Shriteh was effectively banned from entering Israel.

December 14, 1992 Shriteh was arrested at his home in Gaza City during a wave of arrests that followed the kidnapping of an Israeli border guard by the Palestinian militant organization Islamic Jihad. On December 17 Shriteh was blindfolded and handcuffed, taken from Gaza Central Prison, put on a bus, and driven to the Lebanese border for deportation.

Before arriving at the border he was taken off the bus and put in a van where he was forced to lie on the floor while soldiers rested their boots on his body and kicked him whenever he tried to move. He was returned to Gaza Prison, placed in solitary confinement, and then released the next day. No charges were pressed against him.

June 1, 1992 Shriteh was filming violent clashes between soldiers and demonstrators in Gaza City's Sheikh Radwan neighborhood when soldiers began firing at him. He mounted his video camera on a tripod and set it to record automatically. An Army sniper fired at the camera and destroyed it.

February 7, 1993 Shriteh was detained along with three other journalists in Gaza City while filming youths who were throwing stones at Israeli soldiers. An Israeli officer ordered them to stop filming and leave. When they refused, the soldiers forced into a jeep and confiscated their video camera. While in the jeep, the officer filled out a form declaring the area a closed military zone. They were taken to the Ansar II detention center and released the next day.

July 16, 1993 Shriteh was filming an army patrol driving through Shati refugee camp when the last vehicle in the patrol stopped. An officer got out and aimed an M-16 rifle at Shriteh's head. Shriteh immediately dropped his video camera. As the officer continued to aim at him, Shriteh jumped behind a wall. The officer fired at his head and missed. Shriteh reports that the officer then laughed loudly, got back into his vehicle, and drove off.

July 17, 1993 Shriteh tried to film a group of soldiers surrounding a Palestinian lying on the ground in Gaza City's Sheikh Radwan neighborhood. Several soldiers and border guards pounced on Shriteh as soon as he took out his camera. Though he showed them his press card, the soldiers and border guards persisted in their attempts to remove his video camera. An officer then presented Shriteh with a paper declaring the area a closed military zone and ordered him to leave.

October 12, 1994 Palestinian police detained Shriteh and three other journalists for questioning about videotapes they had obtained that featured kidnapped Israeli soldier Nachson Waxman with his Hamas abductors. The journalists were released the next morning, then taken in again that afternoon and held at Gaza Central Prison. By October 17, all four had been released.

October 26, 1994 Palestinian police officers arrested Shriteh and his brother. They were held at police headquarters in Gaza City and were denied access to lawyers and family members. According to local sources, they were arrested for having received a faxed statement, signed by the Islamic Resistance Movement (Hamas) and entitled "An Open Letter to Bill Clinton."

April 10, 1995 Palestinian Military Intelligence agents detained Shriteh as he was filming a protest by Islamic Jihad activists. Shriteh was held for several hours and released that evening.

April 13, 1995 Early in the morning, 20 members of Force 17, Palestinian National Authority Chairman Arafat's personal guard unit, raided Shriteh's home. They did not find Shriteh and proceeded to beat his brothers Fakher, Amer, and Zaher. Fakher was beaten unconscious with rifle butts and had to be hospitalized. He remained unconscious for several hours.
[Return to Essay:"Unsafe Passage"]