When the Turkish government in March announced a plan to coordinate the release from prison of some of the many journalists who have been convicted under the country's infamous anti-terror law, Turkish journalists greeted the announcement with skepticism. Given Turkey's dismal press freedom record under the government of Prime Minister Necmettin Erbakan, and that of his predecessor, Tansu Ciller, the journalists' skepticism is well-founded: Turkey, according to information CPJ documented in January, holds 78 journalists in its prisons–more than any other country.

On March 27, the daily Hürriyet unveiled the government proposal, following an interview with State Minister Lütfü Esengül, who was assigned to oversee a "limited amnesty" of imprisoned journalists. According to Hürriyet, Esengül will serve as liaison between the foreign, justice, and interior ministries, which will work together to amend several controversial articles of the anti-terror law that have frequently been used to imprison journalists for their independent coverage of the government's 12-year conflict with Kurdish insurgents.

Prisoners would be released, according to Hürriyet, following the parliament's approval of the amended legislation–a process that could take many months, according to some journalists. It remains unclear what specific changes to the law would be proposed and how those changes might affect journalists now in prison.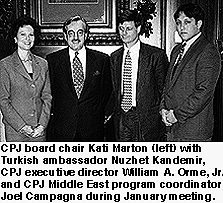 The announcement of the plan followed a series of verbal forays in March from European Union (EU) members who assailed Turkey's poor human rights record and expressed doubt that Turkey was prepared for EU membership. The criticism reached a climax on March 27, when German Foreign Minister Klaus Kinkel said in Ankara that "Turkey will not become a member of the European Union in the foreseeable future" because of its failing record on human rights, including its many shortcomings with regard to "freedom of opinion."
Since the March 27 announcement, officials–including Esengül–have not mentioned the initiative. "Whenever the European Union puts pressure on Turkey over human rights," observed one Turkish human rights activist, "[Foreign Minister] Tansu Ciller mentions a package of reforms and then nothing happens." A prominent Turkish journalist referred to the move simply as a "make-up effort for the European Union," which the government has little intention of enacting.
The decision to move forward on the proposed amnesty, however, may well be beyond the control of the current Welfare-True Path coalition government. The coalition's increasing political vulnerability has moved it toward collapse–a situation which casts serious doubt on its ability to take any decisive action in the near future.
CPJ intends to continue its efforts on behalf of imprisoned journalists in Turkey. During a one-hour meeting on Jan. 23 with Nuzhet Kandemir, the Turkish ambassador to the United States, a CPJ delegation discussed the journalists' plight and delivered an appeal urging the release of Ocak Isik Yurtçu, editor of Ozgür Gündem. Yurtçu, a winner of CPJ's 1996 International Press Freedom Award, is currently serving a 15-year prison sentence. The appeal was signed by more than 300 journalists, media executives, and human rights activists.