With his sights set firmly on integration with Russia, President Alexander Lukashenko has intensified his efforts to stifle the independent and opposition media in Belarus. In the days surrounding the April 2 signing in Moscow of the second treaty on integration with Russia in two years, Lukashenko reached new heights, even by his own standards, in his campaign to silence critics and intimidate j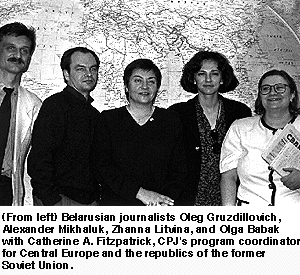 Four journalists from leading independent media outlets in Minsk offered a vivid account of Lukashenko's accelerating attacks on the media and the precarious working conditions for journalists in Belarus during an April 16 CPJ seminar, part of a week-long U.S. visit under CPJ's auspices during which the four met with colleagues in the U.S. media and briefed regional specialists, policymakers, and human rights groups.
Zhanna Litvina, president of the independent Belarusian Association of Journalists and head of the Minsk bureau of Radio Liberty, told the CPJ gathering that Lukashenko's tight control over the media was the linchpin of his authoritarian rule.
"We have a revival of the ideological control and brainwashing that prevailed in the past. Only this time it is not by the Communist Party, but the propaganda of one man and his followers. Once again, we have a monopoly on the truth … an effort to confuse and deceive the public," said Litvina, who served as editor in chief of Radio 101.2, Belarus' sole independent radio station until authorities closed it last August. The government said the radio's transmitter was "interfering with other communications."
Alexander Mikhalchuk, a deputy editor of the independent newspaper Belarusskaya gazeta, said government pressure on independent media builds up before national elections, the numerous plebescites aimed at trumping up support for Lukashenko's policies, and each new treaty with Russia. The press is an easy target, Mikhalchuk said, because journalists and media outlets have few legal protections, and Lukashenko frequently interprets the existing law in his political interest or flouts it entirely.
The Belarusian journalists agreed that most of Lukashenko's methods of intimidating reporters were familiar: detentions, arrests, beatings, and harassment of correspondents. Litvina said eight journalists were detained and several were beaten by riot police during a demonstration on April 2. Pavel Kornazytsky, a reporter for the independent weekly Zdravy smysl, was sentenced to 10 days in jail for covering an unauthorized rally. The other five reporters were released. Police detained 12 correspondents in Minsk on March 13 prior to a scheduled opposition rally.
New to Lukashenko's repressive repertoire, however, was his decision in late March to act on a long-standing threat to strip Alexander Stupnikov, a correspondent for Russia's independent NTV, of his accreditation and to expel him from Belarus. Belarusian officials accused Stupnikov, a legal resident of Belarus, of "distorted coverage" and of violating the press law. The move appeared to be directly linked to NTV's coverage of a banned youth rally in Minsk on March 23.
At the time of Stupnikov's expulsion, Lukashenko introduced new media restrictions, aimed particularly at foreign news media. After initially barring all foreign television companies in late March from using the state satellite transmission center, the administration created new rules for access to the center, requiring prior censorship of all broadcast materials and the presence of a censor during transmission. Belarusian authorities also said they would review the credentials of all foreign correspondents. Officials repeatedly threatened to withdraw the press credentials of foreign and local reporters if their work was deemed "harmful" to Belarusian state interests.
On March 18, the Council of Ministers issued a decree restricting the import and distribution of any printed material that could be construed as "a threat to national security, the rights and freedoms of individuals, health and morale of the population, and environment." The measure also banned the import of audiovisual or printing equipment, as well as other devices "that contain information" that could "represent a threat to the country's political and economic interests." Those restrictions further impede the work of Belarus' independent press, which, except for the newspaper Svaboda, have been forced to publish in neighboring Lithuania. All of these latest moves against the media were designed to restrict critical coverage of the April 2 treaty with Russia.
On April 3, Foreign Minister Ivan Antonovich criticized journalists and foreign news outlets for "leading an information war against Belarus" and blamed them for causing public unrest. He said the government could not guarantee their safety if they continued to cover unsanctioned public demonstrations. And he warned that new rules might be instituted to bar Belarusian citizens from working as correspondents for foreign news agencies–restrictions that would deprive a large number of Belarusian journalists, including Litvina and her colleague from the defunct Radio 101.2, Olga Babak, who now works for Radio Liberty and Polish Radio, of their chief source of livelihood.
President Lukashenko continues to ratchet up the vitriol of his anti-press rhetoric. In a speech on April 9 to collective farm directors in western Belarus, he blamed Russian television for inciting the clashes between protesters and riot police on April 2, then claimed that the "savagery" broadcast on Russian television that day never happened.
CPJ issued protest letters to Lukashenko on March 24 and 29, as well as on April 3, demanding an end to his harassment of the press. The committee also sent a letter on March 29 asking Russian President Boris Yeltsin to intervene on behalf of Russian journalists harassed by Belarusian authorities.
In their April meeting at CPJ, Litvina and her colleagues cautioned that the consequences of Lukashenko's policies "go well beyond the borders of Belarus."
Oleg Gruzdilovich of Svaboda told the gathering: "[Our country] has become a laboratory for a process of moving away from democracy … toward the restoration of a [Soviet-style] union … what the Communist and right-wing forces in Russia dream of."