Three weeks after exiled Nigerian journalist Dapo Olorunyomi spoke of his imprisoned wife's plight at an April CPJ roundtable on Gen. Sani Abacha's media crackdown, she was released. Nigerian authorities had held Ladi Olorunyomi, a journalist and women's rights advocate affiliated with the Independent Journalism Center in Lagos, for 68 days without criminal charges. Within 24 hours of her release, Godwin Agbroko, editor in chief of The Week magazine, was freed after a 15-week detention.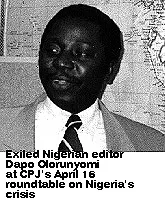 But unfortunately–as Dapo Olorunyomi and his colleague, Babafemi Ojudu, made clear at the April 14 briefing for colleagues in the U.S. media, human rights organizations, and regional specialists in government and policy organizations–the good news about Ladi Olorunyomi and Godwin Agbroko does not reflect the press-freedom climate in Nigeria. Two of Nigeria's leading journalists, Ojudu and Olorunyomi described a journalistic community under siege.
Ojudu, managing editor of The NEWS, Tempo, and PM News; and Olorunyomi, former editor in chief of The NEWS and Tempo, and a fellow with the Panos Institute, discussed their experiences as targets of Abacha's regime and the current conditions for journalists who publish critical coverage of government policies.
Ojudu spoke about the recurrent incommunicado detentions and harassment, which have become routine for Nigeria's independent journalists. Summarizing recent events, he told of disturbing developments, including the government's announcement of the establishment of a press court with the sole mandate of prosecuting journalists and media professionals, and the creation of a presidentially appointed media council to enforce new restrictions, instituted by Decree 43, on the printed press registration process.
Olorunyomi provided a historical context for the current state of the media. He spoke about the positive impact of support from colleagues in the international community on the morale and working conditions of the country's embattled journalists. Olorunyomi also stressed the importance of continuing international coverage of Nigeria's media crisis: Keenly aware of its negative international image, the Abacha regime takes the measure of its portrayal in the foreign press very seriously.
CPJ, in conjunction with Amnesty International and Reporters Sans Frontiers, campaigned for Ladi Olorunyomi's release, which occurred on May 6. Despite her release, she must report twice weekly to the facility where she was held.