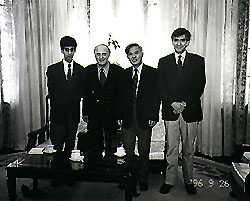 Reports press freedom violations continue
CPJ's mission meets with Vietnamese Deputy Foreign Minister Vu Khoan. From left, Vikram Parekh, Peter Arnett, Khoan, and Rick MacArthur. In late September, a CPJ delegation conducted a 10-day fact-finding mission to Vietnam and Cambodia, where it documented serious difficulties for local and foreign journalists in both countries.

CPJ board members Peter Arnett of CNN and Rick MacArthur of Harper's magazine traveled with CPJ Asia program coordinator Vikram Parekh to Vietnam, where they interviewed scores of local journalists and top-ranking government officials. Arnett and Parekh then continued on to Phnom Penh to investigate press freedom conditions in Cambodia.

Despite far-reaching market reforms, Vietnam's media remain entirely state-owned and subject to strict control by authorities, the mission reported. The country's press is officially encouraged to expose corruption in government offices, but criticism of major policies remains off limits. Three publications–the daily newspaper Hanoi Moi and the magazines Tien Phong and Business and Law–are currently under investigation for revealing state secrets in articles about the country's civil aviation and oil field operations.

"It is disturbing to see the media being investigated for attempting to ensure public accountability," said Parekh, "but we were encouraged by comments indicating that the publications were not in danger of criminal prosecution." The country's ideology chief, Hun Tho, for instance, told CPJ that in his view the three publications had not committed serious violations.

A new and disturbing development was an apparent effort to reign in locally based foreign correspondents. Reuters photographer Dylan Martinez was assaulted by police in September while trying to cover a protest by Hanoian women who had been evicted from their market stalls. "We received firm assurances from Deputy Foreign Minister Vu Khoan that Martinez's case was an anomaly and would not be repeated," Parekh noted.

Domestic criticism of the Vietnamese government is largely restricted to underground samizdat-style pamphlets and newsletters. Eight dissidents are currently serving prison terms in connection with such publications, including CPJ's 1993 International Press Freedom Award honoree Doan Viet Hoat, who was arrested in 1990 and sentenced to 15 years in prison for publishing a pro-democracy newsletter. In discussions with CPJ's mission, Vietnamese officials reiterated their position that Hoat's case is a national security matter.

Despite these continuing problems, CPJ is guardedly optimistic about the prospects for press freedom in Vietnam. "The very fact that we were welcomed as an official delegation and granted access to officials at the highest level represents a significant opening," Parekh said.

Cambodia's newly emergent press is highly combative but also highly partisan and often inflammatory, CPJ reported. Local journalists work against a chilling backdrop of assassinations, violent assaults, and a restrictive press law. Four journalists have been killed in Cambodia since 1994, and, according to CPJ, there has been no credible attempt to investigate any of these murders. However, in a meeting with Arnett and Parekh, First Prime Minister Prince Norodom Ranariddh described the lack of progress in the investigations as "unacceptable" and pledged to raise the issue with the country's Interior Ministry.

Cambodian journalists also face legal constraints, compounded by the lack of an impartial judiciary and police force. A new press law passed by the National Assembly allows criminal penalties for articles that threaten the country's "political stability" and "national security"–vaguely worded provisions that Cambodian journalists and public defenders fear will be used to muzzle the press. In response to CPJ's concern, Information Minister Ieng Mouly said a draft subdecree aimed at clarifying the terms, would be presented to local and foreign journalists, as well as nongovernmental organizations for comment.
---
In an interview on the Hong Kong cable show "NewsMakers," CPJ board member Peter Arnett was asked about his role in the Vietnam/Cambodia mission:

"I think it's really a privilege to participate in the activities of CPJ because it does give me as a journalist a unique viewpoint. I can meet government officials from Vietnam and Cambodia at another level, almost a diplomatic level, and discuss issues that concern me about myself and my colleagues that I could not do in a journalistic context. …
"Twenty-five years ago, the American media would not encourage their members to [take] part … . They would've said, "Well, it sort of compromises our standards of newspeople if we … have a dialog with government officials who we'll ultimately be reporting on.' I think it's part of the sophistication of the international news business in which I can undertake a mission such as this, expressing concern about my colleagues and our own profession's future and current situation without it harming my role as a journalist. So I'm delighted to participate in this mission, and I encourage my high-profile colleagues to do the same."