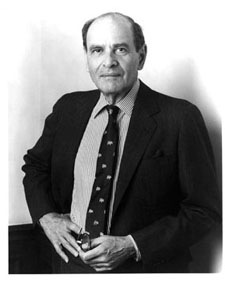 Arthur Ochs Sulzberger takes questions from the about the Pentagon Papers controversy in June 1971 Barton SilvermanNYT Pictures.

The 1996 Burton Benjamin Memorial Award is being presented to Arthur Ochs Sulzberger, chairman and CEO of the New York Times Company, for his achievement in promoting press freedom. The award is named for the late Burton Benjamin, who was senior executive producer at CBS News and served briefly as CPJ chairman before his death in 1988.

Twenty-five years ago Arthur Ochs Sulzberger made a decision that profoundly strengthened the free American press. He decided that the New York Times should publish portions of the Pentagon Papers, the secret Defense Department history of U.S. involvement in Vietnam. The series of articles that followed changed the public's perception of its government–and, just as important, changed the press's view of its role in a democratic society.

The pressures on Sulzberger as publisher of the Times were great. The paper's longtime lawyers told him that he risked criminal prosecution. The Vietnam War was going on, with American soldiers coming back in body bags, and he was an intensely patriotic person. But he decided that the interest of telling Americans the truth about an issue that was dividing the country must prevail: that it was the public's right to know and the press's duty to report.

After the third installment of the series appeared in the Times, the Nixon administration won a restraining order from a judge: the first prior restraint against newspaper publication ever granted to the federal government. The Supreme Court overturned that restraint in a landmark decision. Justice Hugo L. Black, in his concurring opinion, said that "in revealing the workings of government that led to the Vietnam War," the Times and other newspapers that followed it "nobly did" what the framers of the Constitution had hoped and expected.

The New York Times was later awarded the Pulitzer Prize for public service.