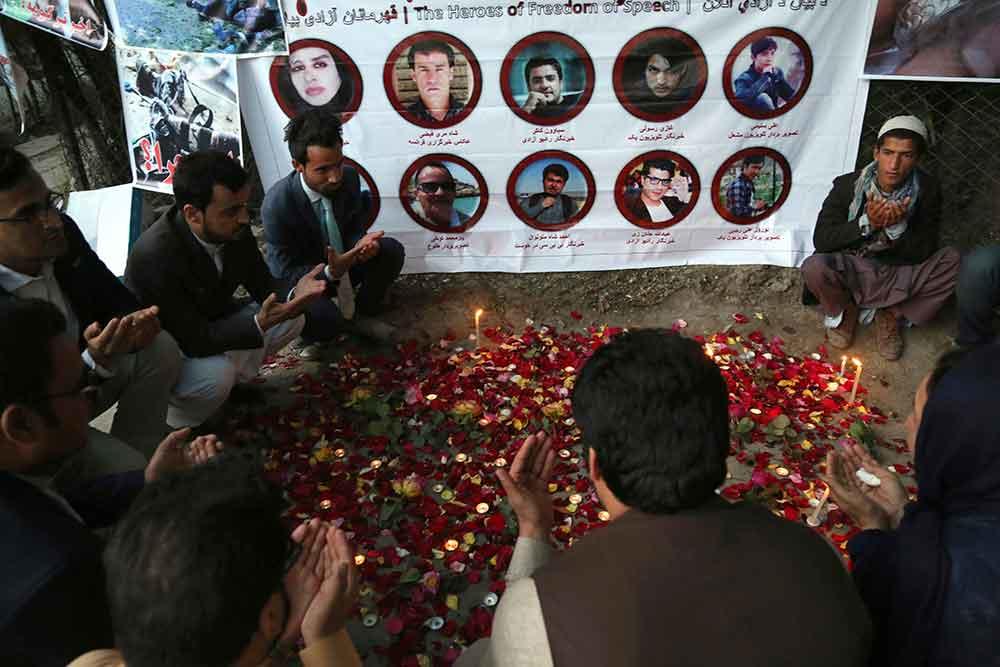 April 30 was the deadliest day for journalists in Afghanistan since the fall of the Taliban. A double suicide blast in the capital, Kabul, killed nine journalists from a combination of local and international outlets including AFP, Radio Free Europe/Radio Liberty, TOLO News, TV1, and Mashal TV.
The journalists killed that day were Yar Mohammad Tokhi, Sabawoon Kakar, Abadullah Hananzai, Maharram Durrani, Ghazi Rasooli, Nowroz Ali Rajabi, Saleem Talash, Ali Saleemi, and Shah Marai.
Not long after the attack in Kabul, a group of armed men shot dead BBC reporter Ahmad Shah, in Khost Province, about 100 miles from Kabul. CPJ is investigating to determine whether his death was in direct retaliation for his work.
Afghanistan's press is no stranger to death: Journalists are killed far too often, and reporting on mass civilian casualties is a depressingly routine assignment. In Kabul, on the last day of April, those realities collided in a shocking way. As reporters and photographers flocked to cover a suicide bombing near the U.S. Embassy at around 8 a.m., a second attacker, who flashed a press pass and a camera to get near the media, detonated explosives. It was a careful, coordinated attack, specifically targeting members of the press.
In collaboration with Columbia Journalism Review, CPJ set out to learn more about the journalists who died. In interviews with 22 of their relatives, friends, and colleagues, we heard repeatedly how these journalists were always among the first on the scene whenever an attack took place—a diligence that ended up costing them their lives. Many were their family's sole breadwinner, supporting children, spouses, siblings, and parents, some of whom are pregnant or sick. Most were young. One of them—Durrani—was days from starting work at Radio Azadi's weekly women's program, part of a vital cadre of Afghan female journalists.