New York, September 12, 2022 – Azerbaijani authorities should release journalist Avaz Zeynalli and lawyer Elchin Sadygov and drop the charges against them, the Committee to Protect Journalists said Monday.
On Saturday, September 10, uniformed officers who identified themselves as part of the prosecutor general's office arrested Zeynalli, owner and chief editor of the independent news outlet Xural, and Sadygov, a prominent human rights lawyer who frequently defends journalists, in the capital, Baku, after a pro-government news outlet published claims that the pair extorted money from a jailed businessman in return for favorable coverage of his case, according to multiple news reports and a statement by the prosecutor general's office.
That evening, Binagadi district court in Baku ordered Zeynalli and Sadygov to be remanded in custody for four months on charges of large-scale bribe-taking and accessory to bribe-taking, respectively, those reports said. Both charges carry a penalty of between eight and 12 years in prison under Article 311.3.3 of the criminal code of Azerbaijan, according to Bakhtiyar Hajiyev, Sadygov's lawyer, who spoke to CPJ by phone. 
Both men denied the charges and said they believe they are retaliation for their professional work, according to those reports, Hajiyev, and Agil Layij, Zeynalli's lawyer, who communicated with CPJ by email. The lawyers told CPJ they had filed an appeal of the decision to remand them in custody.
"Bribery charges against Avaz Zeynalli, a critical journalist whom authorities have previously jailed for his work, and Elchin Sadygov, a lawyer who regularly defends journalists against state repression, are concerning, especially as pro-government media made the accusations," said Gulnoza Said, CPJ's Europe and Central Asia program coordinator, in New York. "Azerbaijani authorities should free Zeynalli and Sadygov, drop the charges against them, and refrain from jailing members of the press and their advocates in retaliation for their work."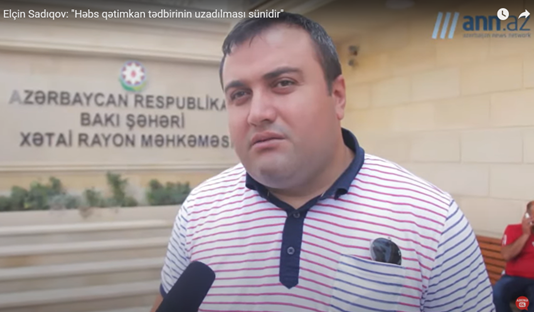 Zeynalli also works as a presenter for Xural's YouTube channel Xural TV, which has 215,000 subscribers; Xural and Xural TV cover human rights abuses, corruption, and those critical of the government, according to those reports and a CPJ review of their content.
On September 7, pro-government news website Haqqin published a story accusing Zeynalli of extorting 20,000 manats (US$11,800) from the family of Rasim Mammadov, the former head of a local steel factory who is currently on trial for embezzlement, in return for ceasing negative coverage of his case; and later that evening accused Sadygov, who is Mammadov's lawyer, of acting as an intermediary.
The story included audio of a voice message sent by Zeynalli to Sadygov, in which the former defends his coverage of the businessman's case and offers to "return" an unstated object if the latter was uncomfortable; Haqqin alleged that the object to be returned was the extorted money.
In a broadcast on Xural TV the following day, Zeynalli said the recorded voice was his but said he was offering to return documents related to the businessman's case. Sadygov said the same to local media, adding that the Mammadov family told him Zeynalli did not extort them.
At 3 p.m. on September 10, around seven plainclothes officers and one uniformed officer from the prosecutor general's office detained Zeynalli at a restaurant not far from Baku city center, according to Ilkin Rustamzade, a local activist and friend of Zeynalli who was with him at the time and spoke to CPJ by phone.
Rustamzade told CPJ that he believes authorities feared that Zeynalli and Sadygov possessed documents relating to recent threats made by Mammadov to reveal corruption among high-placed government officials.
The officers took the journalist to Xural's editorial office, where they conducted a search and confiscated the outlet's documents and computer hard disks, Rustamzade said; they also searched Zeynalli's home and seized a computer, books, and 3,000 euros (US$3,040), according to a report that cited the journalist's wife.
That evening, officers from the prosecutor general's office arrested Sadygov, searched his office and home, and confiscated documents and his mobile phone, according to news reports and Hajiyev.
Prominent Azerbaijani journalist Khadija Ismailova wrote on Facebook that Sadygov's arrest "will leave dozens of activists, journalists and political prisoners without legal representation," adding that "that, probably [is] the goal."
On September 12, Mammadov told authorities in court that Zeynalli had been "seeking bribes from me for years," according to local news website Report.az. Layij told CPJ the statement was of no consequence as the businessman was on trial and was either pressured by authorities or seeking to mitigate his sentence.
Zeynalli and Sadygov are held at the State Security Service's detention center in Baku. However, by law, they should be held at the Penitentiary Service's pretrial detention center, Layij told CPJ, adding that it is unclear why authorities have chosen to charge them with bribe-taking, as this offense ought to be reserved for employees of the state.
Layij added that prosecutors brought the charges based solely on the media report, and no official complaint has been filed against them by Mammadov or his family. He said he received information that the general prosecutor's office and State Security Service are allegedly pressuring the Mammadov family to testify against the pair.
CPJ reached out to the Mammadov family for comment via their lawyer but did not receive any reply. CPJ's email to the office of the prosecutor general of Azerbaijan and phone call to the State Security Service were not answered.
Zeynalli previously served three years of a nine-year sentence handed down to him in 2012 on charges including bribery, extortion, and tax evasion deemed retaliatory by CPJ.