New York, May 12, 2020 – Tajikistan authorities should conduct a swift and thorough investigation into the attack on journalist Avazmad Ghurbatov and bring the perpetrators to justice, the Committee to Protect Journalists said today.
At around 9 p.m. yesterday, two men wearing medical masks attacked Ghurbatov, a correspondent for the independent new website Asia Plus, near his home in Dushanbe, the capital, according to a report by his employer, news reports, and the journalist, who spoke to CPJ via messaging app.
The men punched and hit Ghurbatov, and then kicked him while he was on the ground, he said, adding that the attackers fled when he shouted for help.
Ghurbatov sustained cuts on his head and left ear and bruises on both hands and arms, and was treated at a local clinic for burn victims, he said. He told CPJ he first went to three hospitals for treatment, but they were too short-staffed amid the coronavirus pandemic to treat him.
The journalist said he filed a complaint about the attack at a local police station.
"Tajik authorities must thoroughly investigate the attack on journalist Avazmad Ghurbatov, determine whether it was related to his journalism, and hold those responsible to account," said Gulnoza Said, CPJ's Europe and Central Asia program coordinator. "Tajikistan must ensure that journalists can work without fear that they will be attacked on the streets or censored or prosecuted by authorities."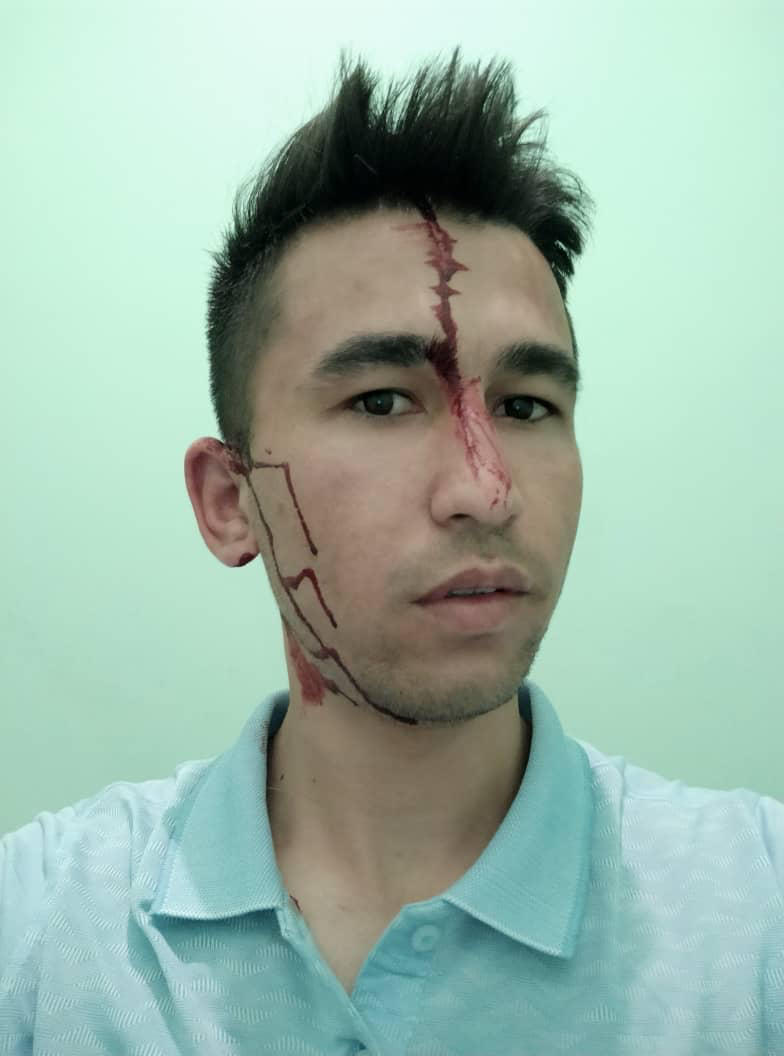 After the attack, Ghurbatov, known by his pen name Abdulloh Ghurbati, shared a photo on Facebook of his head injuries.
Ghurbatov recently reported on COVID-19 in Tajikistan, and said he had received several threats over his coverage.
He told CPJ that people identifying themselves as officers of the State Committee for National Security, the country's intelligence agency, called him and told him to stop working or face criminal prosecution. He also said he received anonymous insulting phone calls and messages online accusing him of being a traitor.
On April 26, a YouTube user named King Eagle, whose identity was not disclosed, uploaded a video showing Ghurbatov interviewing people in the streets of Dunshabe and calling him a "provocateur" and a "traitor" who is "seeking, like an idiot, a coronavirus that doesn't exist" in Tajikistan. The Tajik government denied any COVID-19 cases in the country until April 30, when it disclosed 15 confirmed cases, according to news reports.
Before the attack yesterday, Ghurbatov was planning to meet a source whose identity he did not know, but the person never showed up, he said.
Asia Plus became inaccessible in Tajikistan in 2019 and was forced to change its domain registration, as CPJ documented at the time.
CPJ filed a request for comment via the prosecutor general's official website, but did not receive any reply.