This year, the Islamic month of Ramadan, which started on April 24 and will continue through May 23, is particularly challenging for Muslim journalists in jail to observe safely, their family members and friends told CPJ.
In many countries, prisoners rely on their families for food and medicine while behind bars. But this year, as families have been barred from visiting their loved ones due to COVID-19 lockdowns, jailed Muslim journalists have to cope with fasting on even fewer resources than before.
CPJ spoke to four people close to Muslim journalists imprisoned in Europe and Central Asia over messaging apps since Ramadan began. Their statements have been lightly edited for length and clarity.
Khadicha Askarova, wife of Azimjon Askarov, jailed in Kyrgyzstan:
Askarov is an investigative journalist and human rights activist who has been serving a life sentence on retaliatory charges since June 2010. He has suffered from multiple health issues during his imprisonment.
I spoke to Azimjon recently. It was one of the two phone calls he is allowed to make every year from prison. He has been fasting. He fasts every year during Ramadan and even at other times, as Muslims ought to.
This year is more difficult because I can't send him food. I prepared a lot of medicinal herbs I planted, grew, and dried last year in my garden. I also dried a lot of fruits as well as some vegetables, like onions and carrots. I prepared lots of nuts of different kinds. As you know, they provide much needed vitamins and minerals. I have also made some cheese at home.
But because of the quarantine, I haven't been able to take all that to my husband in prison.
I usually bring medications that the prison administration doesn't provide. Azimjon recently had some health issues, like low blood pressure and problems with his heart. A prison doctor was giving him some injections for that. I am worried about my husband.
The [next court hearing] is scheduled for May 11, but I think it will be rescheduled again. I don't leave my house. I only speak to my children and grandchildren [all of whom live in neighboring Uzbekistan] on the phone.
Saymuddin Dustov, chair of the European Congress of Tajik Journalists and Bloggers, on independent journalist Daler Sharifov, jailed in Tajikistan:
Sharifov was arrested on January 28 ahead of parliamentary elections in Tajikistan. He was sentenced to one year in prison on April 16 on extremism charges.
Daler is still at the detention center in Dushanbe. He has yet to be transferred to a prison colony.
He has been fasting. He doesn't complain about food, but said he wasn't getting the medication he needs. His health has worsened in recent weeks. He had some chest pain.
Another problem is that he doesn't have a peace of mind there. His wife and two children are in a very difficult situation. Daler was their only provider. [Before his imprisonment], he made income as a freelance journalist and also by selling books. Now, the family has no income.
Mairbek Agaev, chief editor of Russian independent newspaper Chernovik, on the paper's religious section editor Abdulmumin Gadzhiev:
Gadzhiev has been in pre-trial detention since June 14, 2019, on retaliatory terrorism charges.
Abdulmumin has been fasting. He doesn't have any complaints about health. His family cannot visit him, but a few days ago his lawyer went to see him in a pre-trial detention.
The lawyer cannot deliver food. Abdulmumin has to rely on prison food. He is waiting for the next court hearing on May 13.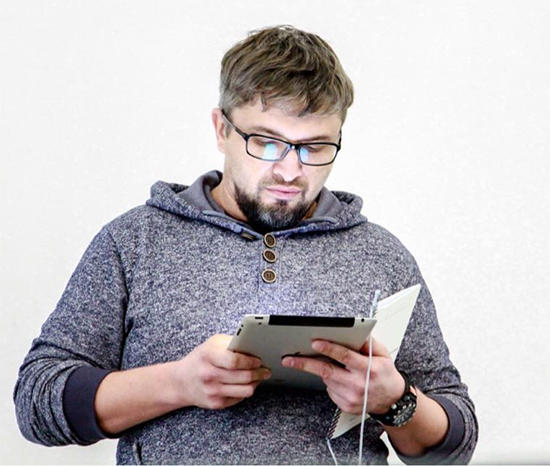 Mumine Saliyeva, a journalist and activist with Crimean Solidarity, a group that defends political prisoners:
Russian authorities were holding at least four freelance journalists from Crimea on anti-state charges at the time of CPJ's most recent prison census conducted on December 1, 2019. They include Nariman Memedeminov, Osman Arifmemetov, Rustem Sheikhaliev and Remzi Bekirov
All of them [Crimean Tartar political prisoners] are fasting. The number of coronavirus cases has been growing in Crimea but there are no cases among [ethnic] Crimean Tatar activists and journalists. However, inmates are not being tested for the coronavirus specifically.
Court hearings have been either postponed or held without media or family members. Families have been barred from prison visits since the beginning of quarantine, but lawyers can still visit prisons and detention centers both in Crimea and Rostov-on-Don.
We order food online and it's delivered to the prisons. Also, in every prison, there is a specially designated person in charge of package deliveries from outside. He collects orders, inmates who have money pay him, and he gets food delivered to prison.
Also, Crimean Solidarity organized a special campaign called "Iftar for Inmates." There are 70 Crimean Tatar political prisoners, all of them are fasting.
We produced a video with clear instructions on how you can order food delivery for them. You can do so either on the website of FSIN [Russian federal penitentiary system] if an inmate you choose to send food to is in prison or a prison colony, or simply use a postal service to send your package if a person is in a pre-trial detention.