On May 10, Saman Barzinji, the health minister of the Iraqi Kurdistan regional government, announced that the COVID-19 pandemic no longer posed a threat to the region, and that the area would gradually reopen, according to news reports.
As restrictions, including the closure of borders and government offices, are lifted, local authorities are still urging caution and stressing the need to continue to follow health regulations.
Local journalists covering the pandemic have faced challenges, but have also found opportunities amid the increased demand for news coverage.
CPJ spoke to four journalists based in Sulaymaniyah and Akre, in Iraqi Kurdistan, in phone interviews and via social media and email over the past two weeks about their experiences working amid the pandemic. Their answers have been edited for length and clarity.
Soran Rasheed, editor-in-chief of the news website Nas News Kurd
Nas Kurd began to work remotely on February 18. At the beginning–and until recently–all the stories we covered were COVID-19-related. There were other important issues, including the formation of the Iraqi government, the drop in oil prices, or the financial crisis, but COVID-19 took precedence over everything else because we wanted to understand what it was and how to protect ourselves.
Our staff was frightened, because information was hard to come by and they had to take risks by going to hospitals and clinics to cover the news and interview doctors and nurses. Journalists were among the few professions that were allowed to move freely and were provided with permits by the authorities to do so.
Despite this, journalists sometimes encountered difficulties at checkpoints run by the Kurdish security forces. On March 22, one of our camera operators, Awder Omer, was assaulted by Asayish security officers while he was broadcasting live about how Asayish had set up a checkpoint in the northeastern Iraqi city of Sulaymaniyah to prevent people from violating the curfew and going out. He carried a government permit, but nonetheless he was beaten and sustained bruises in his back.
Our staff at Nas Kurd is following the World Health Organization's advice on COVID-19, so they wear masks and gloves, don't shake hands, carry disinfectant, maintain social distancing, and wash their hands regularly and thoroughly when they go out to cover stories.
Protective equipment, however, was inadequate and expensive at the beginning, because everything in Kurdistan is imported. But, the curfew and the movement restrictions imposed by the authorities prevented the virus from spreading.
Our work was also affected in unexpected ways. We used to meet to discuss our work plans, share information, or propose ideas for coverage, but the curfew meant that we no longer had access to our office computers and equipment and reliable internet connection, so that had a negative impact on our work.
Zmnako Ismael, freelance photographer and videographer

For me and for freelancers like me, the COVID-19 pandemic, rather than a challenge, has been an opportunity to get more work and assignments because staff journalists working for major media outlets were limiting their field work.
As a photographer, I had no choice but to continue to go out and cover what was happening. I have worked on at least four documentaries on COVID-19 for major local broadcasters, including Rudaw and Kurdsat, and I have also taken many pictures portraying life under COVID-19.
I haven't faced any restrictions from authorities in the course of my work and, despite some shortage of masks at the beginning of the pandemic, I have been provided with personal protective equipment, including masks and gloves, from the Health Ministry whenever I requested them.
When I am working on the field, I follow the [World Health Organization] advice and wear a mask and gloves and carry disinfectant and hand sanitizer to wash my hands often.
The only problem that I faced is the malfunction of one of my cameras because I used disinfectant to clean it.
Guhdar Zebari, freelance reporter
The COVID-19 pandemic has had a big impact on the work of freelancers, especially when it comes to reporting on the ground. In the area where I live in western Iraqi Kurdistan, the Interior Ministry didn't provide freelancers with permits.
I live in a village near the city of Akre, so the security forces stopped me at the checkpoint and prevented me from covering a story in Akre. I used to work for a broadcaster affiliated with the opposition New Generation Party, and things were much easier and I faced less problems back then.
Along with a group of colleagues, I am now documenting the murders of people who were killed over freedom of expression or political activism in the Badinan region between 1990 and 2020, covering Turkish airstrikes in areas bordering Turkey, corruption and embezzlement, as well as the daily lives of regular Kurds whose salaries aren't being paid and are finding it hard to make ends meet. We publish those stories under pseudonyms and in the form of satire or comics, for fear of retaliation. These issues are controversial and we receive threats daily as a result of our reporting.
I follow the safety advice and the self-quarantine instructions, but, unlike other journalists, I wasn't provided with masks and gloves. The problem we had is that many people we met didn't believe that COVID-19 was real, and thought that it was a political game that countries around the world were playing or an excuse that the Kurdish authorities were playing to avoid paying public servants' salaries. Fortunately, nobody died of COVID-19 in the Badinan region.
I was tested for COVID-19, but when I was at the testing site I was afraid of catching it, because the place was crowded and nobody was wearing masks or gloves. Fortunately, I tested negative and turned out to be safe.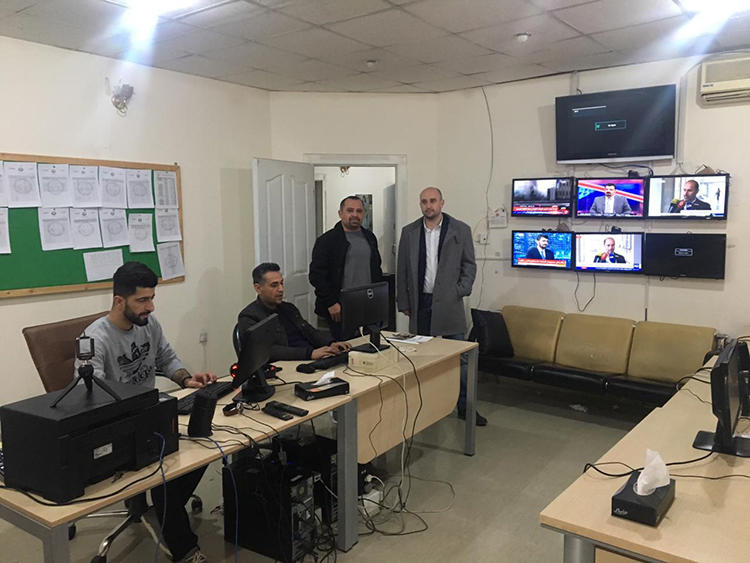 Sirwan Gharib, manager of the news website Westga News
The COVID-19 pandemic has greatly affected our work as journalists. All the precautions we had to take, including isolation, quarantine, social distancing, and curfews, coupled with the heavy news focus on COVID-19 and the risk of infection, has affected our psyche and therefore limited our ability to do our job professionally and effectively.
The widespread fear of COVID-19 among both ordinary people and government officials made it much more difficult for our reporters to cover the news.
One of the main challenges I faced as the manager of Westga, and which put me under considerable psychological pressure, was how to secure the personal safety of our staff while at the same time report the news about the spread of the virus accurately. We looked for relevant sources to talk to, including the World Health Organization, the Kurdistan Regional Government's Health Ministry, and the Iraqi Health Ministry, to avoid spreading unconfirmed rumors and to be able to relay accurate advice and instructions on how to avoid contagion.
Our reporters haven't faced any problems with the authorities. Quite the contrary. Since the beginning of the pandemic, the Kurdish authorities issued instructions that all assistance should be provided to journalists, so that they can do their jobs without obstruction. They even exempted journalists from the curfew.
Our staff has been using protective equipment, including face masks and gloves, disinfectant, and hand sanitizer when reporting the news, and have strictly followed the safety advice issued by international and national health authorities.