As newsrooms across the United States gradually shut their doors in March and sent many journalists into the safety of their homes, others have no choice but to remain outside. Photojournalists throughout the U.S. and around the world are continuing to visually document how the world is adjusting to this historic moment amid the COVID-19 pandemic. At the same time, they are navigating the new realities of their jobs, which includes stringent safety measures and an unusual physical distance from the people they photograph.
CPJ spoke with four U.S.-based photographers about how their lives have changed since the COVID-19 outbreak. These interviews were conducted via email and phone in late March 2020. Their answers have been edited for length and clarity.
ANGUS MORDANT
Angus Mordant is a freelance photographer based in New York City. He's been documenting how the city is responding to the COVID-19 pandemic, including photographing the city's empty streets and visiting New Rochelle, the New York town that had an early outbreak of the virus
How has the pandemic affected your work on a daily basis? Are you still covering your usual beat?
My last non-COVID-19 story was on March 11. Thursday, March 12 and Friday, March 13 was when it sunk in not just for me, but for a lot of people, that this is not going to be a short, one-localized-area thing. It's going to go on for a while in New York City, and everywhere, really. I went to New Rochelle to photograph staff setting things up for a test site, which opened on March 13. It escalated pretty quickly. I spent that weekend stocking up on supplies. I had to pay black market rates on N95 masks and Lysol spray: $136 for a 20-pack of N95 masks, for example. I've told newsrooms that I have what I need, and I have asked clients if I can expense the cleaning and safety gear.
What are your greatest obstacles and concerns about doing your job in this environment?
I think the biggest risk for the photographer is being around your colleagues, which is usually your safety net. In a normal situation, you can work very physically closely together. With something you can't see, one of the biggest risks is standing there among other photographers and either giving it to them or getting it from them. It's a scary prospect.
I covered the protests in Hong Kong and Standing Rock. Situational awareness in a protest is a different beast. You can see where the police are, where the Molotov cocktails are being thrown. In those situations, if I'm 12 feet away from the police, I'm fine. It's easier than dealing with a virus I can't see on the back of my camera. I did end up buying a longer lens because I should be needing it for any coverage around testing sites going forward.
What are you doing to keep yourself safe?
I am trying my best to pace myself. If so many people are getting it, no matter what I do, there's still a chance of getting it if, god forbid, I've already been exposed. That's in the back of my mind. No matter how much I prepare, I'm trying to not stress too much about it. I need to eat well, take care of myself, and avoid watching too much news when I get home.
I've also thought a lot harder about what my cleaning precautions are. I have a pretty rigorous cleaning schedule going. I have a makeshift sink I keep in the back seat of my car and set up on the trunk. It's a large water bottle with a tap and it works great. I heard some TV folk complaining about how hard it is to wash your hands while out and about working, but it doesn't need to be.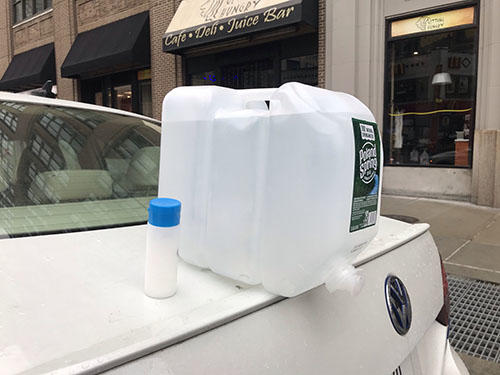 I try my best to keep the inside of my car clean and work on the assumption that the trunk is contaminated. I wipe everything down as frequently as possible with alcohol or Lysol. I wipe my cameras down before I use them every time to avoid bringing contamination up to my eyes. I'm still trying to get into the groove of exactly what my camera cleaning looks like, but the most important surfaces to clean are the ones that are closest to my face like the buttons and the back of the screen. I'm cleaning the back of the camera four or five times a day, as opposed to cleaning the entire thing twice a day, to conserve cleaning supplies. I wear an N95 mask at all times, even though I am doing my best to maintain a social distance. The mask helps me avoid touching my face and helps prevent unknowingly spreading the virus if I happen to be a carrier.
GABRIELA BHASKAR
Gabriela Bhaskar is a freelance news photographer based in New York City. Before the pandemic, she covered U.S. politics and the Harvey Weinstein trial
How has the pandemic affected your work on a daily basis? Are you still covering your usual beat?
My first day of covering COVID-19 was Monday, March 9. Editors reached out a week before that, before Super Tuesday, and asked if I would be willing to cover this. They also asked what kind of PPE [personal protective equipment] I had. Every day has been so different. I wake up every morning and tune into New York Gov. Andrew Cuomo's and New York City Mayor Bill de Blasio's briefings. Any list of story ideas people create is usually too old by the next day.
What are your greatest obstacles and concerns about doing your job in this environment?
One thing that I think a lot of people are not really thinking about is in addition to covering this, we still have families and our own lives. I found myself on one hand feeling like it was my duty to be out there and covering this, and on the other hand I couldn't be a part of me and my husband's planning and our future.
I'm often checking in with myself: Am I panicking because hysteria is contagious, or am I panicking because of the facts? I was covering panic-buying at Costco in Harlem, and they were closing their doors because staff couldn't stock shelves fast enough. Knowing we hadn't done the same at home, it was hard. A problem that existed before the crisis, and exists now, is that people don't read that much. If they read through the article, it's about how people are panic buying, but the stores do have enough food. It's important to keep perspective.
Tell us more about the challenges of doing your job in this environment. What are your greatest obstacles and concerns?
As the streets have cleared out, it's provided me with a lot of security. I'd been following developments in China and saw that the draconian measures were actually working. I was getting anxious because people weren't doing it here. I am very fortunate to be in a position where we get my health insurance through my husband's company. I've also gone through safety training through Reuters and Women Photograph.
I've been working in the Bronx for the past year covering health and women's health, particularly health outcomes for women living with diabetes. People were taking these photos of Midtown and downtown Manhattan completely empty. I wasn't seeing that because in the Bronx, many of the workers are essential workers, and there wasn't that emptiness. These are our most vulnerable communities and they're clearly being forgotten right now.
My husband and I keep having this conversation about whether or not to stay here. His family has a cottage in northern Wisconsin. This is a privileged position, and maybe that's the safest place for us to be right now. But as a journalist, the reason we do this work is to be able to provide information to the public. Every time I go out, his quarantine and self-isolation starts from day one. In addition to me, my husband also bears this burden. It's a great sacrifice.
What are you doing to keep yourself safe?
It's been really hard to figure out what the right thing to do is. The CDC says if you're not in contact with someone who has COVID-19, you stay 6 feet apart, you wash your hands, and don't touch your face, it's fine. But I'm also in contact with a lot of people. Here in New York, we are suffering from a lack of PPE for healthcare professionals, so I don't know if it's ethical for me to be using this stuff when they don't have it.
Because I grew up in Asia and lived through the SARS outbreak, I have a couple of boxes of surgical masks. I have a couple of N95 masks. I'm sanitizing my equipment every day, and it sits in the foyer. I'm cleaning as much as possible.
On assignment we're not being asked to photograph people in their homes. It's almost like the sex talk, but with COVID. If I've met up with someone face-to-face, I'm very transparent about what I'm doing. The conversation goes: I haven't been in contact with anyone, but haven't tested positive, I'm not sick. I ask them about what their exposure has been. I don't get within 6 feet of anybody.
Last week I was photographing portraits of community workers. My workflow had definitely changed, I was being very honest with people. All the things I used to make people feel comfortable, I couldn't use them anymore. Shaking their hands, being quite close, getting down to the level of kids. When posing for portraits, I'd ask, do you mind if I touch you? I can't do that now.
ALYSSA SCHUKAR
Alyssa Schukar is a Washington, D.C.-based documentary photographer
How has the pandemic affected your work on a daily basis? Are you still covering your usual beat?
It's been a gradual decline. At the start of March I was super busy, a week later I was busy, and two weeks later it's dead. I'm now trying to find things for publications that are valuable, but I also don't just want to go outside. There is no other story besides the coronavirus, and there are new challenges working as photojournalists that we haven't had before. I was shooting at a retirement village recently, and there was a woman who I could tell wanted to get close. I think it is this desire to connect with people, because we've suddenly been deprived of interaction. The way that we work as photojournalists is a really good way to spread the virus, and that's something that we don't want to do.
Tell us more about the challenges of doing your job in this environment. What are your greatest obstacles and concerns?
My greatest concern is being part of the problem and spreading the virus. I obviously don't want to get it myself, but my building skews a bit older and I'm concerned for the people here. I also don't want to create this idea that through the photographs, that makes it seem like it's OK to be close to someone.
I usually use 35mm and 50mm lenses, which require you to be close. Now I use a long lens exclusively. I worry about the way that visual journalism is going to change after this crisis. One of the best parts about what we do as photographers is that we can create images of empathy for other people. There's now less of an opportunity for people to see what others are going through.
What are you doing to keep yourself safe?
A friend in Hong Kong sent me some masks, so I do feel like I have something to work with so I'm not taking it away from healthcare providers. When I'm not working I'm generally not leaving the apartment. If I go for walks, I have hand sanitizer on me. I have wipes, I have gloves, I have a face mask, which I wear more to protect others. I keep a distance of 6 feet, I only photograph people outside. I wash my clothes as soon as I get home at night. Maybe it's an overreaction, but if I feel like I'm overreacting, I'm probably reacting the right way.
YANA PASKOVA
Yana Paskova is a Brooklyn-based freelance photojournalist
How has the pandemic affected your work on a daily basis? Are you still covering your usual beat?
I recently won a grant from Leica Camera to pursue personal projects of my choice. I've had to put this on hold, and cancelled my trip abroad for it. Leica had to cancel gallery exhibits, talks, presentations, and portfolio reviews in Boston, Brooklyn, and beyond. It's a small sacrifice to make when faced with defeating a pandemic, but these necessary changes have already affected the scope of our current and future career opportunities.
I don't know what this virus will mean for working freelancers long-term. I'm terrified to think that the future few months will mean most photographers do not work, since much of what we photograph (organized events, establishments, daily life) has come to a halt, or that our only option to make money via picture creation might be to accept the kind of assignments that place us under elevated risk.
Tell us more about the challenges of doing your job in this environment. What are your greatest obstacles and concerns? What are you doing to keep yourself safe?
All photojournalists practicing our craft—one made possible only by exposure to surfaces and humans outside of our homes—are of course concerned this increases our risk of catching or transmitting the coronavirus. Wearing a mask and gloves feels (and often is) safer, but a counterbalance to this measure is yet another worry: that we are taking supplies away from those who need them most, our healthcare workers.
What if we do get sick, as freelancers? Do the various publications we work for have a plan in place to cover our catastrophic medical expenses? Likely not, which is terrifying. So I think each assignment must be paired with scrutiny and open communication. I've felt lucky that I've worked with editors who have been supportive to my concerns, both health and financial, and yet, I am just a freelancer. No one else carries the obligation to pay my hospital bills.
We should no longer take for granted any assignment that places us in proximity to other people, whether (seemingly) healthy or ill, outdoors or indoors, and especially if in a person's home or on hospital grounds — unless those images show us something crucial or novel about our current state of things, that could absolutely not be shown another way. Otherwise, it's not just freelance bodies that are in the crossfires of this virus, but also anybody near us or there because of us, such as PR staff or the persons we seek to photograph, and later, our family and friends. A pandemic is not the time for likes, curiosity, or award-chasing, by photographers or editors alike. Every step we take to navigate this modern pandemic affects whether another human will be able to take theirs tomorrow. So we carry special responsibility to question an assignment that feels unnecessary or unsafe, and even, make the hard decision to say no to our superiors.
How are you dealing with and responding to misinformation around the virus?
I'm doing my best to spread information that I know will help a misinformed individual or community, and deliver it in a way I think it would be best heard. That means offering supporting articles from a news network they trust, or avoiding related political hot topics that may shut down the desire to believe or comprehend the dangers of the virus and the best ways to stay safe.
CPJ's safety advisory for journalists covering the coronavirus outbreak is available in English and more than 35 other languages. Additional CPJ coverage of the coronavirus can be found here.