Bangkok, March 17, 2020 — The Myanmar military should immediately drop its criminal defamation complaint against editor Ye Ni and stop using legal threats to stifle reporting, the Committee to Protect Journalists said today.
Yesterday, a Yangon court agreed to hear a complaint filed by Lieutenant Colonel Zaw Min Tun of the Yangon Region Command against Ye Ni, Burmese-language editor of the independent news website The Irrawaddy, over the outlet's coverage of armed clashes between state forces and the insurgent Arakan Army in Rakhine state's Mrauk-U town, according to a report in The Irrawaddy and Ye Ni, who communicated with CPJ via email.
Zaw Min Tun filed the complaint in April 2019 at Kyauktada Police Station on behalf of Yangon military commander Major General Thet Pone, according to reports.
If convicted under Article 66(d) of Myanmar's Telecommunications Law, Ye Ni faces up to two years in prison, those reports said. Ye Ni told CPJ that he paid a 10 million kyat ($7,000) bail yesterday and that the next hearing in the case is scheduled for March 30.
"Myanmar's military should drop its charge against The Irrawaddy editor Ye Ni and stop threatening to jail journalists," said Shawn Crispin, CPJ's senior Southeast Asia representative. "If Myanmar wants to be taken seriously as a democracy, military intimidation of the media must stop, and journalists must be allowed to cover the military's actions freely."
Ye Ni told CPJ he thought the 11-month-old case was revived due to his publication's recent coverage of the armed conflict in Rakhine and Chin states.
"We are doing our job exposing what is really happening on the ground and reporting the suffering of the people living in the conflict zone," Ye Ni told CPJ. "We will defend our rights and press freedom according to the law."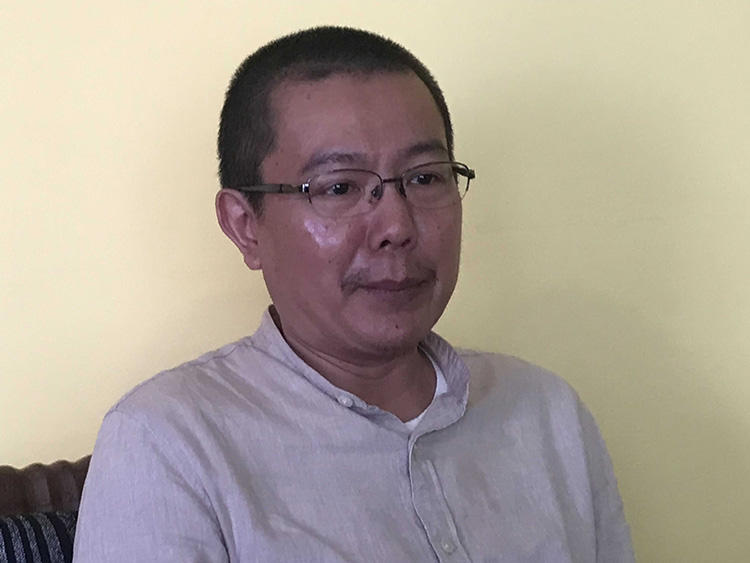 CPJ emailed Brigadier General Zaw Min Tun, a military spokesperson, for comment, but did not immediately receive a reply.
On March 8, the military filed a similar complaint under Article 66(d) of the Telecommunications Law against the Reuters news agency over its coverage of the conflict in Rakhine state, as CPJ documented at the time.
A Reuters spokesperson said that the news agency stood by the reporting and there was "no basis" for a lawsuit.