When Venezuelan military officials detained American freelancer Cody Weddle on March 11, the experience was both frightening and bizarre. Weddle said that agents put a hood over his head and pressed him to reveal sources he had never spoken with. They suggested the reporter was a member of the CIA and would be charged with treason. They took gas masks and protective vests from his Caracas apartment. And, because they lacked office supplies, the agents fashioned an ink pad by breaking one of his pens so they could take Weddle's fingerprints.
Weddle, who has been based in Venezuela for four years, was released after about 12 hours then deported. The reporter, who files stories for the south Florida TV station WPLG and the British daily, The Telegraph, was never told why he was arrested. "There was a lot of confusion," Weddle said in a telephone interview with CPJ from his home state of Virginia. "It all seemed very improvised."
Press freedom advocates see his arrest as part of a troubling trend. Amid Venezuela's deepening political and economic crisis, they say that the authoritarian government of President Nicolás Maduro is arresting more journalists. Weddle is one of 39 journalists detained so far this year, according to the Caracas-based Institute for Press and Society (IPYS). That's up from the 22 detentions IPYS recorded during all of 2018.
The government "is trying to intimidate and demobilize journalists," IPYS analyst Mariengracia Chirinos told CPJ. "Reporting in Venezuela has become a much riskier activity."
In some cases, the journalists had been reporting on sensitive subjects.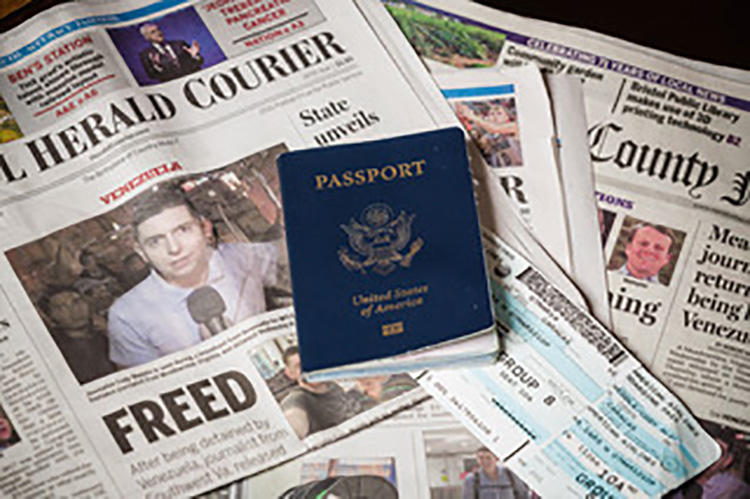 Weddle, for example, filed stories about growing anti-government sentiment within the powerful armed forces at a time when the U.S. and dozens of other countries were recognizing opposition leader Juan Guaidó as the country's legitimate president.
But other journalists and camera operators have been arrested for seemingly more innocuous actions, such as filming anti-government graffiti or reporting near the Miraflores presidential palace in Caracas.
Carlos Correa, director of the Caracas-based free speech group Espacio Público, said the detentions usually last less than a day. That way, he said, the government can browbeat journalists without suffering the backlash that might result from keeping them behind bars for longer periods.
What's more, amid Venezuela's worst economic meltdown in history, Correa said, reporters and camera operators are reporting that the security agents who detain them are increasingly absconding with expensive equipment.
"Arresting journalists carries relatively few costs for the government while those carrying out the detentions benefit by robbing their equipment," Correa told CPJ.
Because of the extensive blackouts across Venezuela, CPJ was unable to contact the Communications Ministry for comment.
Among those detained since the start of the year were 22 international correspondents. No one seems to be immune.
On February 25, for example, Univision's star news anchor Jorge Ramos was briefly held along with his crew at Miraflores palace. Their detention came after Maduro stormed out of a contentious interview during which Ramos asked whether he should call Maduro "president" or a "dictator."
Ramos, whom CPJ honored with its Burton Benjamin Memorial Award in 2014, was briefly held in a dark room and searched. The crew's four cameras and memory cards were confiscated and not returned. Soon afterwards, the entire Univision team was expelled from Venezuela.
"We experienced only a taste of the harassment and abuse that Venezuelan journalists have been suffering for years," Ramos wrote in the New York Times.
Luis Carlos Díaz, a Venezuelan radio journalist and digital activist, received much rougher treatment. He was grabbed by intelligence officers on March 11 while riding his bicycle home from work at Unión Radio station in Caracas. His arrest came three days after Diosdado Cabello, a pro-Maduro politician, showed a heavily edited video clip of Díaz on his TV program. Cabello accused the journalist of conspiring to sabotage the country's electrical system during a period of nationwide blackouts.
Chirinos, of IPYS, said that Díaz was mistreated in custody and that agents hit him on the head with his bike helmet. They threatened to arrest his wife and to implicate the couple in a homicide, claiming that there was a body in their apartment. When the agents searched the apartment, they stole multiple electronic devices and cash.
Amid an international outcry, including comments from U.N. High Commissioner for Human Rights Michelle Bachelet, Díaz was released after about 24 hours. He was charged with "instigating crime" in connection to the electricity blackouts. He must report his whereabouts to authorities every eight days, remain in Venezuela, and refrain from speaking to the media about how he was treated during in detention.
Both Chirinos and Correa predicted that as conditions worsen amid U.S. economic sanctions, the Maduro regime could intensify its campaign against the press.
To avoid problems, Chirinos said, journalists should work in the presence of colleagues who could help get the word out in case they are detained. She said that reporters must be especially careful when working on stories about sensitive subjects and that international correspondents could reduce their risks by publishing their work after leaving the country.
"No story is worth getting arrested or killed," she said.
[Reporting from Bogotá]