Agencies exploit every loophole to evade disclosure requirements
By Jason Leopold
On December 13, 2016, I filed a Freedom of Information Act lawsuit against the FBI seeking a wide range of documents about a series of highly controversial decisions the bureau made in the weeks leading up to the U.S. presidential election that Democratic lawmakers and supporters of Hillary Clinton have claimed shifted support to her opponent, Donald Trump.
Most notably, FBI Director James Comey sent a letter to congressional leaders 10 days before the election alerting them that his agency's investigators may have uncovered new emails relevant to its probe of Clinton's email server and her handling of classified information. A long-dormant Twitter account operated by the FBI's records vault was also reactivated and tweeted newly-posted records a week before the election about Bill Clinton's 2000 pardon of financier Marc Rich, which Comey had investigated when he was a U.S. attorney.
Was the FBI trying to help Trump get elected? Who in the bureau was leaking details about what was taking place behind the scenes to The New York Times, The Wall Street Journal and other outlets? That's what my FOIA lawsuit, which I filed as a VICE News reporter, aimed to find out. The goal was to gain access to documents that would lay bare decisions that led Comey to send his letter to Congress and explain why the FBI tweeted the Rich documents. But I'm not stopping there. My lawsuit also seeks everything the FBI has on Breitbart News and its chairman, Stephen Bannon.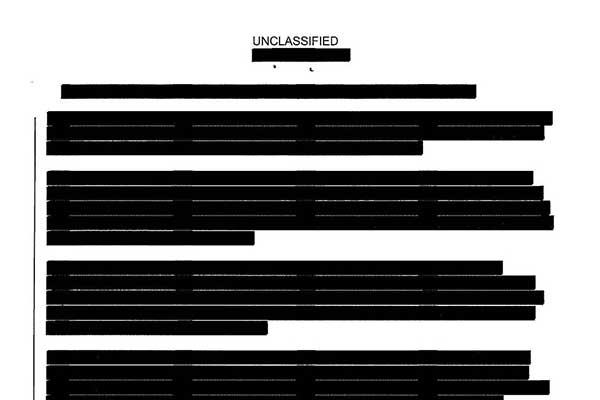 Though the lawsuit is a direct response to the dramatic developments of the presidential election, it also underscores how government agencies stifle the flow of public information. My own immersion into the U.S. Freedom of Information Act began six years ago, when I received an urgent call from Mikey Weinstein, the head of a nonprofit group whose work focuses on enforcing the separation of church and state within the military.
Weinstein told me he had obtained a set of PowerPoint slides from a source in the U.S. Air Force that he wanted to share with me. He said the content was explosive and that if I was interested, it would make for a very good story. I told him to send it over.
Later, as I thumbed through dozens of slides, it became apparent that these were very newsworthy documents. The PowerPoint laid bare how the Air Force trained nuclear missile officers on the ethics and morals of launching nuclear weapons by citing the teachings of Jesus Christ and Werner Von Braun, the father of the modern-day space program and a former Nazi SS soldier.
I wrote a story about it, with the documents embedded, that was published by Truthout.org. The response was swift and the impact huge. My report went viral, was picked up by other news outfits and, within 24 hours, led the Air Force to suspend its ethics training, which at the time had been in place for two decades. A couple of days later, the Air Force withdrew the training materials altogether.
Obviously, the story was dependent on that PowerPoint program. Documentation is the lifeblood of an investigative journalist, not only because it helps back up a story but because in many cases there is no story without it. Weinstein later informed me that one of his Air Force pals had used the Freedom of Information Act, commonly referred to as FOIA, to retrieve the PowerPoint slides from the Air Force, which then verified their authenticity for me. His phone call not only gave me a scoop, it launched me on a professional odyssey that has produced reams of important documents in the years since.
The experience with the Air Force PowerPoint slides was a light bulb moment for me. I had spent years reporting on national security, but faced increasing difficulty obtaining information about such issues from an administration that was highly secretive and aggressive in its pursuit of leaks to the media. And yet, a memorandum from then-President Barack Obama, issued on his first day in office, promised to usher in a new era of transparency and open government and instructed the heads of executive departments and agencies "to disclose information rapidly."
In the Air Force case, FOIA provided a key mechanism for obtaining documents from a federal agency, so I decided to give it a try on other stories.
U.S. public records laws are the global standard, and many other countries look to America as an example. However, as I've pushed deeper into the realm, I've observed a countervailing trend: government agencies that seem intent on keeping me–and the public–in the dark, often by thwarting transparency requirements in what amounts to bureaucratic censorship, despite directives to the contrary from above and from state and federal transparency laws.
The same trend is unfolding in other countries. According to a 2011 Associated Press study (summarized in a CPJ blog post), in which the wire service submitted open records requests to 105 countries with freedom of information laws, only a handful–14–responded within the timeframe required by law. Thirty-eight other countries eventually answered most of the questions posted to them by the wire service and provided AP with some data. On average, younger democracies were far more responsive than older ones, the AP's analysis concluded, but at the same time more than half never turned over any documents and three out of four didn't even acknowledge the AP's requests.
In the U.S., as agencies from the federal level down to the local level adapt to transparency requirements, many have formulated work-arounds – imposing exorbitant fees, arcane bureaucratic hurdles and discretionary exemptions to deny documents that are essential to breaking important stories. For a journalist whose appeals have failed, there is little recourse other than litigation, which is a significant barrier for freelancers who typically do not have the means for a potentially protracted court battle.
The situation today is a marked departure from my experience with the Air Force story. In 2011, Weinstein connected me with his Air Force friend, who gave me a crash course in filing effective FOIA requests, and I studied the half-century-old law, the agencies' FOIA specific regulations and their systems of record, where the documents I was seeking would likely be stored. I educated myself on how to convince agencies to grant me expedited processing (getting to the top of the pile) and to obtain fee waivers. Between 2011 and 2012, I fired off more than 500 FOIA requests on a wide range of subject matters, such as the CIA's targeted killing program, the treatment of detainees at Guantanamo and what appeared to be the FBI's surveillance and monitoring of civil rights activists. What I learned from my Air Force mentor is that by creating a pipeline of requests early on, I would receive a steady flow of documents down the road, perhaps several times per week (and just as frequently, major scoops) once the agencies got around to processing my requests and producing responsive records.
I also began to observe that agencies often do not meet the letter of the law, which is something that is becoming more prevalent today. Though filing FOIAs has resulted in the disclosure of some important records, it has become less and less practical in application as a result of bureaucratic fees and backlogs that extend years in some cases.
FOIA requires an agency to make a determination on releasing records within 20 business days, with an extension of 10 business days available in "unusual circumstances." Unfortunately, very few FOIA requests are decided within the timeframe required by the law, and delayed responses are a significant problem for investigative journalists. The information sought may become less valuable over time, such as information about a candidate that will be less newsworthy after the election is over and information about a war that will be less relevant after the conflict ends. Often, information delayed is information denied.
Making matters worse, agencies take a narrow view of which circumstances merit expedited processing of FOIA requests. For example, the Defense Intelligence Agency denied my request in 2013 for expedited processing for documents related to the harm to national security caused by Edward Snowden's revelations, although it was a matter of great public interest. And even when expedited processing is granted, the process moves slowly. In 2014, I submitted a FOIA request to the Department of Justice for records relating to the agency's investigation of allegations that the CIA had accessed the computers of staffers working for the Senate Intelligence Committee without authorization. Although expedited processing was granted, the agency decided it would not release any records until January 29, 2016. When the agency finally released the documents, they were revealing, to say the least, and had an enormous impact. The resulting 9,000-word article took months to investigate and write. It centered on allegations that the CIA spied on Senate staffers who conducted the probe into the torture program. Senator Dianne Feinstein first leveled those charges against the CIA in March 2014 during a stunning floor speech. At the time, CIA Director John Brennan said Feinstein's allegations were preposterous. The result was an ongoing argument–so contentious that it led to a near constitutional crisis– which played out in the media during much of 2015.
Through my FOIA efforts, about 500 pages of related documents were declassified, revealing many new details about the spying incident. It proved that Feinstein was correct: The CIA did snoop on Senate staffers' work and violated a 2009 agreement between the agency and the committee. Those documents also suggested that a January 2015 CIA accountability review board report that exonerated CIA employees responsible for accessing Senate computers was a cover-up.
One of the documents in the cache was an apology letter CIA Director Brennan had drafted to Feinstein and the committee's ranking Republican, Senator Saxby Chambliss–a letter that Brennan never sent. When we asked the CIA about the letter, we were told that it had been mistakenly turned over to us. The agency urged us not to publicize it because it was embarrassing. We denied the request. It was a rare agency FOIA snafu.
Our reporting on the CIA documents, supplemented with interviews we conducted with key Senate staffers and members of the committee, also contained an explosive new revelation: A Google search conducted by a Senate Intelligence Committee staffer was the catalyst behind the CIA's breach into the committee's computers. Our investigative report on one of America's most contentious clashes related to oversight in decades sparked a national discussion about the separation of powers and led to calls for accountability of CIA officials by both Feinstein and Senator Ron Wyden. And FOIA was the reason we were able to do it.
It's important to note that I would never have obtained these documents had I not litigated. Agencies often ignored both Obama's original memorandum and then-Attorney General Eric Holder's official FOIA guidelines, which he sent to the heads of the executive departments and agencies. Holder's guidelines, contained in a March 19, 2009 memo, could not be any clearer: "An agency should not withhold information simply because it may do so legally. I strongly encourage agencies to make discretionary disclosures of information. An agency should not withhold records merely because it can demonstrate, as a technical matter, that the records fall within the scope of a FOIA exemption."
The question, of course, is what sort of guidelines may be issued by the Trump administration, given the president's antipathy toward the press and the fact that agencies routinely ignored even his predecessor's directives.
In many cases, agencies thwart requests by invoking Exemption 5, or (b)(5), otherwise known as the "withhold it because you can" exemption. Exemption 5 applies to records that are part of the behind-the-scenes decision-making process–called "deliberative"–and covers any "inter-agency or intra-agency memorandums or letters." This is a discretionary exemption that government agencies are free to waive in favor of disclosure, though they rarely do. What ends up happening is that either a requester receives documents that are heavily redacted or the documents are withheld in their entirety. Agencies have frequently used Exemption 5 to hide misdeeds by claiming they were inter- or intra-agency communications. The most egregious example, perhaps, is when the CIA denied the National Security Archive's request for a 30-year-old draft volume of the Bay of Pigs, even though four previous volumes were released without any harm to national security or deliberations within the government. The CIA further argued, oddly, that the release of this volume would "confuse the public" as to whether the document was official CIA history.
Another recurring problem that journalists experience is with the FBI's invocation of Exemption 7(A). Under this exemption, an agency may withhold "records or information" compiled for law enforcement purposes which "could reasonably be expected to interfere with enforcement proceedings." The exemption comes up frequently in my work because I often request records or information about recent events.
Congress deliberately chose the words "records or information" when it amended Exemption 7 in 1974 to eliminate a blank exemption for investigatory files compiled for law enforcement purposes. The problem had been that agencies could simply place documents that they wanted to withhold from disclosure inside an investigatory file, and then treat the document as exempted simply because of its location. In that way, agencies managed to work around the transparency requirements.
Despite Congress's clear intention and the plain language of FOIA in the 1974 amendment, the FBI continues to withhold information where the record requested "is located in an investigative file which is exempt from disclosure pursuant to 5 U.S.C. 552(b)(7)(A)." Despite Congress's clear intention and the plain language of FOIA after the 1974 amendment, the FBI continues to withhold information where the record requested "is located in an investigative file which is exempt from disclosure pursuant to 5 U.S.C. 552(b)(7)(A)". I have received dozens of denial letters from the FBI based on this erroneous interpretation of FOIA, and the Department of Justice's Office of Information Policy has affirmed the FBI's decision in every administrative appeal I have filed. The FBI has not defended its position in court, but instead conducts a new review applying the proper standard once litigation has commenced. As a result, the issue becomes moot. In other words, the FBI will search for segregable records located in an investigative file but you have to sue the bureau first.
A common FOIA complaint among journalists, especially freelancers whose funds are limited, is that agencies also often charge astronomical fees in an effort to deter requesters from filing requests and obtaining records. This practice is rampant on the state level and very difficult to overcome. In 2014, for example, I sought emails from officials with the city of Ferguson, Missouri. that mentioned or referred to the shooting death of unarmed African-American teenager Michael Brown. The city clerk told me that I would have to pay $2,000 in advance for a search to be conducted and to pay the city attorney to review and redact any responsive emails. Clearly, this was an attempt to discourage me from accessing public records. I told the clerk that these records were in the public interest, given the widespread media attention surrounding Brown's case, and that I, as a journalist, should be granted a fee waiver. I filed an appeal over the exorbitant fees with Ferguson city clerk Megan Asikainen. She told me in an email that my appeal was denied "because the fees are necessary in order to provide the materials you requested." In other words, it didn't matter that I would be informing the public. She further explained that the $2,000 was "based on an estimate of the City's programming costs related to the extensive request and the research time related to the documents that may be responsive to the request."
So my news outlet, VICE News, agreed to cut the city a check, essentially calling the city's bluff. When the search was completed, we ended up with only seven emails, but they were newsworthy, revealing that police officers in the city viewed themselves as victims. Officers stated that they feared that people in the community were "gunning" for them, and that officers were having a "rough" time dealing with the news media.
On the federal level, there's a misconception among journalists that by simply filing a FOIA request and stating, "I'm a journalist," they won't be charged fees. But when fee waivers are denied, it's usually because a journalist fails to state in their initial request how they intend to use the records and show that disclosure is "likely to contribute significantly to public understanding of the operations or activities of the government." The burden is on the journalist to include language in a request articulating why he or she should be granted a waiver of fees and that they have the ability to convey the information to a broad segment of the public. Too often, journalists throw up their hands when told that the records they seek will cost hundreds or thousands of dollars. FOIA provides for appealing a fee waiver denial, and in my experience, it's usually granted when you take the time to answer these questions. But the timeline invariably gets stretched out, which may affect the news value of the story.
Even when a journalist acts with the utmost diligence in filing a FOIA request, agency foot-dragging can and often frustrates their attempt to obtain records at the time when they are needed most. In most cases, filing a lawsuit moves the request to the top of the pile and catalyzes the release of documents. That's certainly been my experience over the past six years. However, not all investigative journalists are in a position to expend the substantial resources necessary to bring FOIA lawsuits, and even large media outlets may conclude that the cost of litigation outweighs the benefits.
All of which means that despite specific directives from the former president and attorney general, and transparency efforts in Congress and state legislatures, agencies from the Department of Defense down to the local city clerk's office frequently and increasingly find ways to use the rules in the service of de facto censorship. Given that the U.S. sets the standard for public document availability, that is discouraging and doubtless prevents crucial stories from seeing the light of day.
Yet there may be some hope. In early 2016, a few weeks before the 50th anniversary of the passage of the Freedom of Information Act, Congress passed legislation to reform the Act and President Obama signed it into law shortly thereafter. The new law is supposed to make it easier for journalists, historians and the general public to gain access to documents by forcing government agencies to be more transparent. The bill will codify into law Obama's original presidential memorandum, instructing all government agencies to "adopt a presumption in favor of disclosure, in order to renew their commitment to the principles embodied in FOIA, and to usher in a new era of open Government."
Most importantly, the reform bill overhauled Exemption 5, the "withhold it because you can" exemption. When government agencies cite B5, which applies only to internal deliberations, they can withhold records under that exemption forever. But under the new law, federal agencies can only withhold records pertaining to internal deliberations for 25 years. For historians, that's a significant change. Government agencies are required to issue new regulations explaining how they intend to implement the new reforms to the FOIA, which they are currently doing. But the bill does not contain any additional funding to assist government agencies with carrying out the reforms. That means long delays will persist and agencies will no doubt attempt to exploit loopholes to keep the public in the dark.
Jason Leopold is an Emmy-nominated investigative reporter and correspondent for BuzzFeed, where he reports on national security.