New York, July 6, 2016–The Committee to Protect Journalists called on prosecutors today to drop all charges against Mark Thomason, the publisher of local weekly newspaper Fannin Focus, in Blue Ridge, Georgia. Thomason, who was arrested June 24, faces felony charges including making a false statement in an open records request.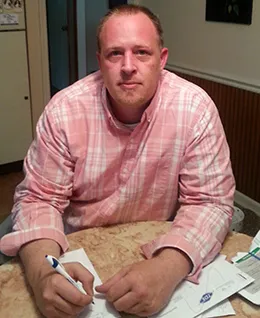 Thomason, who was released on a $10,000 bond June 25, told CPJ he could face up to 20 years in prison if convicted. As well as being accused of making a false statement, he said he faces additional felony charges of identity fraud and attempted identity fraud in relation to a subpoena for information about court bank accounts.
The open record request and subpoena relate to a legal battle over a previous open records request filed by Thomason when he was investigating allegations that a judge used a racial slur, according to statements by the journalist and court documents reviewed by CPJ. The attorney who helped him file the subpoena, Russell Stookey, also faces charges, according to reports.
"The use of open records requests is fundamental to democracy and a free press, so it is chilling that a U.S. journalist is facing felony charges for seeking public information," said Carlos Lauría, CPJ's senior program coordinator for the Americas. "Prosecutors should immediately drop all charges against Mark Thomason and his attorney."
The legal dispute is connected to a defamation case brought against Thomason in 2015 by court reporter Rhonda Stubblefield, who accused the journalist of libel over a story that said her transcripts may be incomplete, according to The Associated Press. Stubblefield sued the journalist after he filed a records request for a court transcript and audio recording, after it was alleged that a judge used a racial slur in court and that not every instance of the slur being used was recorded, according to reports.
The case, in which damages of $1.6 million were sought, was dropped but in April, Stubblefield sued Thomason for $16,000 to cover her attorney costs, the AP reported.
Thomason told CPJ that he and his lawyer subpoenaed checks from two public checking accounts that are used to pay court expenses. He said they believed the accounts, one of which was a courthouse account in the name of Chief Superior Court Judge Brenda Weaver, would show that the court had paid the court reporter's legal fees. Thomason also filed an open records request to a bank where the Appalachian judicial circuit operating accounts were allegedly housed, to seek records of checks that the county had written to the judges. In the request, Thomason said that "some checks appear to have not been deposited but cashed illegally," reports said.
Weaver, chief judge of the local superior court, told the Atlanta Journal Constitution that she was upset by the subpoena and the records request. Weaver told the newspaper she believed Thomason's reporting was part of a vendetta against her.
According to Gawker, Weaver asked district attorney Alison Sosebee to file the indictments against the journalist.
The indictments for identity fraud relate to the subpoena and claim that Thomason sought the bank information to "unlawfully appropriate resources of [Judge Weaver]." It said that he issued the subpoena "without the consent of Brenda S. Weaver."
The indictment of making a false statement relates to the open records request and says Thomason knowingly submitted a false representation when he said that checks had been cashed illegally.
Sosebee said the charges are not related to the journalist's use of the Open Records Act and told the AP that the charge "relates to the statement that he included within his request."
Attempts by CPJ to contact Weaver and Sosebee were not immediately successful. CPJ left messages for Weaver today on the office numbers provided for her on the court webpage. CPJ also left a message seeking comment with an assistant for Sosebee. No one immediately responded to the requests for comment.
Thomason denied the claims to CPJ. He said that as part of his bond conditions he must call the Applachian Pretrial Probation Program every morning between 5 a.m. and 7 a.m to see if he needs to submit to a drug test at a pretrial center. He is prohibited from being within 200 feet of Weaver or any of the subpoenaed witnesses, a condition that he says has prevented him from reporting at the courthouse.
All three judges in the Appalachia circuit have recused themselves and the trial will be held in a different circuit, according to press reports.