Nearly two months after her early release from a decade-long prison sentence, Vietnamese blogger Ta Phong Tan is settling into life in exile in the U.S. Hers was the latest in a series of U.S. State Department-negotiated releases of political prisoners held on anti-state charges on condition they promptly leave Vietnam, removed from their families, homes and communities.
Tan, a former police officer who blogged about abuses in Vietnam's justice system, spent four years behind bars on anti-state propaganda charges. During that time she staged several hunger strikes to protest poor prison conditions and mistreatment of fellow inmates. Adding to her trauma, Tan's mother, Dang Thi Kim Lieng, died through self-immolation in 2012 in protest over her daughter being held incommunicado while in pre-trial detention.
Since her release Tan has visited CPJ's New York offices to discuss how to advocate the release of journalists and other political prisoners in Vietnam. In an email interview with CPJ, Tan elaborated on her time in prison and her hope that with sustained diplomatic and civil society pressure, U.S. engagement with Vietnam will lead to greater press freedom in her homeland.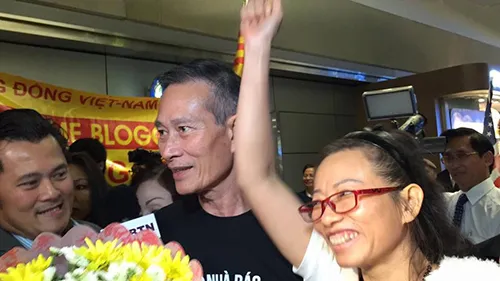 CPJ: Your early release from prison was predicated on leaving Vietnam for a life in exile in the U.S. How difficult a decision was that for you?
Ta Phong Tan: It was not hard because I had no other choice. Either I stayed in Vietnam and spent another six years in prison plus five years of probation on release, or I went to America. If you were in my position, you would decide as quickly as I did. I was imprisoned because of my independent journalism. Now I have the opportunity to go to a free country to continue my reporting.
CPJ: Were you able to say goodbye to your family before leaving?
Ta Phong Tan: I had no chance at all. At 12:30 p.m. on September 19, prison officials told me I should gather my belongings and go straight to the airport for a 5:30 p.m. flight that day. On the road there were three cars full of [prison officials]. I was in the car in the middle, with eight other people. Upon arrival at Noi Bai airport in Hanoi, they took me to a room through the airport's back entry. There were no other passengers, only about 20 police officers. More than 10 people were pointing cameras at me. A few minutes before the plane took off, they let me out. [U.S. State Department official] David Muehlke stood at the door to welcome me on the plane. We were the last two passengers to board.
CPJ: How are you adjusting to the U.S and what are your plans?
Ta Phong Tan: Journalism in America is different from journalism in Vietnam. I am gradually adapting to the new life, changing old professional habits. For me, happiness is doing the job I love, where I can make a living while pursuing my passion.
I have started to contribute to a Vietnamese newspaper in America that I had collaborated with when I was in Vietnam. I am writing the first part of my memoir, Standing Straight as a Human: 1,474 days in a Vietnamese Communist Prison. My presence in the U.S. today is the effort of many people who fought for my freedom to write.
CPJ: As an independent blogger, you often spotlighted abuses in Vietnam's police and justice system. Do you think your mistreatment in prison was in retaliation for your reporting?
Ta Phong Tan: It is the nature of Vietnam's communist government to use vile and dirty tricks to exact revenge. They even took vengeful action against my relatives and the family members of other political prisoners. These actions were clear. There is nothing speculative about them.
[EDITOR'S NOTE: The Ministry of Public Security, which is responsible for Vietnam's police and prison system, did not respond to CPJ's request for comment.]
CPJ: When did authorities tell you about your mother's death?
Ta Phong Tan: Three days after my mother died, prison officials took me to a room and told me about her death. I immediately told them, "I have recorded this crime of the communist government of Vietnam. It's because of the Communist Party of Vietnam that my mother died unjustly and painfully. As long as I am alive I will return some day to this feud. You should remember!" When I finished, I stood up and left the room.
CPJ: You staged several hunger strikes while in detention. What motivated your protests and how did prison authorities respond?
Ta Phong Tan: Several women political prisoners and I organized hunger strikes to demand our legal rights. If I did not have the courage to strike for and protect my own interests, who will later believe I can protect the rights [through journalism] of voiceless people? The prison authorities did not respond at all.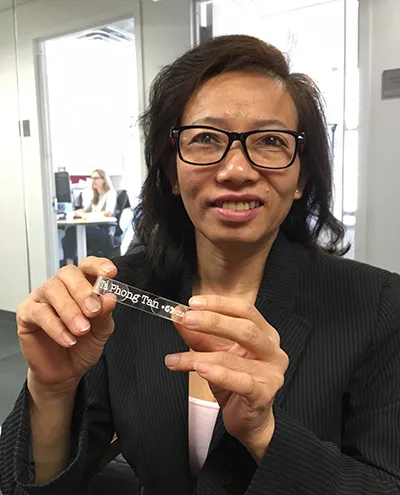 CPJ: Vietnam signed on to the United Nations Convention against Torture in November 2013. Judging from your experience in prison, do you think Hanoi is living up to its legal obligations?
Ta Phong Tan: Vietnam's communist authorities never voluntarily uphold the conventions on human rights, freedom of the press, freedom of speech, against torture [that] they have signed. They always find ways to wiggle out and avoid their obligations. Only when pushed do they implement just a little bit so they can announce that the international community believes they are "making progress." Their behavior is quite comic.
CPJ: What media-related reforms do you think the U.S. should demand of Vietnam as a member of the Trans-Pacific Partnership trade pact? Do you hope that warming U.S.-Vietnam ties will result in greater allowances for free and independent journalism in Vietnam?
Ta Phong Tan: Vietnam could benefit immensely from the Trans-Pacific Partnership. The U.S. State Department should tell Vietnam that if they want good things from the Trans-Pacific Partnership, then first they must do good things for the Vietnamese people, including respect for human rights. Vietnamese authorities always say one thing and do another. They are not reliable partners.
The U.S. government should demand that Vietnam amends legislation so that it is consistent with international law. The Trans-Pacific Partnership mainly emphasizes economic issues and the rights of workers. Journalism is a profession like any other occupation. If Vietnamese workers are to benefit from free association, as required by the Trans-Pacific Partnership, then those of us working as journalists should enjoy the same rights to their fullest extent.
CPJ: You were part of CPJ's Press Uncuffed campaign calling for the release of jailed journalists worldwide. What sort of impact did the campaign have on you?
Ta Phong Tan: I was thankful to CPJ for launching the campaign and I felt honored to be one of those named on the list. It is very significant for countries where there is no free press. It's a great encouragement to journalists to believe in their goals, to the righteousness of the work they have chosen. I hope CPJ continues to organize more campaigns such as this until there's freedom of the press worldwide.
[Translated from Vietnamese by Huong Nguyen]