In September, Vietnamese blogger Ta Phong Tan was released after serving three years of a 10-year prison term and was immediately flown to Los Angeles. In October 2014 Tan's colleague Nguyen Van Hai, whom she co-founded the Free Journalists Club with in 2007 and who was also imprisoned for his work, followed the same route.
In a blog Hai wrote for CPJ a few months after arriving in Los Angeles, he captured perfectly the bitter-sweet nature of his and Tan's freedom. "As the plane took off, I looked back at my home country, where I had been held in bitter conditions in communist prisons, and where my friends are still seeking freedom for our country. I had just been released from jail and immediately forced into exile in the U.S.," he wrote.
CPJ had been advocating for the release of Hai and Tan for many years. The abuse these bloggers said they faced in jail was aggravated by the way they were forced into exile on their release. But while we welcome their freedom, it is not enough for Vietnam to free journalists piecemeal without meeting the commitments to human rights that the country agreed to in a comprehensive partnership agreement it signed with the U.S. in 2013.
During John Kerry's visit to Vietnam in August the U.S. Secretary of State said that the protection of human rights would be the foundation of any deal. But the message from Vietnam appears to contradict this. After Vietnam's defense minister General Phung Quang Thanh and his U.S. counterpart Secretary of Defense Ashton Carter met in June Thanh said questions about his nation's human rights record should not influence any U.S. decision to remove its ban on weapons sales to Hanoi, The Associated Press reported. Since those meetings, the U.S. has agreed to provide $18 million for Vietnam to buy patrol boats, and Japan has agreed to provide second-hand vessels and other maritime defense equipment, according to reports.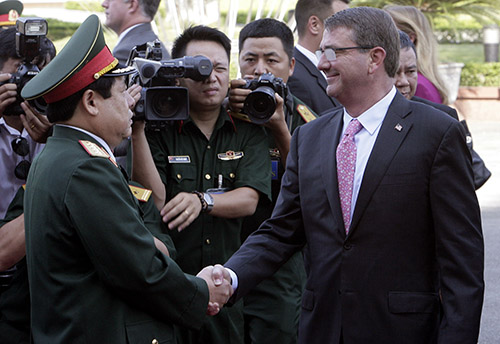 As tensions simmer in Southeast Asia over China's claims to much of the South China Sea, smaller nations in the region are looking to the U.S. and other democracies as military allies. It is that sort of pressure that could be used by officials to justify minimizing rights issues such as press freedom.
Press freedom conditions remain poor in Vietnam. The country ranks sixth on CPJ's list of the most censored countries in the world and, at the time of CPJ's last prison census, 16 journalists and bloggers were imprisoned in the country. That number reflects a deterioration. In 2007, CPJ data showed only two journalists behind bars.
In CPJ's talks with Hai and a group of Vietnamese analysts and activists who have coalesced around him, we have been asked to do more than just advocate for the release of jailed journalists. The group wants Article 14 of the constitution amended. Article 14 guarantees human rights, including freedom of expression, but it allows these rights to be suspended for reasons of "national defense, national security, social order and safety, social order and community wellbeing."
The group also wants the government to abolish or amend all anti-state laws, including Articles 79, 88, and 258 of the penal code, which penalize "propagandizing" against the state or "abusing democratic freedoms." Such vague anti-state laws are typical of authoritarian governments, which use them to threaten and imprison journalists.
CPJ is grateful for the release of journalists anywhere in the world and will welcome the release of more imprisoned journalists and bloggers from Vietnam. But those dealing with the country and offering closer ties, including military assistance, should not sideline Vietnam's reform in favor of trying to head off China's territorial claims.