China's President Xi Jinping announced a major cap-and-trade program on carbon emissions at the White House today, but a cap on press freedom back home has long been in place.
On September 22, the Cyberspace Administration of China, the country's leading Internet regulatory body, issued a media directive stating that mobile phone apps of Chinese news organizations are not to send more than three push notifications of "negative news" related to public security and law during Xi's visit to the U.S. A journalist working for a newspaper in China, who asked to remain anonymous for fear of reprisal, told CPJ that the directive also stipulates that any organization violating the rule will be punished by having their app's push notification function disabled for 10 days. "This is to make sure that while Xi is in America, not too much bad news is spreading around back in China," the journalist said.
The domestic media have been covering Xi's visit with enthusiasm, from his policy objectives and the implications of his speeches, to what he eats for dinner and his wife's clothes. Absent from the reports in China, however, are details of the street protests against Xi in cities that he visits, as well as the numerous conferences, petitions, and exhibitions criticizing China's human rights records.
While press freedom is heavily restricted in China–a country ranked as one of the top 10 most censored countries by CPJ–stricter rules govern the reporting of elite politics to ensure the government's absolute control over the press on this particularly sensitive topic.
In one incident earlier this week a newspaper, where the journalist who spoke with CPJ works, removed an article from its online edition about the menu at a banquet Xi attended in Seattle. "It's not that the news is politically sensitive per se, it is that we published before Xinhua did. We re-posted it after Xinhua released its report," the journalist said, referring to the state news agency. No order was issued, but the rules are clear in such cases. "For any reporting on a member of the Politburo Standing Committee, we first need to wait for Xinhua to release its report. This is the rule in the news industry," said the journalist, explaining the sensitivity of reporting on members of China's seven-member highest political governing body.
Asked by CPJ whether the journalist's newspaper could choose not to report on an event if the staff did not want to toe the party line, the journalist said, "Of course you can't do that for such an important event, especially for an influential newspaper. You would be suspected of having some ulterior motive and be punished."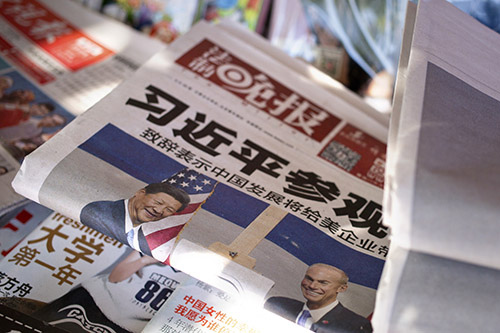 While printed newspapers are restricted, online outlets fare no better. An editor for a publication that posts through WeChat, China's most popular social media app, told CPJ: "We are not necessarily a domestic news organization and we did not receive any directives for what not to publish, but I'm still reluctant to post critical news regarding Xi's visit for the purpose of self-preservation." The editor, who asked not to be named for fear of reprisal, added: "I felt really bad when I published an article with all these photos of people welcoming Xi, and was not able to use any photos that had protesters in them."
As well as muzzling a domestic commercial media that it does not directly control, the Chinese government launched a full-blown propaganda campaign through its state media to boost Xi's visit. Often a venue for articles of nationalistic and anti-America sentiments, state media outlets published a barrage of articles and videos extolling U.S.-China engagement with the title of one Xinhua article on September 22 reading, "Xi says China-U.S. friendship transcends time, space." In a video published online on the same day by the Communist Party mouthpiece the People's Daily, a woman from California gushed about Xi, saying he is "handsome" and "super charismatic."
On September 23, a WeChat message went out from a Chinese professor in the Washington, D.C. area, to students in the city, asking them to help distribute copies of China Daily along D.C. metro stops when Xi is in town. The message read, "Starting from 7 o'clock. It takes about over two hours. Fifty dollars pay." A copy of the message, which has been viewed by CPJ, included contact details for staff at China Daily, a Chinese government-controlled English newspaper distributed for free in the U.S.