In the final part of CPJ's "Undercover in Vietnam" series on press freedom in Vietnam, Southeast Asia Representative Shawn Crispin reveals how prominent blogger Nguyen Van Hai remains behind bars for his critical writing despite the margin for debate opening. The series concludes with recommendations for the Vietnamese government and international bodies.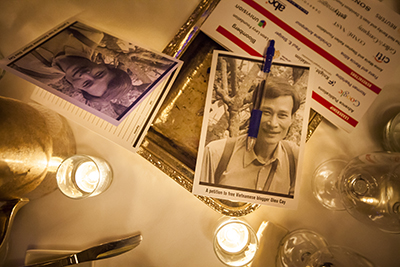 Incarcerated for the past six years in poor prison conditions, Nguyen Van Hai has suffered dearly for his critical views on China. First detained on trumped up tax evasion charges in 2008, and subsequently convicted in 2012 on anti-state charges for blogging, 62-year-old Hai is currently serving a 12-year jail term that his family fears could be a death sentence in view of his declining health.
Hai, better known as Dieu Cay, was first arrested in April 2008, a political juncture when Vietnam was firmly in China's diplomatic and economic orb. A recent deterioration in China-Vietnam relations, however, has allowed for marginally more open reporting and critical commentary on China in the state-controlled Vietnamese press.
"My father was the first to talk about China's intentions [towards Vietnam]," said Hai's son, Nguyen Tri Dung, in an interview with CPJ in Ho Chi Minh City. "Now, everybody is saying what he said about China, even government leaders. They should set my father free."
The shift in central sentiment was evident in local reporting on the maritime confrontation from May to July, stemming from China's placement of a massive oil exploration rig in an area of the South China Sea claimed by Vietnam. In May, anti-China riots that destroyed several Chinese-owned factories, and the evacuation of hundreds of Chinese citizens were also given surprisingly wide coverage in many state-controlled local newspapers.
Until recently, reporting on anti-China sentiment was strictly banned in local mainstream media. Independent bloggers who dared criticize China were often harassed, and sometimes imprisoned. A number of the 18 journalists currently incarcerated in Vietnam were charged in part for their critical reporting on China, and Hanoi's perceived acquiescence to Beijing's claims to contested maritime territories, according to CPJ research.
Local reporters who requested anonymity told CPJ that Chinese Embassy and consulate officials have frequently called their newspapers' editors to complain about coverage or commentary that even faintly cast China and its Vietnam-based interests in an unfavorable light. The government, the Chinese Embassy, and the Chinese Consulate in Ho Chi Minh City did not respond to CPJ requests for comment about those claims.
Vietnamese officials previously cracked down hard on bloggers who criticized the environmental impact of a China-invested bauxite mining venture, a project in which many bloggers speculated that top Vietnamese leaders shared personal stakes.
But Beijing's rising naval assertiveness in the South China Sea has driven Vietnam's Communist Party leadership to reconsider its diplomatic options, seen in recent overtures for countervailing strategic support made to the U.S. and its regional allies. A recent in-country poll by the BBC's Vietnamese language service showed that 87 percent of Vietnamese respondents preferred that Hanoi ally with the U.S., and only 1 percent favored allying with China.
The U.S. is now considering whether to lift a 30-year embargo on weapons sales to Vietnam to bolster its naval readiness vis-à-vis China. During a visit to Hanoi on August 8 and 9, U.S. Senator John McCain, a former prisoner of war in Vietnam, reiterated past U.S. calls linking stronger bilateral ties to improved human rights. Last year, the two former adversaries entered a "comprehensive partnership" and are now negotiating Vietnam's potential entry into the U.S.-led Trans-Pacific Partnership preferential trade pact.
With the shifting political currents, local journalists hope that stronger ties with the West will translate into improved press freedom. For instance, an Australian Embassy-organized conference on human rights, held in Hanoi on July 30, featured critical presentations by non-government media, including independent bloggers. None of the bloggers were immediately harassed for their participation — though the state mouthpiece Nhan Dan (The People) criticized the conference as "interference" in the country's internal affairs.
Pham Chi Dung, an independent journalist, former Communist Party official and president of the newly formed Independent Journalists Association of Vietnam, is skeptical that Vietnam's leaders will shift from China towards the West any time soon. "Chinese intelligence knows a lot about Vietnam's leaders' assets and their families' businesses," said Dung, "They can only allow so much criticism [of China]."
In the lead-up to McCain's visit, there was widespread speculation among local bloggers and activists that Hai was poised for release. His son was invited to Ho Chi Minh City's civil matters office to pay a fee as a condition for potentially granting Hai a special clemency, according to a report posted on the Independent Journalists Association of Vietnam's website. Five prominent political prisoners were released days after U.S. Deputy Secretary of State Wendy Sherman visited Vietnam in March. Yet more than a month after McCain's symbolic visit, Hai and 17 other journalists still languish behind bars.
[Reporting from Ho Chi Minh City]
CPJ's recommendations
To the Vietnamese government:
Under Article 19 of the International Covenant on Civil and Political Rights, all people everywhere "shall have the right to freedom of expression …either orally, in writing or in print." As a signatory to the Covenant, Vietnam must respect this fundamental right in practice.

Stop jailing journalists and bloggers, and uphold Article 25 of the Vietnamese constitution that permits "freedom of opinion and speech, and freedom of the press."

Amend Article 14 of the constitution, which allows human rights, including freedom of expression, to be suspended for reasons of "national defense, national security, social order and safety, social order and community wellbeing."

Release all imprisoned journalists immediately and unconditionally. CPJ research shows that at least 18 bloggers and journalists were imprisoned in Vietnam as of December 1, 2013.

Halt the arbitrary detention, surveillance, and harassment of journalists. Roll back the recent deployment of plainclothes officials tasked with monitoring and harassing prominent bloggers.

Abolish or amend all anti-state laws, including Articles 79, 88, and 258 of the penal code, which penalize "propagandizing" against the state or "abusing democratic freedoms." Stop using these laws to threaten and imprison journalists.

Allow reporters open access to all areas of the country. Stop detaining journalists ahead of important news events, and before the trials of journalists and activists charged with anti-state crimes. Stop revoking the passports of independent journalists, and restore their freedom of travel. Permit journalists who have fled persecution into exile to return to Vietnam without reprisal.

E

nd the government's monopoly of print and broadcast media. Allow for the establishment of independent, privately held newspapers, radio stations, television news channels and online media platforms. Permit recently formed independent journalist and blogger associations to operate without harassment or threat of reprisal. Engage and implement both advocacy groups' calls for greater press and Internet freedoms.
To the European Union and United States
Call for the release of all imprisoned journalists and stress the importance of improvements in press and internet freedoms in dealings with Vietnam, including diplomatic, economic, trade, and strategic agreements and talks.

In the case of the U.S., advocate for press freedom improvements in talks with Vietnam on the Trans-Pacific Partnership regional trade agreement, and discussions on whether to end the U.S.'s 30-year ban on lethal weapons sales.

In the case of the European Union, enforce the Urgent Resolution on Vietnam, adopted in April 2013, which states in Article 7 that "human rights dialogue between the E.U. and Vietnam should lead to concrete progress on human rights and democratization." The E.U. must consistently raise concerns about violations at the highest levels in Vietnam, and should pressure the government to lift Internet and blogging controls, and bans on privately owned media.
To United Nations member states:
Press Vietnam to release all imprisoned journalists and make demonstrable progress on press and Internet freedoms in accordance with its obligations as a rotational seat member of the United Nations Human Rights Council.
To international Internet and technology companies:
Conduct human rights impact assessments for all new services and products for the Vietnamese market and ensure that such services protect the freedom of expression and privacy of users.

Follow the principles of the Global Network Initiative by setting up internal company procedures and staff training on how to handle requests from the authorities for user data, content filtering and take-downs in accordance with international human rights standards.

Publish transparency reports about official requests for user data and the companies' responses.