New York, January 2, 2013–The family of U.S. freelance journalist James Foley today publicized the reporter's abduction in Syria on November 22. The family, which had previously asked that the kidnapping not be disclosed, launched a public campaign to seek his release.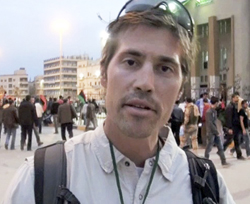 Foley, who has contributed to Global Post and Agence France-Presse, was traveling in Idlib province toward the border with Turkey when his car was intercepted, Global Post reported, citing the account of a witness interviewed by a Turkish journalist. Two armed assailants forced Foley out of his vehicle and he has not been seen or heard from since, according to the news website, citing the witness account.
"James Foley is an experienced, independent journalist who has sought to document the conflict in Syria," said Sherif Mansour, CPJ's Middle East and North Africa Coordinator. "We call on his captors to release him, unharmed, immediately so he may return to family and friends who have been anxiously awaiting word of his fate."
No group has claimed responsibility for the abduction. NBC correspondent Richard Engel and his crew were held captive in the same region of Syria for several days in December. The area has seen frequent clashes between the Syrian Army and rebel groups. In addition to the Engel and Foley abductions, CPJ has documented at least 15 other abductions nationwide in Syria.
Foley is an experienced journalist who has reported from other conflict areas, including Afghanistan and Libya. In 2011, Foley and two other journalists were held captive for more than 40 days in Libya by forces loyal to Muammar Qaddafi. A fourth journalist who was traveling with them, Anton Hammerl, was shot and killed by Libyan forces when the group was seized.
Syria was the world's deadliest country for the press in 2012, with 28 journalists killed in direct relation to their work and at least two others reported missing, according to CPJ research.
For more data and analysis on Syria, please visit CPJ's Syria page here.