Nairobi, August 3, 2012—An appeals court in Addis Ababa, the Ethiopian capital, has reduced a 14-year prison sentence given to journalist Reeyot Alemu in January to five years and dropped most of the terrorism charges against her, according to local journalists.
Reeyot, a columnist for the independent weekly Feteh, was sentenced in January and fined 33,000 birrs (US$1,500) under Ethiopia's sweeping anti-terrorism law for planning and conspiring a terrorist act; possessing property for terrorist acts; and participating in the promotion or communication of a terrorist act, according to local journalists.
The court today acquitted the journalist of the first two accounts, but upheld the third, according to local journalists. Reeyot's lawyers told CPJ that they are seeking to have her acquitted of the final charge as well. Reeyot is currently in Kality Prison, which is located on the outskirts of the capital, local journalists said.
Reeyot wrote many critical columns for several independent publications including Feteh, Awramba Times, and the now-defunct Change magazine, in which she sometimes criticized the ruling party's politics, including its five-year growth and transformation plan, according to news reports.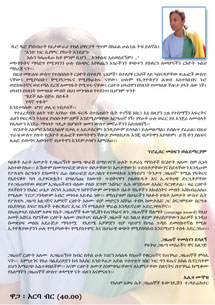 Reeyot, a 2012 winner of the International Women's Media Foundation Courage Award, was arrested in June 2011, along with Woubshet Taye, a journalist with the now-defunct weekly Awramba Times, and accused of involvement in a vague terrorism plot. The evidence presented by government prosecutors against Reeyot included emails she had received from pro-opposition discussion groups; reports or photos she had sent to the U.S.-based opposition news site Ethiopian Review; unspecified money transfers from her bank account; and photos of anti-government graffiti taken in Addis Ababa, according to court documents reviewed by CPJ.
"While we are pleased to hear about the reduction of Reeyot Alemu's prison sentence, we reiterate that she should not have had to spend a single minute in jail," said CPJ East Africa Coordinator Tom Rhodes. "Writing critical columns about the government is not a criminal offense and is certainly not a terrorist act–Reeyot should be released immediately."
A collection of Reeyot's political analysis and writings has been compiled in a book entitled "EPRDF's Red Pen" which will be launched on Saturday in Addis Ababa, according to local journalists.
For more data and analysis on Ethiopia, visit CPJ's Ethiopia page here.