New York, February 29, 2012–The Committee to Protect Journalists called on Senegalese authorities today to thoroughly investigate recent attacks on the media and ensure that the press is able to report freely on the country's presidential election results and potential run-off. CPJ has documented at least 12 incidents of threats and physical harm against journalists reporting on the campaign, Sunday's vote, and its aftermath. Most of the incidents involved security officials or ruling party members.
Senegal's incumbent President Abdoulaye Wade is seeking a third term in power after judges he appointed to the country's Constitutional Council ruled that a two-term limit does not apply to him. He stood in elections Sunday along with 13 other candidates. No official results have been released, but a run-off on March 18 between Wade and one other candidate is likely, news reports have said.
Wade's bid for a third term sparked nationwide protests in which at least six people were killed and many others injured, including Agence France-Presse correspondent Malick Rokhy Bâ, who was assaulted by police, according to the journalist and news reports.
"We condemn acts of intimidation and violence on journalists reporting on Senegal's presidential elections and call on authorities to investigate the attacks and hold the perpetrators to account." said CPJ Africa Advocacy Coordinator Mohamed Keita. "Assaults on the press undermine the transparency of the vote and the public's confidence in the results. Journalists must be allowed to carry out their duties freely."
On January 27, two police officers beat Bâ during the violent dispersal of protests in the capital Dakar, media reports said. "They insulted me and hit me," Bâ told CPJ, adding that he had clearly identified himself as a journalist. The same day, two female reporters with Senegalese daily le Populaire were also assaulted by police, reports said. "[A police officer] kicked me and threw me to the ground whilst insulting me," Aminatou Ahane told Amnesty International. Ahane told CPJ that the officer also grabbed the hair of her fellow reporter Adama Aidara Kanté, slapped her in the face, and threw her to the ground.
Outside Dakar, three regional stations of the state-run public broadcaster RTS, which is perceived to be aligned with Wade's government, were attacked by unidentified assailants. Maguette Diop, head of the RTS bureau in Thiès, told CPJ that her station was attacked by "a group of youth on motorcycles" who threw stones and petrol canisters at the station with the apparent aim of burning it down. Rapid police intervention thwarted the attack, she said. However, RTS stations in the central towns of Kaolack and Fatick were ransacked by angry protesters, the state-run Agence de Presse Senegalaise reported.
At least one foreign journalist, French freelance photographer Romain Laurondeau, was also injured in demonstrations opposing Wade's candidacy. Laurondeau was hit on the arm as he took pictures of protesters on February 17. "A projectile coming from the side of the police had hit me. The pain and tear gas made me fall, unable to move," he told CPJ via email. A citizen journalist posted on Twitter a photo of Laurondeau lying on the ground holding his arm after he was hit.
That same day, Basile Niane, a leading Senegalese blogger, posted photos of reporter Sophie Barro, of private daily L'Observateur, being carried by two medical staff after she was injured while covering the protests. "I was hit by a big stone on my left ankle. I don't know where it came from as both the police and protesters were throwing stones," Barro told CPJ.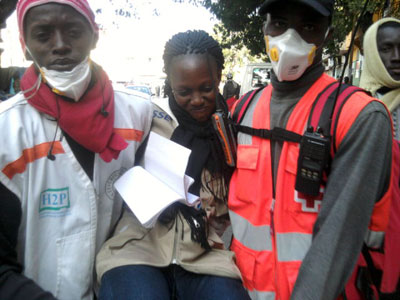 Even away from the protests, some journalists were threatened and harassed. On February 21, Mohamed Naby Sylla, correspondent for private station RFM in the northern city of Saint Louis, reported receiving a threatening phone call at about 1:05 a.m. local time from someone who identified himself as Masseck Ngom, a younger brother of Interior Minister Ousmane Ngom, over his reporting that the minister's family home had been ransacked during a protest.
"He threatened to burn my mother's house," Sylla told CPJ. He said he subsequently noticed he was being tailed by a 4×4 vehicle when he went out. "I did not sleep in my home and I immediately called my family not to allow anyone into the house," he said.
CPJ was unable to obtain contact details for Masseck Ngom. Asked about the alleged threats against Sylla, Information Ministry Spokesman Pape Atoumane Diaw told CPJ that the government had nothing to do with "partisan excesses of political parties," adding that the local press union had condemned the incident and that journalists were free to take the matter to court.
Meanwhile, an official of Wade's ruling Senegalese Democratic Party (PDS) in the southwestern province of Tambacounda filed a criminal defamation complaint against Assane Diallo, correspondent for the daily L'Office, over a February 20 article reporting that the official had been booed during a campaign rally, local news site Rewmi reported Saturday.
Bakary Konté, a correspondent of RFM in the southern town of Sédhiou, also reported being intimidated by PDS supporters, daily Le Quotidien reported. Konté told CPJ more than a dozen local journalists were under threat or pressure to report only positively about the PDS.
Bocar Dieng, a correspondent for private media group Walfadjiri in the central town of Fatick, said Sitor Ndour, a leader of a local pro-Wade group, assaulted him at his home on election day over a report on alleged ballot stuffing, the state-run Agence de Presse Senegalaise reported. "Sitor Ndour intimidated me for having reported the presence in Fatick of Haitian students who had come to vote in the city," the APS quoted Dieng as saying, adding that he was left with a swollen eye. Ndour denied attacking the journalist, according to the same source.
Diaw, the information ministry spokesman, told CPJ: "Isolated incidents are regrettable and condemnable," and said the government had convened workshops with the press and police before the elections. He referred further inquiries to other government offices, saying he was not qualified to speak on behalf of the government in matters of policy and justice.
Wade came to power as a democratic reformer, having been imprisoned during decades in the opposition. However, his rule has been characterized by intense media repression, including imprisonments, police intimidation, and judicial harassment of critical journalists, according to CPJ research. Powerful officials or security forces involved in intimidating the press have rarely faced justice, CPJ research has found.