In the year since peaceful protests began in Bahrain on February 14, 2011, the government has targeted the press corps with assault, detention, harassment, and torture to obstruct their coverage. My organization, the Gulf Centre for Human Rights, has documented a systematic campaign by authorities to silence coverage of our country's unrest. Here are just some of the many attacks on the press:
Bahraini newspapers are either guided or owned by the state except for Al-Wasat, whose staff members have come under severe attack because of the paper's independence. Karim Fakhrawi, a founder of Al-Wasat, paid the ultimate price. He died in police custody in April 2011, just three days after imprisoned blogger Zakariya al-Ashiri also died in custody. Authorities have barred independent investigations into the deaths despite the fact that both journalists were healthy before being imprisoned just days earlier.
On November 8, a court in Manama found four Al-Wasat journalists guilty of publishing false news in March 2011. The journalists–Editor-in-Chief Mansoor al-Jamri, Managing Editor Walid Noueihed, Local News Director Aqeel Mirza, and Senior Editor Ali al-Sherify–were fined 1,000 dinars (US$2,650) each. Al-Jamri's wife, journalist Reem Khalifa, has been targeted as well. On July 14, pro-government supporters assaulted Khalifa in a Manama hotel. I was there, and I have testified about the attack against her and how she faced her assailants with courage. But the politicized judiciary ignored her complaint and instead heard a complaint brought against her by government supporters who lodged allegations of defamation and assault. Authorities continue to pursue these false charges against Khalifa, who was the victim of the assault.
Police officers, by law, have a duty to protect citizens, but journalist Mazen Mahdi's rights have repeatedly been violated. Security forces have beaten, humiliated, handcuffed, and blindfolded Mahdi, a contributor to Deutsche Presse Agentur, because of his coverage of demonstrations. These attacks were carried out in police stations and in the presence of other officers.
Reuters cameraman Hamad Mohammed Iqbal was injured twice while reporting on peaceful protests. On September 8, he suffered a neck injury when security forces attacked a crowd of demonstrators. On December 15, he was hit with tear gas while covering a demonstration. Nazeeha Saeed, a correspondent for France 24, was kicked, punched, and slapped after being arrested on May 22. Accused of lying in her coverage, Saeed was freed only after she was forced to sign a confession that she was not allowed to read.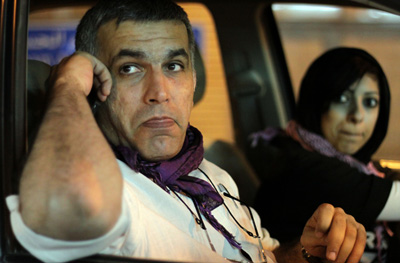 Bahraini authorities have extended their campaign of repression to include users of social media. Nabeel Rajab, head of the Bahrain Center for Human Rights, was interrogated twice last year on accusations that he used his Twitter account to "deliberately post sensational propaganda and false information likely to disrupt public order, spark fear among people, damage public interests, and defame authorities." Journalist Zainab al-Khawaja has used her Twitter account to encourage Bahraini citizens to demand human and civil rights. Her activities have made her a target for security forces: On December 15, she was arrested while attending a demonstration in Manama. Detained for five days, she was charged with attacking a police officer, participating in an illegal demonstration, and inciting subversion.
Two bloggers have faced even harsher treatment. In June, a court sentenced online journalist Abduljalil Alsingace to life in prison on a series of antistate charges related to his work. Alsingace, who suffers from several medical problems, waged a hunger strike last month to protest his treatment in prison. Blogger Ali Abdel Imam, who was forced into hiding, was tried in absentia and sentenced to 15 years in prison.
In their effort to impose an international media blackout, Bahraini authorities have obstructed and harassed foreign journalists as well. New York Times columnist Nicholas Kristof and his colleague, video journalist Adam Ellick, were tear gassed, roughed up, and detained while covering a protest in December. They are among a number of international journalists whose entry to the country has now been blocked by authorities.
Only one conclusion can be drawn: There is no protection for journalists in Bahrain, and no freedom to report the country's political unrest to Bahrainis and the rest of the world. But journalists are taking action: In July, exiled journalists established the London-based Bahrain Press Association, which is working to defend freedom of the press in Bahrain. It has much to do. Coordinator Adel Marzouk told me that more than 140 Bahraini journalists had been targeted with arrest or imprisonment, torture, or dismissal from work in the past year.