Protesters in Nigeria are not only angry at their government's New Year's Day decision to eliminate a fuel subsidy — they are also upset about news media coverage of the citizens' movement, dubbed "Occupy Nigeria," and have taken their protests to local media outlets.
According to news reports, on Thursday, protesters descended on the studios of at least two prominent broadcasters, the state-run national public broadcaster Nigerian Television Authority (NTA) and the private Africa Independent Television (AIT), to demand more balanced coverage. Protesters managed to enter NTA studios in the commercial capital of Lagos and persuade the journalists to record and broadcast live images of the protests, the reports said. Historically, the government has maintained close relationships to even the private broadcasters in Nigeria, leaving the print media with the most independent voice.
The actions followed expressions of anger over the press coverage on social media, particularly Twitter, where the hash tag #OccupyNigeria has become a global trend since January 3, according to Trendistic.
"NTA fools showing us how to swim when thr are better things to know!" read a tweet by @I_Am_Shattay. "Massive media campaign to promote subsidy removal, misleading, and further waste of money #occupynigeria #shameonGEJ" tweeted Louis Monye, blasting President Goodluck Jonathan. Jonathan opened a public Facebook page in 2010, and the transcript of a January 7 national address about the fuel subsidy posted there drew more than 15,000 comments of support and mostly opposition to the policy change.
Some suggested the media should take the side of the protesters. "It's only the truth that will set us free in dis country! The media sud cooperate wiv the masses and stop being biased!!!!" tweeted @topinpin.
Eventually, there were calls to action on twitter. "Its Time We #OccupyNTA … they Aint carrying the News…" said @Full_depth on January 5. Aliyu Bappa went further :"#OccupyNTA till they broadcast #occupynaija live to the #world." Aminu Tama called on protesters to "Occupy NTA anywhere in Nigeria, they must show the protest."
Opinions were mixed about coverage on independent Channels TV. Paid agent. […] Channels is working with govt to use media propaganda to confuse…" tweeted @ogbagogo. "Gd analysis 4rm sum of d contributors on #channelstv #OccupyNigeria," tweeted Louis Monye on January 11. "Amongst the many broadcast stations TVC stood out. Showin Live uninteruptd broadcast encouragd people who came out to support," tweeted @iykecedamaestro on January 9.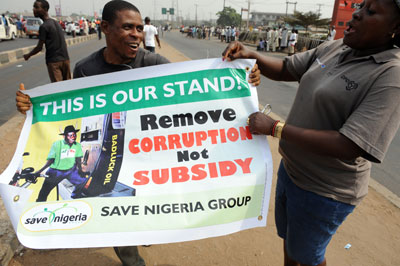 For @nature_gurl, "If you support subsidy removal, watch NTA; If you are against it, watch Channels TV; If you are confused, watch AIT," she tweeted on January 12.
International media also came under fire for what was perceived as too little coverage. "Know it's not a famine, but could we have some coverage please from the Western media," tweeted writer and author Aminata Forna on Thursday. "I think the lack of news on the whole #occupyNigeria movement is because western media thinks it's just about gas prices/oil subsidy," tweeted @mmmchocolatey.
For some, new media was the order of the day. "NTA is old media. SHUT THEM DOWN," tweeted @boycottPDP. "If traditional local media won't work for #OccupyNigeria, invade socialmedia without limits until the whole world hears," said Collins Olua. "Take pictures. Record videos. Share via twitter, facebook, youtube, etc. They'll encourage others to join us, and tell the world our story!" tweeted Gbenga Sesan.
In the race for relevancy, big players in the print media used Twitter to invite citizen reporters to contribute reporting. "As Labour strike begins… report protest in your area!" tweeted Vanguard newspaper on January 10.
"The beauty of social media is that I control d information I want people to hear. I won't let people listen to lies from govt," said @ekekeee. One professional journalist, however, tried to temper this romantic vision of citizen reporting with a word of advice. "Please use Social Media responsibly and only broadcast what you have confirmed," tweeted broadcast presenter Aderonke Adebanjo.