New York, September 30, 2011–The Committee to Protect Journalists is disheartened by the passage in Jordan's lower chamber of Parliament of a draft anti-corruption law which would allow heavy fines for publishing information on corruption, and calls on the upper chamber to reject the bill.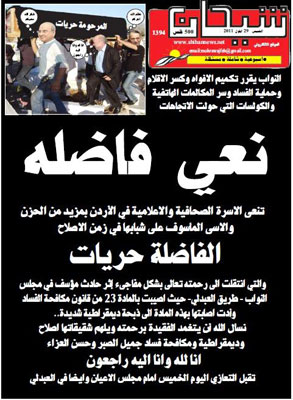 On September 27, the chamber of deputies passed the draft law, which would allow fines for public accusations of corruption "without solid facts" of between 30,000 and 60,000 Jordanian dinars (US$42,000 to US$84,600) — but failed to elaborate on what would constitute "solid facts," local and international news outlets reported. Article 23 of the draft law says the fines would be levied on "every person or party that publicly or explicitly attaches charges of corruption to others without solid facts with the purposes of extortion, slander or defamation and character assassination," according to news reports. The law was approved by a 56-40 vote. The bill will now go to the upper chamber for a vote before it is submitted to the king for endorsement. The upper chamber, facing pressure from several prominent Jordanian journalists, delayed its scheduled Thursday vote indefinitely, Agence France-Presse reported.
"If passed, the anti-corruption law would severely restrict the ability of journalists to expose corruption," said Mohamed Abdel Dayem, CPJ's Middle East and North Africa program coordinator. "Extortion, slander and defamation are already punishable under Jordanian law. This legislation is not designed to address those crimes; rather, it would shield government officials from public scrutiny."
Last month, Minister of State for Media Affairs Taher Adwan, a career journalist, resigned in protest of media restrictions, among them the proposed anti-corruption legislation, CPJ reported. On Wednesday, the board of the Jordanian Press Association threatened to resign en masse if the bill becomes law; they submitted provisional resignations to the syndicate's general assembly, the association's website reported. "The article seeks to silence journalists and deputies who want to fight corruption. It will protect the corrupt," independent former Member of Parliament Abdullah Nsur told Agence France-Presse.
In September, Jordan joined the Open Government Partnership, a global initiative aimed at promoting transparent governance. Jordan is due to submit an action plan to the partnership in March 2012.
"Amman cannot pledge a commitment to open government while simultaneously punishing reporting on corruption," Abdel Dayem said.
CPJ has documented several assaults on the press in Jordan since March, including attacks against news bureaus, threats against media staffers, assaults on journalists covering demonstrations, and the hacking of news websites. In April, CPJ said that government failure to take decisive legal measures against those who physically assault journalists in Jordan amounts to a tacit endorsement of such attacks.