CPJ and others who defend the rights of journalists are rightly alarmed when public officials and other powerful figures instigate baseless criminal prosecutions that can send journalists to prison and force them to pay heavy fines. A case pending in the Inter-American Court of Human Rights, Fontevecchia & D'Amico vs. Argentina, shows how abusive civil litigation can be just as bad for journalists as criminal prosecution. CPJ filed an amicus curiae brief in the case. A favorable decision by the court would be a step toward ending the use of meritless civil lawsuits to intimidate and harass the press.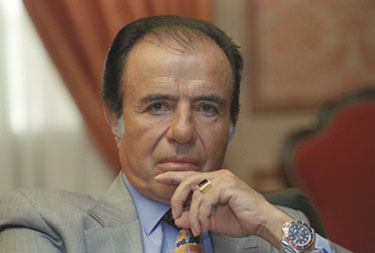 The court, which sits in San Jose, Costa Rica, received post-hearing filings in the case Wednesday. The court likely will issue a decision in early 2012.The case started in the Argentine courts in 1995, when then-President Carlos Saúl Menem sued journalists Jorge Fontevecchia and Hector D'Amico. Menem claimed his privacy was violated by two articles published in the respected news magazine Noticias, where Fontevecchia and D'Amico worked. The articles raised questions about whether Menem abused his office to benefit his ex-mistress (herself a congresswoman) and their son. Menem sought 1.5 million pesos in damages.
In 2001, the Argentine Supreme Court, which Menem had packed with a majority of his own choosing, awarded Menem 60,000 pesos (US$60,000 in 2001) in damages. Once attorneys' fees, court costs and interest were added, the amount came to almost 250,000 pesos. D'Amico's wages were garnished for 21 months to pay the award.
Now, Fontevecchia and D'Amico are asking the Inter-American Court to declare that the award violated their right to free expression under the American Convention on Human Rights. The convention is a treaty that most countries in Latin America have signed.
This month, CPJ filed its amicus brief to the Inter-American Court in the Fontevecchia case. Lawyers at Debevoise & Plimpton LLP wrote the brief for CPJ: Jeremy Feigelson, Natalie Reid, Carolina Henriquez-Schmitz, María Luisa Romero, Ivona Josipovic, Maria Lapetina, and me. In the brief, CPJ argues that there should never be liability for truthful reporting on a matter of public concern involving a public official, and that abusive civil litigation against journalists for what they report violates the right to free expression.
Abusive litigation is not about redressing real harm. The powerful use it to silence journalists who call them to account and to discourage other journalists from trying. Its hallmarks include:
A plaintiff who is a public official or a powerful public figure;
Claims based on the defendant's reporting on a matter of public concern;
Seeking damages far greater than any actual harm the plaintiff could have suffered;
Serial lawsuits against journalists or news organizations whose reporting displeases the plaintiff;
Suing in a court where the defendant cannot get a fair hearing, or where it is inconvenient for the defendant to appear.
Menem's lawsuit was abusive. The articles did not invade the president's privacy, but rather reported facts highly relevant to Menem's suitability for office. They reported that Menem had given his ex-mistress and son lavish gifts while he was earning a public official's salary, including expensive jewels, a US$20,000 monthly stipend, and a US$1 million trust fund. He also pulled strings to have Paraguay provide asylum to the congresswoman and child. Menem never disputed the articles' accuracy.
It was already widely known that the boy was Menem's son. The congresswoman had said so in televised interviews. A best-selling book by a prominent journalist had reported on the relationship. Menem later acknowledged that the boy is his son.
Menem's lawsuit was part of a campaign of litigation he waged against journalists while he was president. He brought multiple other lawsuits against the parent company of Noticias, helping to drive the company into bankruptcy.
CPJ's brief points to other examples of abusive litigation against journalists in the Americas and in countries such as Belarus, China, Kazakhstan, Liberia and Morocco. In Attacks on the Press in 2009, CPJ reported that in Brazil, public officials "often file multiple suits on a single matter and seek disproportionately high damages as a way of straining the financial resources of their critics." At one time, CPJ 2005 International Press Freedom Award winner Lúcio Flávio Pinto, a Brazilian journalist, faced 18 criminal and civil suits by powerful judges, politicians, and businessmen displeased by his coverage.
Ecuadoran President Rafael Correa initiates both criminal and civil actions against journalists who criticize him, including a $10 million civil defamation suit against two reporters who investigated allegations that companies belonging to Correa's brother had obtained $600 million in state contracts.
Abusive litigation keeps journalists from doing their jobs. Defending against legal charges, civil or criminal, disrupts one's life and work. Cases often drag on for years. There are mandatory court dates, seemingly endless meetings with lawyers, legal fees, and the threat of a potentially devastating damages award or sentence. Former Washington Post editor Ben Bradlee wrote in his memoir, A Good Life, "I'd rather be publicly whipped than sued for libel, and lose." When courts are biased, as in Menem's case, journalists often lose even though the charges lack merit.
The Inter-American Court has an opportunity to hold that abusive litigation to retaliate against journalists for their reporting violates the right to free expression. But a solution will require more than one court decision. A defendant should be able to seek early court intervention to halt an abusive suit before the defendant has suffered irreparable harm to his life and work while fighting it. If the national courts refuse to act, and a human rights body such as the Inter-American Commission on Human Rights has jurisdiction, the defendant should be able to seek precautionary measures. Many U.S. states, such as California and New York, allow for early dismissal of "strategic lawsuits against public participation," or SLAPPs, that are brought to intimidate journalists and others from exercising their right to free expression. Journalists facing abusive lawsuits elsewhere in the world should have a similar remedy.