It has been eight years since Yuri Shchekochikhin, deputy editor of the independent newspaper Novaya Gazeta, died a painful death from a disease that in a matter of days stripped him of his skin, caused his organs to fail one after the other, and led his body to shut down.
On Sunday, on the anniversary of Shchekochikhin's death, family, friends, and colleagues gathered at the journalist's dacha in Peredelkino, southwest of Moscow, to honor his legacy. The group of guests was decidedly mixed.
An FSB general, a documentary maker, an investigator with the prosecutor general's office, a former North Caucasus television correspondent, and a human rights defender all sat at the same table, sharing anecdotes about their friend and raising a glass in his memory.
"He had the rare talent to attract all kinds of people–they all gravitated toward him," Vyacheslav Izmailov, Novaya Gazeta's war correspondent, told me when I noted the assortment of guests. "His gatherings were such when he was alive, too. The people you see here together would not normally mix elsewhere. Yet, he was friends with every single one of them, and he cherished each friendship."
His keen curiosity, ability to cultivate diverse sources, writing talent, and courage made Shchekochikhin a brilliant investigative journalist, someone able to reveal stories that few others could. Those same characteristics, inevitably, led some to hold a grudge.
A new documentary film about Shchekochikhin directed by Yevgeniya Golovnya and screened in Peredelkino on Sunday, paints an intimate portrait of a journalist who pushed the boundaries from the first day he entered the profession. "He was a young man in a tattered shirt and worn-out jeans," a former colleague remembered in the film. "Yet he asked the most daring of questions. He had guts."
From the beginning of his career, Shchekochikhin tackled the most sensitive and dangerous of topics: the organized crime boom of the early 1990s; the corruption spreading to the highest echelons of power; the impunity caused by dishonest law enforcement; and the human rights violations committed in Chechnya and the North Caucasus.
"He didn't know peace," Aleksei Simonov, president of the Moscow-based Glasnost Defense Foundation, said of Shchekochikhin. "He believed that one person can change the world. And he kept digging into the wall. He was a good digger. But, nevertheless, the wall remained."
Before his death on July 3, 2003, Shchekochikhin was in the midst of a major investigation. He was examining an intricate corruption scheme revolving around a Moscow furniture company, Liga Mars, and its two stores, Grand and Tri Kita. He used his position as a member of the State Duma to gain access to sensitive documents and official sources to further his investigation. He had the inside track, the skills, and the courage to unearth the truth.
In the pages of Novaya Gazeta, Shchekochikhin accused the prosecutor general's office in 2002 of receiving US$2 million in bribes in exchange for halting an investigation into the corruption case, commonly known as Tri Kita (Three Whales). Despite receiving death threats after that coverage appeared, he continued to dig. More articles followed, seeking to connect the Tri Kita plot to international players in Germany, Italy, and the United States. Russian prosecutors, Shchekhochikhin charged, were deliberately ignoring evidence in the case and failing to cooperate with their international counterparts.
In the last related article he published–dated June 2, 2003–Shchekochikhin reported on the brazen assassination of a key Tri Kita witness in a heavily guarded Moscow military hospital, and he exposed graphic threats mailed to the presiding judge.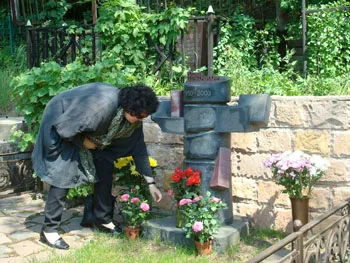 A month after that piece ran, Shchekochikhin was felled by a mysterious illness. Symptoms, doctors said, were consistent with the extremely rare Lyell's syndrome–an acute dermatological condition most often triggered by medication. Family, friends, and colleagues believe Shchekochikhin was poisoned to stop his reporting on Tri Kita. The official investigation into the Tri Kita case remains nominally open, but since Shchekochikhin's death no one has been following the affair closely.
After nearly five years of effort, Shchekochikin's family and his Novaya Gazeta colleagues persuaded authorities to open a criminal investigation into the editor's death. The probe was closed in a year's time; in their April 2009 decision, investigators said they could not find "facts that point to the forcible death of Shchekochikhin." Novaya Gazeta pledged to continue fighting for justice.
It is still fighting. In September 2010, the Investigative Committee of the Russian Federation–the agency tasked with solving grave crimes–announced it was reopening Shchekochikhin's case, citing the need to review undisclosed new evidence. Several months later, the case was closed without public notice. Now the case has been opened yet again, the family's lawyer, Pavel Zaitsev, told Shchekochikhin's friends in Peredelkino on Sunday. It is unclear what prompted the action, Zaitsev said; authorities have not given him access to the case file.
Friends are skeptical. Impunity in journalist murders–and Shchekochikhin, they firmly believe, was murdered–is deeply rooted in Russia. The recent convictions of two suspects in the January 2009 double murder of Novaya Gazeta reporter Anastasiya Baburova and human rights lawyer Stanislav Markelov are rare glimmers of hope that justice can prevail. But the Baburova case is only the second of 19 work-related journalist murders in Russia since 2000 in which the killers have been convicted. In all 19 cases, masterminds remain at large.
In Peredelkino this weekend, Shchekochikhin's family, colleagues, and friends recalled a man who inspired them with his idealism, love for life, intellect, and courage. But the question of what happened to Shchekochikhin hung heavily amid the memories, the laughter, and the toasts.
(Reporting from Peredelkino)