New York, April 12, 2011–Authorities in the kingdom of Swaziland should allow the news media to report freely on anti-government protests, the Committee to Protect Journalists said today after security forces harassed at least 10 local and international journalists covering a mass demonstration demanding political and economic reform after more than two decades of rule by King Mswati III.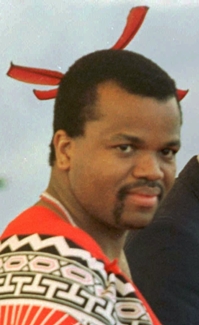 Police stopped reporter Niren Tolsi and photographer Lisa Skinner of the South African daily Mail & Guardian, confiscated their notebooks and Swazi contact books, and threatened to deport them if the journalists reported anything negative about the country or the king, Africa's last absolute monarch, Nic Dawes, the paper's editor-in-chief, told CPJ. Tolsi and Skinner were released but detained a second time when officers seized their photographs and footage, Dawes said.
Agence France-Presse (AFP) quoted Swazi police spokeswoman Wendy Hleta as saying that journalists were being detained only to check their accreditation. "Journalists were taken in to check for their accreditation," she said. "If they have the right papers they are released, if not they are helped to apply for one." However, Dawes told CPJ that at no point during the detention did police mention or request accreditation.
Jinty Jackson, a stringer with AFP, told CPJ she had gotten official accreditation from the Swazi government. But she said that did not stop plainclothes security agents from arresting her and her photographer, Stephane de Sakutin, as they witnessed riot police chasing protesters outside the offices of the Swaziland National Association of Teachers. The two journalists were taken to a police station where Jackson reported being slapped on the chest, AFP reported.
Several other international journalists, mostly from South Africa-based media outlets, were also detained.
Police detained André le Roux, Africa editor of media publishing group Media24, and ordered him not to take any photos of the protests, reported South African daily City Press. Also detained was assistant editor Reggy Moalusi of the private Daily Sun, according to the same source.
Police also arrested reporters Nastasya Tay and Tshepo Lesole of Radio 702 as they were reporting on the lead up to the demonstration, both journalists later told CPJ. Tay and Lesole were interrogated for two hours and forced to return to the capital Mbabane, Katy Katopodis, the network's editor-in-chief, told CPJ. The station also reported that a live phone interview between Radio 702 presenter Chris Gibbons and one of the demonstration's leaders, activist Mary da Silva, was abruptly interrupted when da Silva was taken away by security.
A freelance Dutch journalist, Rob Hartgers, reported on his Twitter account that he was detained twice today by police.
Security forces targeted local journalists as well.
Police detained Manqoba Nxumalo, a reporter with the leading independent Times of Swaziland and a columnist with the South African news site The Daily Maverick, for half an hour while interrogating him about his identity and place of residence, he later told CPJ. Another Times of Swaziland reporter, Linda Jele, was also briefly detained, Mbongeni Mbingo, the paper's managing editor told CPJ.
"We condemn these attempts to prevent coverage of political protests in Swaziland," said CPJ Africa Advocacy Coordinator Mohamed Keita. "The government should live up to its claim of respecting democracy by ceasing this crude censorship."
In a press conference on Monday, Police Commissioner Isaac Magagula warned the public, including journalists, not to attend the demonstration, which he called illegal, the leading independent paper Times of Swaziland reported. "In a scenario or circumstance where the security interests of the country are at stake, it does not benefit the wider citizenry to engage in a philosophical war of words and exhibit defiant dispositions," the paper quoted him as saying.
In response to today's demonstration, riot police, plainclothes security and paramilitary troops deployed in the commercial capital Manzini used tear gas and water cannons to disperse more than a thousand workers and detained scores of people, including trade union leaders, activists and journalists, according to news reports.