New York, April 12, 2011–Belarusian authorities must drop politicized libel and insult charges against Andrzej Poczobut, a Grodno-based correspondent for Poland's largest daily, Gazeta Wyborcza, and release him immediately, the Committee to Protect Journalists said today.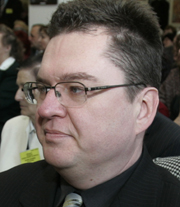 Prosecutors in Grodno opened a criminal investigation against Poczobut on March 28 and charged him with insulting President Aleksandr Lukashenko of Belarus through articles he published in Gazeta Wyborcza and the Belarusian news website Belarussky Partizan beginning in October 2010. On April 6, police in the western city of Grodno detained Poczobut as he was about to drive to the capital city of Minsk and handed him a document banning his travel. The officers then put Poczobut under three-day administrative arrest in relation to the insult charge, local press reported.
On Friday, authorities charged Poczobut with libeling Lukashenko through the media and extended his arrest by two months. He was transferred to a pretrial detention facility, local and international press reported.
It was the second time Poczobut had been jailed this year. In February, Poczobut was imprisoned for 15 days on charges of "participation in the unsanctioned protest rally" that followed the December 19 presidential elections. He faces up to six years in jail if convicted on both the insult and libel counts.
"Belarus must end this systematic persecution of Andrzej Poczobut," said Nina Ognianova, CPJ Europe and Central Asia program coordinator. "The authorities must drop the trumped-up defamation charges against him and release him at once."
The European Union condemned Poczobut's arrest and called on Belarusian authorities "to end at once the prosecution of independent journalists for slander or other politically-motivated charges," Reuters reported.
Before his latest arrest, Poczobut told CPJ that the insult charge against him stemmed from articles he had written in the run-up to the flawed presidential election and its aftermath. Poczobut told CPJ that he had criticized Lukashenko in his articles, but that he had not insulted him.
Observers with the Organization for Security and Co-operation in Europe criticized the Belarusian government for secretive vote-counting practices and suppression of news media during that period. CPJ documented the arrests of at least 20 journalists who had sought to cover the flawed election and the protests that erupted in its aftermath.
Belarusian authorities have sought to intimidate Poczobut in the past, CPJ research shows. Since the post-election crackdown on the independent press and opposition activists, Poczobut was imprisoned, had his apartment raided multiple times by police, was interrogated by the KGB in Grodno and Minsk, and had his reporting equipment confiscated. CPJ continues to advocate on his behalf.