I've been closely following the aftermath of Umar Cheema's abduction on September 4 and 5, thanks largely to regular updates from Cheema himself. He messaged Thursday with news of what has happened since I posted about him on September 16.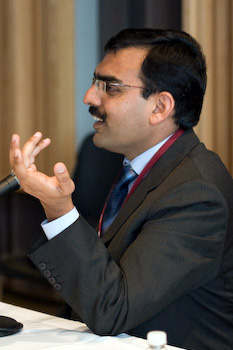 Cheema, right, says he's been getting a sympathetic ear from the American embassy in Islamabad, which has a good record of pushing for journalists' rights. Discussions between CPJ and parts of the State Department and Congress suggest that U.S. authorities are not going to let this matter slip into oblivion, as have so many other attacks on journalists.
This case merits a closer look by U.S. officials, due to America's close, albeit increasingly fractious, relationship with Pakistan. And Cheema deserves the support. He has not backed down from confronting the people he thinks are behind the attack on him.
On September 27, Cheema met with the Joint Investigation Team (JIT), one of two governmental bodies assigned to his case. At the meeting, he challenged police officers and powerful representatives from the Inter Service Intelligence Directorate (ISI), Pakistan's military intelligence arm, and the Intelligence Bureau (IB), Pakistan's main domestic intelligence and espionage agency.
I'll let Cheema take over from here:
"I explained at length why I suspect the involvement of ISI. My suspicions towards ISI are based on my information, experience, as well as history and perception of this spy agency, I told them.
They asked for tangible proof against this agency and sought access to the agents of my information. Regarding proof, I denied having any, except that I was always contacted by ISI, not by another agency, after the publication of stories [he wrote] relating to the army. I always refused [to reveal the identities of] the people who passed me trustworthy information that helped me forming my opinion about the attackers. The JIT's attitude was totally non-professional. There was no proper notes-taking, thus apparently no minutes of what was discussed."
This sort of confrontation takes guts, especially after the treatment that Cheema had received at the hands of his abductors. There's more. Addressing the ISI representative:
"I said his agency has the capacity and capability to locate the culprits even if they were from outside the agency. He was diplomatic in responding and said 'Yes, we are here to trace the culprits.' I gathered from the JIT discussion they're at least interested in exploring the option of ISI involvement.
Does that mean there will be more follow up? Not really, according to Cheema:
"The JIT has no specific timetable to conclude the case. They will stretch it as long as the issue remains in media."
And that's good enough reason for me to keep blogging about it.