New York, September 21, 2010–
The Committee to Protect Journalists is alarmed by Iran's continued persecution of independent journalists. Reporters Shiva Nazar Ahari and

Emadeddin Baghi

have each been sentenced to six years in prison, while authorities are said to be considering the death penalty for blogger Hossein Derakhshan, according to news reports.
On Saturday, Iranian authorities sentenced Nazar Ahari, a reporter for the Committee of Human Rights Reporters, to six years in prison and a fine equivalent to US$400 as an alternative punishment to 74 lashes, according to Reuters. She was convicted of moharebeh, or waging war against God, "propagation against the regime" and "actions against national security" for her supposed participation in two political gatherings in 2009. Nazar Ahari has said that she was covering the gatherings for the committee, according to the International Campaign for Human Rights in Iran. The semi-official ILNA news agency quoted her lawyer, Mohammad Sharif, as saying that he will appeal the verdict.
Nazar Ahari, 26, was jailed for four months shortly after the disputed June 2009 presidential election and released on bail. She was rearrested in December 2009 when she was on her way from Teheran to Qom to attend the funeral of an influential cleric, Ayatollah Hossein-Ali Montazeri.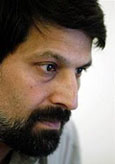 Veteran journalist Emadeddin Baghi was sentenced today to six years in prison on charges of "propagating against the regime," and "assembly and collusion for disrupting national security," reformist news website Jonbesh-e Rah-e Sabz reported. Baghi was detained in December 2009, after the BBC rebroadcast a two-year-old interview Baghi conducted with Grand Ayatollah Montazeri after Montazeri died.
"We condemn these convictions on fabricated charges of Shiva Nazar Ahari and Emadeddin Baghi and call for their immediate release," said Mohamed Abdel Dayem, CPJ's Middle East and North Africa Program Coordinator.
In a separate case, Farsi online news service Kamtarin reported on Sunday that Judge Abolqasem Salavati, presiding over branch 15 of the Revolutionary Court, is considering the death penalty for blogger Hossein Derakhshan. A number of other Iranian and international news outlets later reported the possible penalty.
Derakhshan is accused of "collaborating with hostile governments, creating propaganda against the Islamic regime and propaganda in favor of anti-revolutionary groups, blasphemy, and organizing and managing obscene and vulgar websites." Derakhshan appeared in court once in 2009, and retracted confessions he claimed he had made under duress. No additional information about Derakhshan's case has been made public since then. CPJ was unable to independently verify details on his case.
Derakhshan was arrested in November 2008 in connection with comments he allegedly made about a cleric. He spent more than nine months of his detention in solitary confinement at Tehran's Evin Prison. He began blogging in 2001, making him one of the first Farsi bloggers.
"Journalistic coverage of the opposition does not amount to heresy, managing websites, obscene or not, does not constitute collaboration, and the rebroadcast of a two-year-old interview by a third party certainly does not fall under the definition of 'propagating against the regime,'" said Abdel Dayem.
At least 37 journalists remain behind bars in Iran as of June 1, according to CPJ's last census of imprisoned journalists.