New York, April 9, 2010—Al-Shabaab insurgents in Somalia have banned all BBC broadcasts from the areas they control and confiscated the corporation's FM transmitters and satellite dishes. Local journalists told CPJ that Al-Shabaab issued a statement today announcing the immediate ban, claiming the BBC carried the "agenda of the crusaders" and "opposed an Islamic administration."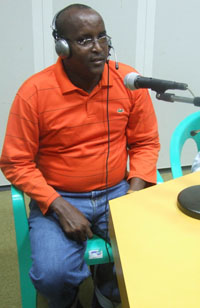 Al-Shabaab insurgents took down all of the BBC's broadcast equipment in five regions: Mogadishu, Beledweyn, Baidoa, and two locations in lower Shabelle, BBC reporter Mohamed Olad, right, said. According to Olad, who is also the chairman of the Somali Foreign Correspondents Association, the BBC had one of the largest audiences in Somalia and the ban will severely affect the public's access to information. Local radio stations operate under strict self-censorship because of intimidation by Al-Shabaab, local journalists told CPJ.
Private radio stations that relay BBC programs also stopped broadcasting the BBC immediately, the National Union of Somali Journalists reported. At a Wednesday press conference in the capital, Mogadishu, Information Minister Dahir Mohamud said that independent journalism was no longer possible due to intimidation and death threats made by insurgents against journalists, Shabelle Media Network reported.
"The insurgency movements have banned independent and foreign news coverage to curtail negative reporting," said CPJ Africa Program Coordinator Tom Rhodes. "Such measures are quickly diminishing the already small number of critical media outlets that remain in Somalia."
The BBC has been operating in Somalia for more than 50 years. The only other foreign broadcasters with a presence in the country are Al-Jazeera and a newly launched U.N. radio station, Radio Bar-Kulan.
Since December 2006, Somalia has been embroiled in a conflict primarily between the government and the Al-Shabaab insurgency. Al-Shabaab controls most of central and southern Somalia and parts of Mogadishu.
Four journalists were harassed and detained by Al-Shabaab insurgents in separate incidents across the country last month, the union reported.