Having suppressed independent journalism relatively completely in the country, the authoritarian Uzbek regime has now turned to other sectors of society it perceives as threatening to its ideology. State appointed so-called "experts" on undefined Uzbek national traditions are being dispatched on a witch hunt against independent-minded individuals, including a filmmaker and an anti-HIV/AIDS activist. This dangerous policy is in full swing at home but has been concealed from the world ever since Uzbekistan slammed its doors shut to the international community in the aftermath of the 2005 Andijan massacre.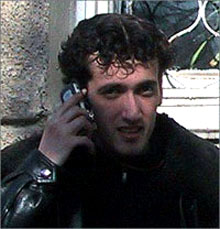 It is not then at all surprising that the world should learn about the January 2009 imprisonment of Maksim Popov, a 27-year-old Tashkent-based psychologist and HIV/AIDS prevention activist, 13 months after the fact.
As a head of the nongovernmental group Izis, Popov worked on educating risk groups on ways to prevent the spread of HIV/AIDS and STDs. According to the independent news Web sites Uznews and Ferghana, a Tashkent court convicted Popov on six fabricated criminal charges, including embezzlement and concealment of funds, tax evasion, incitement to drugs use, corrupting minors, and provoking antisocial conduct. He was held for five months before the court slammed him with a seven-year jail term in June 2009.
The heavy sentence stems from Popov's distribution of an HIV/AIDS prevention brochure titled "The Healthy Way of Life: a Manual for Teachers of the 21st Century." The brochure was published in Kazakhstan in 2003. Popov and his colleagues distributed 200 copies of it in 2006-2007 as part of Izis projects aimed at educating the public about the spread of the disease as well as dispelling the myth of the harmlessness of recreational drugs. Izis was implementing those projects with support from UNICEF, UNDP, and the Washington-based Population Service International.
But Uzbek "experts" on national traditions found the brochure offensive. According to the court verdict, obtained by CPJ, "from 2006 to 2007, with the goal of conducting sexual abuse against people under 16 years of age, [Popov] deliberately distributed these brochures, which contain texts that tell minors about sexual activities, carry propaganda of homosexuality and prostitution, as well as pornographic images."
Further, the state-appointed experts declared:
"The brochure is extremely harmful and its goal is to discredit our educational system. [Its] entire content focuses on the idea that such phenomena as prostitution, homosexuality, and sexually transmitted diseases are widespread among contemporary youth. Such a claim carries extremely defamatory character in regards to contemporary youth, including our own. … The brochure does not contain any information on spirituality, morality, and the cultural and national traditions of our country. Moreover, it demonstrates a blatant disregard to national customs and the traditions of the Orient. … The brochure implies that schoolchildren engage in sexual activity and talks about contraceptives. … [It] should be banned from distribution."
In a definitive move, the Tashkent court ordered the 10 copies of the brochure confiscated from Popov incinerated, Ferghana reported.
The embezzlement and concealment of funds charges against Popov stem from the grant money his organization received from international donors; Popov denied both charges. In court, the prosecution produced no evidence about any of the indictments and had no plaintiff present. It is unclear who filed the charges against Popov.
The recent case of photojournalist and filmmaker Umida Akhmedova—who was convicted of defaming national traditions through her photographs—and now that of Maksim Popov are alarming indicators of Uzbekistan's disregard for basic human rights and freedom. The arbitrary use of vague national traditions as a weapon of mass repression against independent-minded individuals is illegal, even by Uzbek standards. The country's criminal code contains no such provision.
Thanks to an intense international outcry, including advocacy by CPJ, Akhmedova's criminal prosecution ended in her amnesty last month. Such an outcry is now badly needed to ensure Popov's release.