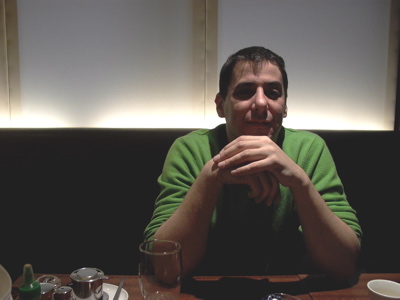 A polite man in a suit gave investigative reporter Jake Adelstein the message from a leader of one of Japan's organized crime groups when he was first working on the story back in 2005: "Erase it, or be erased." Adelstein backed off, but he didn't stop researching Tadamasa Goto, a thuggish leader of the Japanese mafia, or yakuza. The second time, there was no message. In 2008, it was Adelstein's sources who informed him his relentless inquiries had crossed a line. Don't go home, they told him—Adelstein is originally from Missouri—America would not be far enough.
"There were two smart things I did," he says over lunch on a rainy afternoon in Tokyo. The first was to ask a mob boss for comment. "You have to understand your enemy," Adelstein tells me. Hinting to a rival faction that he planned to expose Goto mobilized underworld as well as law enforcement interest in his survival. And the second? "I wrote the piece."
Before a story's printed there is more incentive to prevent it, he says. Erase or be erased became "publish or perish," as he put it in Tokyo Vice, a riveting firsthand account of his work on the Japanese police beat published in October 2009. Tired—a chronic insomniac now, he confesses—but affable, Adelstein appears relaxed about his present security. Looking back, however, he is quick to admit, "It could have gone very wrong."
The piece itself was dynamite: Yakuza leader Tadamasa Goto jumping the queue at UCLA medical center for a liver transplant, his 2001 entry to the U.S. granted at the behest of the FBI for the promise of intelligence on a yakuza operation laundering money through American banks and casinos. The Japanese media wouldn't run it; in fact, they ran a mile.
"We publish this, and not only will we have to deal with Goto's lawyers, we'll have to spend a fortune on beefing up corporate security. Retaliation will be certain," one senior editor at a publishing house told Adelstein. Foreign correspondents thought he was crazy. Eventually, after meticulous fact-checking, the story was published in May 2008 by The Washington Post, with a follow-up by Los Angeles Times that included details of a $100,000 donation to the Westwood hospital where Goto and three of his affiliates received treatment.
With still only tepid coverage of the news in the Japanese-language press, Adelstein and a Japanese friend wrote it up as a chapter in an anthology of "taboo" news stories of 2008, published in August that year. His colleague Tomohiko Suzuki began receiving threats as well. Adelstein hired a bodyguard. But by October, he says, Goto had been expelled from the organization. Given the mob leader's loss of influence, and subsequent reinvention as a Buddhist priest, Adelstein says he believes the price on his head has plummeted in value. Currently splitting his time between his wife and two kids in Washington, and Tokyo, he is considering moving back to his adopted country full time.
After 22 years in Japan, Adelstein is uniquely situated to understand the risks for local journalists. Studying at Tokyo's Sophia University in the early 1990s, he set himself the unusual task of becoming the first U.S. citizen to pass the recruitment test for the prestigious Yomiuri Shinbun newspaper. Hired as a staff writer in 1993, he found his way to the crime division and built up a network of police, yakuza and media contacts. During our meeting, he frequently references hard-hitting yakuza journalist Mizoguchi Atsushi, whose son was stabbed in 2006 following a series of his father's unpopular investigative reports. (Two men were tried and convicted in the case but refused to reveal the mastermind behind the nonfatal attack, according to reports on Mizoguchi's Web site.) Mizoguchi's own warning from a mob source came in the guise of reassurance when he most feared for his life, Adelstein tells me. This was the gist of it: Don't start worrying for at least the next five years—we won't even try to kill you until then.
Indirect threats, vulnerable sources and family members, and inadequate support from law enforcement in the form of programs like witness protection, are all factors that make the yakuza danger intangible and hard to combat. Adelstein identifies the yakuza's preferred form of retaliation, which, he says, is usually a disappearance or apparent suicide. He tells me of his survival strategy: "You make it clear you won't kill yourself."
In Tokyo Vice, Adelstein's source tells him the story of Japanese director Juzo Itami, whose 1992 film Minbo no onna satirized organized crime. Itami was apparently planning a new movie about Goto's yakuza faction and its relationship with the religious group Soka Gakkai.
"Goto wasn't happy about that," Adelstein's source told him. "A gang of five of his people grabbed Itami and made him jump off a rooftop at gunpoint. That's how he committed suicide."
Journalists themselves, moreover, don't always rush to defend investigative colleagues. Adelstein paints two distinct portraits of the Japanese reporter, with the archetypes at war in the newsroom: Troublemakers covering current affairs are working directly at odds with practitioners of what he likes to call "pronouncement" journalism, those who make their careers on the political beat citing press releases and official leaks.
Yakuza business operations often affect political and economic interests, the latter's bread and butter, says Adelstein—whose reporting revealed that a talent agency with the power to grant ratings-grabbing media interviews with some of the country's top celebrities was run by organized crime.
Tokyo Vice has yet to find a local publisher, although in the age of the Internet, there is always the option to release a translation without one. Adelstein promotes the book via his personal Twitter account, and it got online coverage in Japanese, including on a Web site called Tokyo Outlaws, one of a handful of upcoming media outlets he considers a powerful outlet for non-mainstream reporting.
Adelstein also uses online articles, including on his own bilingual Web site, Japanese Subculture Research Center, to draw attention to colleagues under threat. It is just a part of what he does to advocate on behalf of others—when not reporting, consulting or working on his next book, he is public relations director of the D.C.-based Polaris Project Japan, which fights human trafficking. "If something's wrong," he tells me, simply, "you say something."
(Reporting from Tokyo)