"When people want to live, destiny must surely respond. Darknesss will disappear, chains will certainly break!"
Journalist Taoufik Ben Brik, 49, spurred admiration among his relatives and lawyers at a Tunis appeals court on Saturday when he chanted these two verses by Abou El Kacem Chebbi, Tunisia's most well-known poet. This unexpected recitation of Chebbi's verses, which galvanized resistance to French occupation and autocratic rule after the country's independence in 1956, followed the persecuted journalist's first remarks in court about his ordeal since his incarceration on October 29. It was the first time he had been allowed to speak at his own hearing.
"Ben Brik is not in good health. But his morale during the hearing was great, and he brilliantly shed light on the political dimension of the case filed against him and how the police fabricated it solely because of his criticism of President Zine El Abidine Ben Ali," his lawyer, Radhia Naraoui, told CPJ. "He also reminded the court that it was not the first time a politically motivated case had been imposed on him."
Many believe that without the overwhelming wave of protests against Ben Brik's imprisonment in different parts of the world, particularly in France where he is a well-known contributor to French newspapers, he would not have been allowed to speak his mind. He would not have been allowed to tell the appeals court how police forced him to take off his clothes amid insults and reminders of the heavy price that will be paid when a journalist criticizes the country's ruler. Ben Ali's reelection for a fifth term in October with nearly 90 percent of the votes led to a ruthless war on critical journalists, blogger, human rights defenders, and students.
Last week, the European Parliament held an unprecedented public debate in Strasbourg on the human rights situation in Tunisia, prompted mainly by rising attacks on press freedom—particularly the imprisonment of Ben Brik and Zouhair Makhlouf, a contributor to news Web site AssabilOnline and the opposition weekly Al-Mawkif. The latter was sentenced in October to three months in prison for "harming and disturbing others through the public communication network." But paradoxically, he remains in prison even though his jail term expired on January 18.
Earlier this month, CPJ condemned court decisions opposing Makhlouf's release and sentencing another journalist, Fahem Boukadous of the satellite television Al-Hiwar Al-Tunisi, to a four-year jail term for covering labor protests against corruption and unemployment in the south of the country in 2008.
Nasraoui, one of nearly 50 lawyers who volunteered to defend Ben Brik and repeatedly denounced the six-month jail sentence handed to him on November 26—allegedly for assault on a woman—said she was not surprised the judge refused to free the critical journalist, despite his frail health. The court postponed its ruling until January 30.
"I didn't understand why each time Ben Brik mentioned Ben Ali's name, the judge would start shaking and interrupt him," Nasraoui asked rhetorically. "Isn't he representing the judiciary, which is supposed to be independent from the executive branch?" Nasraoui, who worked as a journalist before becoming a human rights lawyer more than three decades ago, wondered why she could visit prisoners of all kinds—including those sentenced to death for armed rebellion in the southern city of Gafsa in 1980 under former President Habib Bourguiba—yet be prevented from visiting Ben Brik, "whose only weapon is his pen."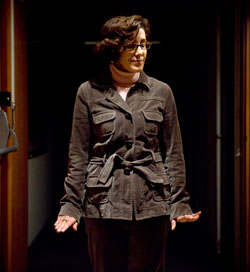 Other lawyers and relatives of Ben Brik have often been prevented by prison guards from seeing him, even though they had permits from judicial authorities. His wife, Azza Zarrad, and brothers and sisters recently went on hunger strike to protest police and prison guard harassment.
Just before his detention, Ben Brik posted a fictitious interview in which he poked fun at Ben Ali on the Web site of the French weekly Le Nouvel Observateur. That along with other critical interviews prompted the fabrication of the case against him and led to his punishment, he firmly believes. CPJ International Press Freedom Award Winner Naziha Rejiba and Nasraoui were among the leading civil society advocates interviewed by Ben Brik.
When Ben Brik asked Nasraoui what was the most unforgivable thing Ben Ali had done since he came to power in a bloodless coup in 1987, Nasraoui, who heads the banned Association Against Torture in Tunisia, told him that it was "the use of torture as a tool to rule Tunisia" that angered her the most.
Nasraoui and other brave human rights lawyers, like Mohamed Abbou, Abderraouf Ayadi, and Ayachi Hammami, also involved in defending Ben Brik, say that the hostility to critical journalists and lawyers and the vengeful determination to settle scores with them are unheard of in the country's recent history. None has the slightest idea about what will happen at Ben Brik's next hearing or Makhlouf's on February 3.