Sri Lanka's Department of Elections today declared incumbent Mahinda Rajapaksa the winner of the presidential election with almost 58 percent of the vote. The situation is still tense as his opponent, former Gen. Sarath Fonseka, threatens a lawsuit to challenge the entire process, from voter access to irregularities in computer counting, to name just two aspects. Fonseka remains sequestered in the Cinnamon Lakeside Hotel in Colombo, where he and his political allies gathered as the results were tallied. Some Sri Lankan media say Fonseka is claiming there is a plot to assassinate him. Soon after he announced the results of the voting, Elections Commissioner Dayananda Dissanayake said he wanted to resign. He told reporters he is no longer able to bear the pressure imposed by various parties.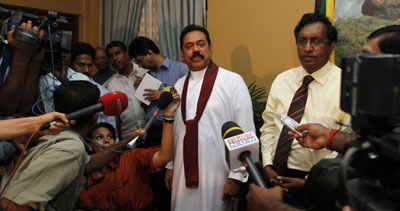 Among media professionals, there is plenty of tension. During the campaign, news media pretty much took sides in supporting either Rajapaksa or Fonseka. There was little middle ground in the coverage. Rajapaksa's opponents note that state-controlled media were blatantly and illegally pressed into the incumbent's political service.
We've documented one apparent attack on a journalist during the campaign, along with some online censorship. A pro-Fonseka journalist, Prageeth Eknelygoda, a political reporter for the Sri Lankan news Web site Lanka eNews, remains missing after disappearing on January 24. "I fear he has been abducted," one Sri Lankan journalist wrote me the day after Eknelygoda went missing. On Tuesday, we reported that several Web sites were shut down, apparently on orders of the government, while the voting was under way.
I stayed up late communicating with Sri Lankan journalists and other sources, most of them texting on phones, and monitoring Twitter. Here is a typical quote from a journalist whose judgment I have grown to trust over the years. (I'm not going to identify sources because of the ongoing threat to journalists.) "It is widely believed the margin of victory is too large, and rigging of the computer tally is suspected. Bitterly fought election, so reprisals expected even with those in media."
That is an issue on the minds of many journalists with whom I've been communicating today. Will Sri Lanka's long suffering media face a storm of retribution now that the election has passed?
It doesn't have to be that way, although the indicators are mixed: Sri Lanka ended its decades of warfare with Tamil secessionists last year, although many Tamils continue to suffer in its aftermath. It has just voted in an administration, although there is a possible legal challenge. The country is caught in a severe economic slump, in part tied to the war and in part tied to the global economic crisis. Diplomatic and trade pressure to reverse the repressive trends of the past five years is mounting; the European Union has put on hold a decision to extend a preferential trade and tariff agreement (called GSP+) that Sri Lanka needs to keep its clothing export industry thriving. In the United States, the Obama administration appears to be taking a new approach to countries like Sri Lanka, looking for leverage and influence but taking a less confrontational line. Before the stock market closed in Colombo on Tuesday afternoon, Sri Lanka stocks rose slightly; analysts said it was because of a "positive sentiment" among investors.
One, worrisome trend was the participation during the campaign of ranking military officers in TV political shows. They were there not because a colleague was running for the presidency, but because the military has become politicized to a degree not seen before in Sri Lanka, a 61-year-old developing country that has never had a military coup.
The partisanship shown in the media during the campaign is nothing new to the country; partisan journalism is part of the country's decades-old media culture, as much a product of its colonial heritage as its public schools and parliamentary form of government.
Certainly the Rajapaksa government can learn to live within this culture. Violence against journalists, which spiked during the Rajapaksa administration's all-out push to defeat the Tamil secessionists, can be reined in. The government can start to reverse the history of impunity in attacks on journalists, a record we documented in our 2009 report "Failure to Investigate."
No one I've spoken with knows what will come next. Most, though not all, are fearful. Some have gone into hiding. At best, journalists outside the pro-government media are taking an anxious, wait-and-see attitude,