We are all stuck in the middle of nowhere. Millions in Iraq and millions outside it face an ambiguous future. Hundreds of thousands of Iraqis fled Iraq under Saddam's regime, which lasted for almost 40 years, but since the led-American invasion in 2003 that number has exceeded 4 million, according to United Nations estimates.
Most of the Iraqis, including me, didn't expect to see Iraq torn to pieces as has happened these six years. Our own people have no identity, whether inside Iraq or outside it.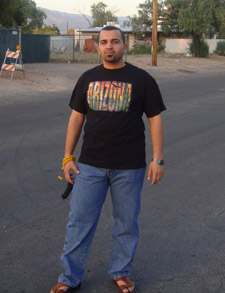 My country is cursed, and it seems predetermined for our people to live with a chain of endless sufferings. Iraq is a perplexing country. It has everything you could want. It has one of the oldest civilizations on earth with two rivers that connect all parts of the country and flow like the veins in a body. It has every reason to expect an affluent life—from agriculture to industry to precious commodities like oil and mercury—and yet the majority of its people live in misery and poverty.
I was thinking that by coming to America and by giving something to my parents to compensate them for what they've already missed in their lives, I would be able start a new chapter that had no connection to my distressed past, but it seems I was wrong. It's harder than I ever expected. Life has not been different.
The Iraqi refugees here in America are facing many problems, which has forced some to return to the places they came from. Some returned to Iraq to face the risk of death, and some returned to neighboring countries, like Syria and Jordan. Many had already fled to these places in the last six years to face bad treatment and an unstable life.
The American government is helping some Iraqis—those who worked for American armed forces and other American organizations—to resettle in the States, but there aren't any actual specifics about what happens once we get here. When refugees arrive, they are handed over to refugee organizations, and then begins the hardship.
There are a few organizations here in Tucson, but they are responsible for hundreds of refugees—mainly from Iraq, Somalia, and Bhutan. The first problem is that those organizations are not governmental and there is no governmental supervision of them. Another problem is that hundreds of refugees are sponsored by very few employees.
I was enduring the situation when I was by myself, but now with my parents and my younger brother with me it has become unbearable. I'm the one who is taking care of everything: I have to work in a restaurant with a wage lower that the one I received in Iraq as a journalist. It either covers our household expenses…or not. The financial aid we get from the government and the non-governmental relief organization the International Rescue Committee is not enough to pay the rent.
My parents now think they are a burden to me since they know I'm responsible for most of their expenses now, including rent, bills, and daily purchases. My father is thinking about going back to Iraq to work so he can send us money to help with my mother and brother's needs. It really hurts me to see my dad thinking like this; he spent most of his life working hard for us and I was thinking that by bringing him here I can give him the time to think about himself. I can't help after all, and I don't want to be apart from either of my parents now, not for any reason.
Many Iraqis I know talk about how Americans also suffer from unemployment. We sometimes lament our bad luck for coming to the States at this time. We even make jokes about us being a bad omen for this country.
There are too many stories to tell about the Iraqi refugees in America. Stories of old people, young people, and families. All came to the States looking for a better future but still can't believe how hard life is for them here. I have known many Iraqi friends in different cities of America and most of them find it hard or impossible to be part of this country, or at least imagine that they will be American citizens in five years.
I have to say that I haven't seen or heard any Iraqi complaints about cultural differences or any other issue related to our traditions or religion We all find that this country is truly the "land of freedom" in all its meanings. The American people are also very nice and polite and none of the Iraqis I know have ever complained about bad treatment.
The adjustment for old people and those who don't speak English is harder than it is for me. With this country's current high rate of unemployment, it is nearly impossible to find a job, especially for those Iraqis with no English or elevated qualifications. The irony of the whole thing is that a lot of the Iraqi refugees here in the States are working or wanting to work as security guards for a country that was unable over the last past six years to provide security to their own country!
As for me, with a bachelor's degree, at a good age, and having served the U.S Army in Iraq in addition to working with The New York Times as a local reporter, I could barely find a job in a seafood restaurant. My sacrifice helping the U.S. Army and media organizations has not paid off financially here, but it has helped help me establish good relationships and to receive occasional words of commendation.
We are not sure whom to blame or whom to hold responsible for the whole thing. Is it the American government? It seems to be morally obliged to resettle Iraqis in America. Is it the refugee organizations? They have limited aid and support to offer the refugees. Or should we blame Iraq—the wealthy country that has left its refugees scattered in other countries living like orphans?
Mudhafar al-Husseini worked at The New York Times in Baghdad for two years, reporting news stories and writing blog entries as well as acting as a fixer and translator for other reporters. Before that, from 2004 to 2006, he was a translator for the U.S. Army in Iraq. He graduated from Baghdad University in 2007 with a degree in English literature. Now living in the United States, he is updating us on this new chapter in his life.
Read al-Husseini's previous entry here. To read all his "Finding Refuge" entries, click here.