New York, September 4, 2009–The Committee to Protect Journalists is relieved about the release of six prominent Gambian journalists on Thursday after President Yahya Jammeh pardoned them.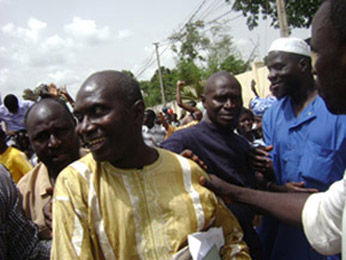 The six journalists–Gambian Press Union Vice President Sarata Jabbi-Dibba, Secretary-General Emil Touray, and Treasurer Pa Modou Faal; Pap Saine and Ebou Sawaneh, publisher and editor of The Point newspaper; and Sam Sarr, at right, editor of Foroyaa newspaper–were convicted on August 6 on six counts of criminal defamation and seditious publication. They were sentenced to two years in jail and heavy fines. The papers had published a June 11 press union statement that criticized Jammeh for his remarks about the unsolved 2004 murder of former veteran journalist Deyda Hydara.
On Friday, however, Agence France-Presse quoted Jammeh as saying that the media should "desist from being seditious and remember they are accountable."
One journalist remains missing in the Gambia since he was detained by a Gambian National Intelligence Agency officer in July 2006. Former Daily Observer reporter Ebrima Manneh has not been heard from since despite repeated calls to the government to disclose his whereabouts.
"We are extremely relieved by the release of our six colleagues," said CPJ's Africa Program Coordinator Tom Rhodes. "Now it is time for President Jammeh to assist in identifying the whereabouts of former Daily Observer reporter Ebrima Manneh."
The release of the prisoners from Jeshwang and Mile Two prisons was announced on state television at 8 p.m, the press union told CPJ. The state broadcaster Gambia Radio and Television Service read a presidential statement saying they had been pardoned.
Touray, the secretary-general of the press union and a Foroyaa reporter, said after his release that the union will "engage the Gambia Government and security institutions with a view to ensuring media law reforms, improved media/security relations and to improve the status and welfare of journalists."