Most of the Iraqi refugees who recently arrived in America were shocked by the economic situation here. I was prepared. I knew about the difficulties of finding a job in America, and I knew I could count on assistance from the American government through my status as a journalist with The New York Times. Even so, it was surprising to find how hard life could be here.
In Iraq, I worked in almost everything: restaurants, factories, construction, and grocery stores, and, most recently after the invasion, as an interpreter and journalist using my skills in the English language. I never had to fill out a single application for any of those jobs. Nor did I have to pay taxes to the government; Iraq does not have an income tax.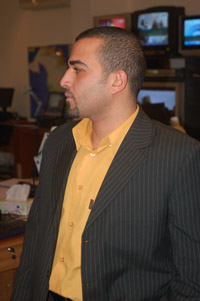 I also had to get accustomed to the American system of finding a job by filling out applications and sharpening my resume to compete with the hordes of job seekers. It was easier for me to search for jobs online. In Iraq, they still use the old ways of hiring through acquaintances or advertisements. Job ads still appear in newspapers or on TV but not on the Web.
I learned there was a downside to applying for jobs online. Day after day, I would browse the job sites, e-mail an application and a resume, and wait for a reply. I did this over and over with every possible position, but didn't get any responses. One day, that changed. A woman called me in response to an application saying that she worked for a communications network or a company that sells telecommunication equipment. She said she wanted to meet me at a Starbucks to discuss a position. "Starbucks?" I thought to myself. "Why not in the company office? Maybe it's the style here in America."
I immediately called my "American dad," Lew Serviss, and happily told him that somebody was interested in my resume and might offer me a job, but that I needed a ride to the appointment. He heard my intense interest but warned of swindlers who cheat people who are looking for jobs. He said he had found information on the Web indicating the woman's organization was shady, but I was so excited to have an interview that I wasn't really listening. I was trying to focus on the meeting.
The encounter turned out just as Lew had warned me. The nice young woman met me at Starbucks, but was distracted by the people waiting for me outside—Lew and two Iraqi friends. She was really confused and asked about them. There was another guy standing behind our table who apparently was with her, watching; he left after couple of minutes. Nothing was mentioned about the position or the job itself. I finished the meeting as quickly as possible because I felt really dumb. I never applied for a job online after that.
I was starting to get frustrated about my new life in America because four months had gone by and I was still without a job. Just then, I received a call from the job developer at the International Rescue Committee, the resettlement agency that was sponsoring me. He told me that there was a new Red Lobster opening soon in Tuscon and that I should go there to apply for a job. All I knew about this restaurant was that its specialty was seafood. There aren't really any similar restaurants in Iraq except in one province in the south located on the sea.
I set my car's GPS for the address and headed out with some other refugees who were also looking for jobs. The drive took 30 minutes, and I was already getting disappointed about the possibility of not getting a job at this place.
As I stepped into the restaurant, I was astonished by the huge number of applicants who were there. Dozens of people; some were waiting in the parking lot, some were filling the seats inside, and many other were in the line for applications. It was just like afflicted people right after a disaster.
I began to believe that I had no chance with all those people around because I was just a refugee.
I was wrong.
I was the last person approved for a job that day. I went through two interviews and a test and I did well—not because of my previous experience working in restaurants, but because of what I had learned from working in Iraq, surviving the war and the occupation there. The tough circumstances of Iraq had taught me a lot, and I'm grateful for it. The manager who accepted my application and hired me was impressed with my quick response to his answers. "I gotta give you a job today," he said as he was nodding his head and reading through the lines of my application about my previous jobs.
I have found a job and I'm working now. But there is an endless chain of worries—American concerns far different from the ones I had in Iraq. My parents and younger brother are going to be joining me as refugees. It seems that I need another new Red Lobster to earn a living for my coming family.
Mudhafar al-Husseini worked at The New York Times in Baghdad for two years, reporting news stories and writing blog entries as well as acting as a fixer and translator for other reporters. Before that, from 2004 to 2006, he was a translator for the U.S. Army in Iraq. He graduated from Baghdad University in 2007 with a degree in English literature. Now living in the United States, he is updating us on this new chapter in his life.
Read al-Husseini's previous entry here. To read all his "Finding Refuge" entries, click here.