Last night, about 300 people gathered at San Francisco's Academy of Art University for a vigil for U.S. television journalists Euna Lee and Laura Ling. Today marks the 100th day of captivity in North Korea for the women, who were arrested in March by North Korean guards while filming a story about refugees for the California-based broadcaster Current TV. Earlier this month, the two reporters were sentenced by North Korea's highest court to 12 years hard labor after a closed-door trial.
The vigil was filled with emotion, song, and prayers. There were also personal anecdotes about Ling and Lee from friends and coworkers, people just barely getting their minds wrapped around the idea of what has happened to these young women. Local politicians ensured that they would keep pressure on Washington to secure the reporters' release.
Human rights and press freedom groups also pledged their support. I reiterated CPJ's call that the reporters be allowed regular contact with the outside world and be guaranteed transparent legal proceedings. As a journalist who has reported abroad in dangerous places, there is no way to downplay the risks these women assumed when they left San Francisco and headed to the porous China-North Korea border. But like other reporters who head to repressive parts of the world, Lee and Ling were driven by an intrepid spirit and the desire to give people a voice.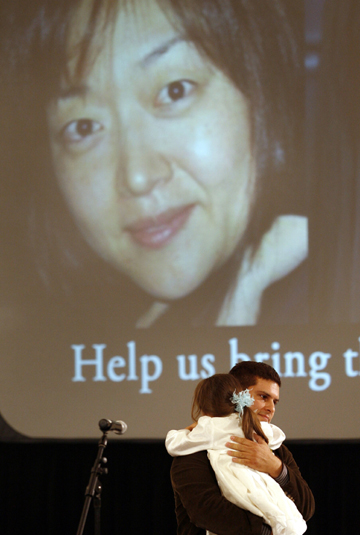 Speaking to the San Francisco audience, Michael Saldate, Lee's husband, held their 4-year-old daughter and talked about a brief phone call with Lee last Sunday. During the call, Saldate said that Lee, 36, sounded worried, but she gathered herself to record a message for her young daughter: Mom would be home soon. Saldate said that hearing Lee's anxiety was "one of the hardest things I've ever heard in my life."
Iain Clayton, Ling's husband, said that his 32-year-old wife sounded scared, but added that he could tell that she was "trying her hardest to be strong for us." Friday will mark the couple's fifth wedding anniversary.
Clayton also pleaded with the North Korean government to "show compassion" and release the women, who are charged with hostile acts and illegally crossing the border between China and North Korea.
During the brief phone calls earlier this week, Lee and Ling told their husbands that they are currently being held separately in a medical facility. Lee, petite and slender, has reportedly lost some 15 pounds since her arrest, while Ling suffers from an ulcer.
Last night's vigil was just one slice of the grassroots campaign to keep the case of these two journalists alive. U.S. Senators Dianne Feinstein and Barbara Boxer have joined other senators to call on the White House to send envoys to North Korea to negotiate freedom for the reporters. Organizing efforts on behalf of Lee and Ling can also be found on a Facebook page, "Detained In North Korea: Journalist Laura Ling and Euna Lee, please help."
Monica Campbell is a freelance journalist and CPJ consultant.