On a cold winter evening–Jan. 29, 2004–I was getting ready to start my first night shift as an interpreter for the U.S. Army in Baghdad. It wasn't really that cold, but my whole body was chilled. It was around 6 p.m. but already dark. I was an 18-year-old freshman in the College of Arts studying my favorite language through the English literature program at Baghdad University.
I dressed well. I put on new clothes I bought specially for this night and, as I finished my prayers, I found my mother and younger brother standing by me. I tried to talk about routine subjects, but my mom and I knew at that moment that we had something different inside to say. As I finished dressing and was about to go out with the usual goodbye, I heard my mom say: "Son. Wait a minute." She approached with hazy eyes that increased my worries. "You are going to experience a new job, son. It's completely different from those you had before. I'm not going to be there to watch over you. It's going to be God and your conscience only this time. Go, and may God be with you." Those words found a deep echo inside me. I would never forget them.
I was thrown to life earlier than most. I started to work in construction when I was 12. I worked in restaurants and factories for several years after that. Mainly, I was working and studying at the same time. I never had objections. I was happy working and happy studying, but never happy with my life under Saddam's regime. It was really tough; the Iraqi people suffered in poverty and Saddam and his followers lived in prosperity.
Unlike most Iraqis, I loved English since my childhood because it was the only window to the other world. I created my own world in dreams–a world I had heard of from others, including my father. I was eager to see it myself and here I am in America for the first time out of my home country. My dream began to come real when I witnessed the U.S. invasion of Iraq. There are no more chains and there will be no obligatory military service from now on, I told myself. One of my worst nightmares under Saddam's regime was the compulsory service.
I tried to start a new chapter after the U.S. invasion in 2003. By the time I started working as an interpreter for the Army in 2004, I was 18. Things didn't go as smoothly as I had wished. The Americans couldn't understand the nature of the Iraqi people, and the Iraqi people didn't know how to take advantage of the American presence in Iraq to serve their country. Mistakes followed mistakes.
I was stuck in the middle. I tried to help both at the same time. I was trying to help the Americans who occupied my country (whether I liked it or not), and trying to help my people deal with the occupier.
One night as I patrolled with the Americans somewhere near my neighborhood in Baghdad, I came across an old friend from intermediate school. I never covered my face with a mask, as some of the interpreters did, because I believe in death as I believe in God. It's something you can't change when it comes. It's a divine secret. As I walked along with the Americans in the street, I could hear him say to his friends: "I know this traitor. We used to be in the same class."
I turned around and moved toward him. I can't deny that I was really upset, but I quietly told him, "Go do something useful for yourself, your family, or even your neighborhood instead of loitering." I kept moving with the rest of the soldiers, but the American officer in charge of the patrol could understand what it was all about through my facial expressions. I told him with a sober smile, "It's just another day in my life."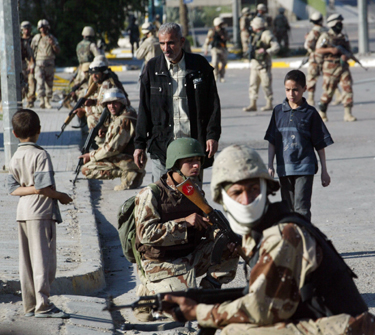 I spent a very tough year and a half patrolling Haifa Street, in central Baghdad. A little more than two miles long, Haifa Street, one of the oldest parts of Baghdad, was a mix of Sunni and Shiite neighborhoods. Among the Americans, it was known as Purple Heart Boulevard.
I used to work at night because I was attending school in the morning, but sometimes I would be called for long missions of two continuous days or more. On one of those extended missions, under the hot sun of June 2005–temperatures sometimes reached 125 degrees Fahrenheit–we were doing a foot patrol on Haifa Street. You could hear only the sound of our footsteps. Suddenly, two boys no older than 15 appeared in a narrow alley. I knew that we were in danger; I could see it in the kids' eyes.
Two minutes later, a bomb hidden in the trash exploded and dozens of hand grenades went off. We took cover with several wounded soldiers. I had a few pieces of shrapnel in my leg and arm. As usual, the insurgents vanished as if they were engulfed by the ground. Many people were detained, and it was difficult to know who was innocent and who was an insurgent.
One of many hard things I faced in that job was how to keep my night life secret and how to be normal during my days in college or at home. One day during my second year of college, after I'd completed a night shift at an American checkpoint, I couldn't make it to class because I was exhausted. A few days later, my best friend in college, Hassan, asked me about my job with a wicked smile. A female student had seen me at the checkpoint and told him what I was doing.
I told Hassan the truth. I told him why I was keeping the job a secret. I felt embarrassed at the beginning, but I believed that I wasn't doing anything wrong and that I shouldn't feel guilty for working with the Americans. I worked as an interpreter for two and a half years. It was sad, because I lost some Iraqi and American colleagues. It was scary, because I escaped death dozens of times. But it was useful, because it taught me many things.
I hope Americans understand that freedom is very valuable and life is precious. In my country, dozens of people are killed everyday for no reason, or they are killed because all what they want is a normal life. That is the life of the Iraqis.
Mudhafar al-Husseini worked at The New York Times in Baghdad for two years, reporting news stories and writing blog entries as well as acting as a fixer and translator for other reporters. Before that, from 2004 to 2006, he was a translator for the U.S. Army in Iraq. He graduated from Baghdad University in 2007 with a degree in English literature. Now living in the United States, he is updating us on this new chapter in his life.
Read al-Husseini's previous entry here. To read all his "Finding Refuge" entries, click here.