March 18, 19, and 20 will mark the sixth anniversary of the detention of 75 peaceful journalists and librarians, as well as human rights activists, convicted weeks later to up to 28 years in jail during summary trials. Fifty-four of these innocent people, who demanded a democratic society and respect for human rights, remain imprisoned under inhumane conditions; 20 of them are journalists.
The government's crackdown was aimed at creating a climate of panic among the population and was an attempt to put an end to a growing environment of dissatisfaction stimulated in great part by the work of independent journalists gathered largely in the Manuel Márquez Sterling Journalism Society and the Varela Project. Cuba took advantage of the war in Iraq, estimating that the international public opinion would be focused on this event. It was a grave mistake. There was ample condemnation from foreign governments, parliaments, public figures, and non-governmental organizations, especially those that defend journalists and human rights. Even sectors of the international left and old friends of the Cuban regime protested the brutal repression.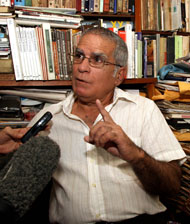 During the three days, the political police embarked on massive operations with support from local members of neighborhood watches, undertaking searches throughout the country that lasted on average eight hours. They arrived at my small apartment at 4 p.m. on the 19th and began a meticulous search, even though I had always kept my articles and books in the public realm. They took everything they wanted, including books that had been edited in Cuba, a copy of the Universal Declaration of Human Rights, a fax machine that had been bought at a state-run store, a laptop given to me by a journalist, pencils, paper, and all of our savings.
At around 3 a.m., I was driven to the State Security headquarters, known as Villa Marista. I was locked up in a tiny walled-in cell with three prisoners accused of drug trafficking. There was only an iron grill hanging from the wall by metal chains, like a basket, and no mattress. Two people could not walk simultaneously in the space between baskets. In a corner, there was a hole for our physical necessities and a water duct, but we had to call out to the guard every time we needed water. The light was kept on 24 hours a day, and it was impossible to see outside. I was only given soap, and in order to clean my mouth, I had to ask for a toothbrush that was to be returned immediately after each use. A guard would shave me nastily whenever I received a visit.
I was taken through a narrow hallway into a small and intensely cold room to be interrogated. Though it wasn't a daily occurrence, it could happen several times in one day and usually at dawn. My interrogators expected me to admit to their accusations–that I had acted under orders of the United States–which were absolutely bogus since I have always been critical of the absurd U.S. policy of isolation and the embargo of Cuba.
On April 2, I was handed a new uniform to substitute the one I wore, torn, and early on the 3rd, I was handcuffed and driven in a patrol car to the National Police Headquarters. I asked where I was being taken but wasn't given an answer. When we finally arrived at the Ministry of Transportation I didn't know why I was there. It turned out the courtroom was housed in that building, and only then did I understand that I was to be summarily tried. I met my defense lawyer there, and was able to talk to her for five minutes. She said she had been handed the bundle that was my case file the day before. I was judged alongside five other well-known dissidents. The sham went on from 9:30 a.m. to 3 a.m. the next day–with three small intervals. The prosecutor was very aggressive, and several distinguished dissidents were uncovered as infiltrated agents. In all, 12 undercover agents appeared in the different trials. I was given a 20-year prison sentence.
The following day, I was taken from Villa Marista to a cell in the State Security Prison inside the Carlos J. Finlay Military Hospital because my family insisted that my health had greatly deteriorated, which it had. I suffered from multiple ailments while in prison, including kidney disease, hypertension, and stomach bleeding. After a few days, I was put on a bus with a group of several other political prisoners. We began a long journey east as the bus distributed us to different prisons along the way. I was dropped off at the last stop: the Provincial Guantánamo Prison, more than 560 miles (900 kilometers) from my home in Havana.
I was assigned a cell, which I shared with about 36 common prisoners. There I was only allowed a few belongings. I slept on the floor for several days, after which some of the prisoners made space for me on a berth. They were also the ones who provided me with a spoon and a plate. During my time in prison, I received support and respect from common prisoners, but was not allowed to see other political prisoners until the last weeks before my release.
Life in the Guantánamo prison was horrible. Potable water was usually contaminated with mud and larvae. We had to wait for water to come on at certain times during the day in order to fill the tanks. The food was terrible. The prison lacked all hygienic conditions. Clouds of flies and mosquitoes swarmed the place, and we could often see rats.
After a while, I had to be moved to a cell at the Guantánamo Provincial Hospital, and later, I was transferred to the ancient Ambrosio Grillo in El Cobre, Santiago de Cuba. I was warned that if I refused to submit to medical tests, I would be confined to a punishment cell in Boniatito, the harshest section of the National Boniato Prison. I refused to do the tests–I had suffered anaphylactic shock during a previous one, and I had no faith in the hygiene of the prison hospital. In spite of my progressive deterioration, they upheld their threat: I was taken to a place where prisoners with death sentences are kept. But as my health continued to splinter, they were forced to move me back to the hospital. Days later, I had a crisis that put into motion an emergency transfer to Havana in a plane.
In August 2003, I was admitted into the Carlos J. Finlay Hospital and placed into a walled-in cell with several common prisoners. The light was kept on 24 hours a day and guards held on to my belongings. The cells were more spacious, and the food and medical assistance were better than at the sinister places where I had been before. Although I was allowed weekly visits, only after a month or so was my family notified–on the day prior to their visit–that they could come; I was told as the guards opened the gates. Unlike other prisoners, I was banned from watching television. I was prohibited from receiving mail, telephone calls, publications related to my profession, or other kinds of information up until the end of my stay in that place.
After a year, I was told that I would be transferred because a strong hurricane was expected, but that I should leave all my possessions since I would be back soon. I arrived at the hospital in the maximum security prison, known as Combinado del Este, in Havana. I met fellow political prisoners and the regimen was more suitable to our heath conditions.
On November 29, 2004, I was awakened at dawn and told that I should prepare myself for yet another transfer. I was put in a car and taken to another building within the prison perimeter. There, I met my wife alongside several prison officials and a doctor, who talked to me about my health. I sat down, expecting that I would be there for a while, when an official handed me a small piece of paper with my photograph stating, "Medical parole for the time considered necessary or until the prisoner recovers his health." The decision was prompted by requests from my family, and in particular my wife, Miriam Leiva, whose tireless fight was a decisive factor, along with the calls from governments, public figures, and international human rights and press freedom organizations.
On February 2, 2006, I was summoned by Judge Sandra Méndez, who warned me about the possibility of my return to prison, as I am under permanent surveillance from the neighborhood's political factions (the Communist Party, Committees for the Defense of the Revolution, etc.), which are responsible for periodically informing authorities about my social attitude. Depending on what they tell authorities, she said, my medical parole could be revoked. The judge handed me a list of restrictions. For instance, I have to ask for permission 72 hours before I want to leave the city. I was accompanied to the court by diplomats from the embassies of the European Union, the Netherlands, Austria, and Canada, who were all forced to remain outside. I will never forget the support I received from these governments.
In spite of the threats, I have kept up my peaceful efforts to reach national reconciliation, democracy, and respect for human rights in Cuba, and to secure the immediate and unconditional release of the 54 prisoners of conscience who, among the 75 arrested in 2003, remain incarcerated, as well as the release of all peaceful political prisoners. Today more than ever, as a prolonged 20-year crisis is deepening and the international economic situation is unbearably affecting Cubans, and as the government has failed to bring forth changes to the dysfunctional economic, social, and political system that has destroyed Cuba, these efforts are essential.
Oscar Espinosa Chepe, 68, is a Cuban economist who, as part of an elite group of advisors to Fidel Castro in the 1960s, helped craft Cuba's economic cooperation agreement with Eastern Europe. Influenced by glasnost and perestroika in the 1980s, Espinosa Chepe began touting more liberal economic polices, such as loosening limits on land or business ownership. Consequently, he was steadily demoted as Castro rejected such reforms until he decided to quit his job as clerk in a small bank near his home to work as an independent journalist writing for international media outlets. Since his release from prison in November 2004, he has continued contributing to mainstream foreign news outlets such as The Miami Herald and Spain's El País. He lives in Havana with his wife, independent journalist Miriam Leiva.
———————————————————————————————————–
La Primavera Negra del 2003
Por Oscar Espinosa Chepe
Los días 18, 19 y 20 de marzo se cumple el VI Aniversario de la detención de 75 pacíficos periodistas y bibliotecarios independientes, así como activistas de derechos humanos, condenados semanas después en juicios sumarios hasta a 28 años de cárcel. 54 de esas inocentes personas que reclamaban una sociedad democrática y respeto a los derechos humanos permanecen aún en condiciones infrahumanas de prisión; 20 son periodistas.
El gobierno pretendió con esa acción crear un ambiente de pánico entre la población y detener el creciente clima contestatario, estimulado en gran medida por el periodismo independiente agrupado fundamentalmente en la Sociedad de Periodismo Manuel Márquez Sterling, y el Proyecto Varela. Aprovechó el inicio de la Guerra en Iraq, calculando que la opinión pública internacional estaría concentrada en ese suceso. Grave error, pues inmediatamente se produjo una amplia condena, de gobiernos, parlamentos, personalidades y organizaciones no gubernamentales, en especial de periodistas y de defensores de los derechos humanos. Hasta sectores de la izquierda internacional y antiguos amigos del régimen protestaron por la brutal represión desatada.
Esos días se lanzaron grandes operativos de la policía política con el apoyo de sus agentes en los barrios y efectuaron registros durante unas 8 horas como promedio en todo el país. A mi pequeño apartamento llegaron el día 19 a las cuatro de la tarde e iniciaron una minuciosa búsqueda, aunque mis artículos y libros siempre habían estado a la luz pública. Se llevaron todo lo que desearon, incluyendo libros editados en Cuba, la Declaración Universal de los Derechos Humanos, un equipo de fax comprado en una tienda del Estado, una laptop obsequiada por un periodista, lápices, papel y los ahorros acumulados junto a mi esposa durante muchos años de trabajo.
Hacia las 3 de la madrugada fui conducido al Cuartel General de la Seguridad del Estado, conocido como Villa Marista. En una diminuta celda tapiada me encerraron con tres reos acusados de tráfico de drogas. En una plancha de metal suspendida de la pared por cadenas, como camastro, no tuve colchón durante muchas horas. Por el espacio entre camastros no podíamos movernos simultáneamente dos personas. En una esquina había un orificio para hacer las necesidades fisiológicas y un conducto para el agua, pero teníamos que gritar al guardián para que el líquido comenzara a caer. La luz permanecía encendida las 24 horas y era imposible ver hacia afuera. Sólo podía tener el jabón, por lo que debía pedir el cepillo de dientes para lavarlos, e inmediatamente después de usarlo, devolverlo. Cuando tenía visita, un guardia de forma brusca, me afeitaba.
Me llevaban a los interrogatorios por un estrecho pasillo a un cuarto pequeño con un intenso frio. Se repetían varias veces al día, preferentemente de madrugada, aunque no todos los días. Los interrogadores pretendían que yo admitiera sus acusaciones, fundamentalmente que había estado a las órdenes de Estados Unidos, absolutamente falsas, pues he sido crítico de la absurda política norteamericana de aislamiento y embargo comercial a Cuba.
El 2 de abril me entregaron un uniforme nuevo para sustituir el que usaba roto, y la madrugada del día 3 me condujeron esposado al carro patrulla 1090 de la Policía Nacional. Pregunté hacia donde me llevaban y respondieron que no sabían. Llegamos al edificio del Ministerio de Transportes y no entendía que hacia allí. Resultó que allí radica una Sala del Tribunal. Sólo entonces supe que efectuarían el juicio sumario. Allí conocí a la abogada defensora, con quien pude hablar unos 5 minutos. Me dijo que el día anterior había recibido el legajo de la acusación. Fui juzgado junto a 5 opositores conocidos. La farsa se extendió desde las 9:30 de la mañana hasta las 3:00 de la madrugada, con tres pequeños intervalos. La fiscal fue muy agresiva y destaparon varios agentes infiltrados como disidentes destacados. En total fueron 12 los agentes presentados en los diferentes juicios. Me condenaron a 20 años.
Días después, de Villa Marista fui conducido a una celda en la prisión de la Seguridad del Estado en el Hospital Militar Carlos J. Finlay, pues mi familia insistió en el gran deterioro de mi salud. Sufrí de varias enfermedades durante mi tiempo en la cárcel. Éstas incluyeron enfermedades en los riñones, hipertensión y hemorragias estomacales. Pasados unos días, me montaron en un ómnibus, junto a un numeroso grupo de compañeros de causa. Se inició un prolongado viaje hacia el este, distribuyéndonos en las cárceles por el camino. Llegué a la última parada en la Prisión provincial de Guantánamo, a más de 900 kilómetros de mi hogar en La Habana.
Me asignaron a una celda, llamada Destacamento, junto a unos 36 presos comunes. No pude llevar prácticamente ninguna pertenencia. Allí dormí varios días en el suelo, pero al cabo algunos reos me propiciaron un espacio en una litera. Ellos también me facilitaron cuchara y plato. Durante el tiempo que permanecí en distintas prisiones, recibí apoyo y respeto de los presos comunes, pero no me permitieron estar con presos políticos hasta las últimas semanas antes de mi liberación.
Las condiciones de vida en la cárcel de Guantánamo son terribles. El agua potable usualmente está contaminada con fango y larvas. Hay que esperar a que la pongan a ciertas horas del día para llenar los depósitos. La comida es pésima. Se carece de condiciones higiénicas en general. Pululan las nubes de moscas, mosquitos y pueden verse ratas.
Al poco tiempo, tuvieron que llevarme a una celda en el Hospital Provincial de Guantánamo, y al cabo de algunas semanas me trasladaron al vetusto Hospital Ambrosio Grillo en El Cobre, Santiago de Cuba. Me advirtieron que si rechazaba las pruebas médicas que querían imponerme, sería confinado en una celda de castigo en Boniatico, la más severa sección del Reclusorio Nacional de Boniato. A pesar de mi progresivo deterioro, cumplieron su amenaza. Me rehusé a someterme a las pruebas ya que en otra ocasión había sufrido de un shock anafiláctico y no confiaba en las condiciones higiénicas del hospital. En Boniatico están confinados los condenados a muerte o cadena perpetua. Pero como mi salud continuó resquebrajándose, debieron devolverme al hospital. A los pocos días tuve una crisis, que motivó el traslado urgente por avión a La Habana.
En agosto de 2003 me ingresaron en el Hospital Carlos J. Finlay, en una celda tapiada, compartida con varios presos comunes. El régimen era similar al de Villa Marista, pues es una de sus dependencias: luz encendida las 24 horas y pertenencias con el guardia. Las celdas eran más espaciosas, y la alimentación y la asistencia médica mejores que en los tenebrosos lugares anteriores. No obstante que las visitas correspondían semanalmente, mi familia era avisada el día antes, al cabo de un mes o más, y yo me enteraba cuando abrían la reja. A diferencia de los demás presos, no podía ver la televisión. No me permitieron correspondencia, llamadas telefónicas ni publicaciones relacionadas con mi profesión u otras informaciones hasta casi el final de mi estancia en ese lugar.
Pasado un año, me dijeron que sería trasladado porque se esperaba un intenso huracán, y que dejara mis pertenencias porque regresaría pronto. Llegué al hospital de la prisión de máxima seguridad, conocida como Combinado del Este en La Habana. Resultó que la estancia era permanente. Allí encontré a varios compañeros de mi causa y existía un régimen más acorde con los enfermos.
El 29 de noviembre de 2004 me despertaron de madrugada y dijeron que me preparara para ser trasladado a otro lugar. Me montaron en un auto y llevaron a otro edificio dentro del perímetro de la prisión. Allí se encontraba mi esposa, varios oficiales y un médico, quien informó sobre mi salud. Me senté, pensado que estaríamos allí un rato, pero un oficial jefe me entregó un pequeño papel con mi foto que dice: "Licencia Extrapenal por el término que se concidere necesario, hasta que recobre su salud." (con error de ortografía). Esta decisión fue impulsada por las demandas de mi familia, muy en especial de mi esposa Miriam Leiva, quien con su incansable batallar fue un factor decisivo, así como el reclamo de gobiernos, personalidades y organizaciones internacionales de periodistas y derechos humanos.
El 2 de febrero de 2006 fui citado por La Dra. Sandra Méndez, Juez de Ejecución y Presidenta del Tribunal Municipal de Playa, quien me advirtió sobre el posible regreso a prisión, pues estoy bajo la vigilancia permanente de los "factores políticos" del barrio (Partido Comunista, Comités de Defensa de la Revolución, etc.) responsabilizados con informar periódicamente sobre mi actitud social y, según lo que comuniquen, podría ser revocada la licencia extrapenal. Me entregó una lista de restricciones, como que tengo que pedir permiso 72 horas antes de pretender salir de la ciudad. A esta citación concurrieron para solidarizarse conmigo diplomáticos de las embajadas de la Unión Europea, Holanda, Austria, Canadá, que debieron permanecer afuera. Actitud de esos gobiernos, que jamás olvidaré.
A pesar de esas amenazas, continúo los esfuerzos pacíficos por alcanzar la reconciliación nacional, la democracia y el respeto a los derechos humanos en Cuba, así como la liberación inmediata e incondicional de los 54 prisioneros de conciencia de los 75 aún en las cárceles y los demás prisioneros políticos pacíficos. Mucho más ahora, cuando la prolongada crisis de más de 20 años se profundiza y la situación económica internacional afecta insoportablemente a los cubanos, sin que el gobierno lleve a cabo cambios en el disfuncional sistema económico, social y político que ha destruido Cuba.
Oscar Espinosa Chepe, de 68 años, es un economista cubano que pertenecía a un grupo de elite de consejeros de Fidel Castro en los años '60 y ayudó a desarrollar la cooperación económica con Europa Oriental. Influenciado por el glasnost y la perestroika de los años '80, Espinosa Chepe comenzó a promocionar políticas económicas más libres, como suavizar los límites de la propiedad de tierras o negocios. Consecuentemente, fue relegado a ritmo constante mientras Castro rechazaba sus reformas, hasta que abandonó su puesto como empleado en un pequeño banco cerca a su casa para trabajar como periodista independiente escribiendo para medios extranjeros. Desde su liberación en noviembre de 2004, Espinosa Chepe ha seguido contribuyendo a medios extranjeros como The Miami Herald o El País. Vive en La Habana con su esposa, la periodista independiente Miriam Leiva.