"The government has barred independent journalists from travelling to the war zone"–the description of the Sri Lankan conflict has been among the most often-repeated for almost two years. News outlets want the latest pictures of the war in Sri Lanka and its civilian refugees. But displaced civilians who do manage to leave the war zone are held in government-managed camps to which there is no media access.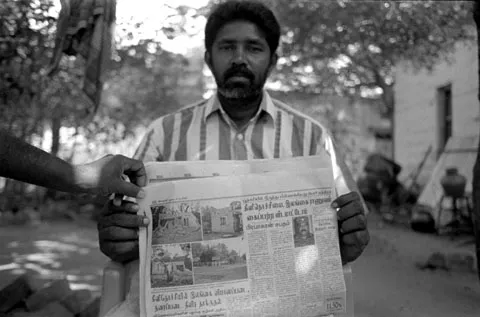 All you need to do is go back in time…find refugees from previous rounds of fighting. They are forgotten and easily visited. Just out of sight. People from Trincomalee, just down the coast from the current ongoing carnage and suffering, fled the renewal of the armed conflict in 2006. They have been living in tin shacks on the beach in what aid agencies call a "tsunami hazard zone" ever since.
The man in this picture is from Jaffna in Sri Lanka, one of the earliest theaters in the civil war; the Liberation Tigers of Tamil Eelam have been fighting for an independent Tamil state since 1983. He's been living in a camp deep in the countryside in the state of Tamil Nadu, India, for the past 17 years. He's married, and his children have grown up in the camp. There are perhaps 100,000 people from Sri Lanka in India who fled the war living in small camps that now resemble any South Indian village. They don't have the right to leave the province, and must be back home before nightfall. Those who work do so mostly as day laborers, infrequently. Journalists aren't allowed to visit these camps. It took the help of a local development NGO to introduce me to some people, all very friendly and willing to talk about their lives, their problems, and their hopes to return home and live normally.
When I met this man in November, he had a newspaper with him, one of the local Tamil-language papers. Because of the cultural and linguistic links, there is solidarity between Indian and Sri Lankan Tamils. People in India have been protesting to end the suffering and fighting. As the battle raged for the capture of Kilinochchi, the rebel capital, last month, independent media wasn't allowed near the front lines. Very few images made it out, some via the Tamil side. He is holding up a page with pictures of destroyed buildings in Kilinochchi.
Ruthless, effective control of the media has meant that one of Asia's longest-running wars has run its course out of sight of all but the soldiers, the unreachable civilians in the crossfire, and the dead.
Sacha Guney is a freelance Canadian journalist who has recently travelled in India and Sri Lanka.