With the death on Monday of Guinean President Lansana Conté, uncertainty hangs over what–or who–is to follow. Yet, as recently as last week, coverage of the poor health of the reclusive autocrat, who ruled this mineral-rich but poor West African nation since 1984, proved risky for the Guinean independent media.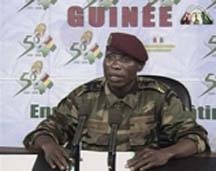 Ask Souleymane Diallo, a veteran journalist and press leader in Guinea, who was summoned to the office of a presidential guard officer on December 17 to discuss his weekly La Lance's decision to publish a front-page photograph showing a weak, haggard Conté. "We wanted to bring, at a minimum, some clarity about [Conté's] health because for a week we have been receiving phone calls every night telling us President Conté is dead," Diallo told CPJ earlier this week. Instead, the presidential guard told Diallo the photo was "shocking," he said.

Guinean journalists like Diallo were harassed for attempting to pierce the secrecy surrounding the late president's deteriorating health, which fueled constant rumors. Speculations abounded in October 2006, for instance, when Conté failed for the first time to appear on national television for his annual Independence Day address. State-controlled daily Horoya published written remarks instead, but journalists Ibrahima Sory Dieng and Alhassane Souare were suspended–officially for what was termed a "serious mistake"–after failing to run a photo of Conté with the story. More recently, in May, Conté's government suspended the weekly La Croisade for two months and banned its editor, Fadjimba Sayon Keita, for the same period over a story discussing the health of the former first lady.
On Tuesday, as the army seized control of the capital, Conakry, about 15 tanks surrounded the main studios of the national, public broadcaster Radio Télévision Guinéenne, said one reporter who spoke on condition of anonimity. Soldiers invaded the studios and took over programming. Several journalists said the state TV channel is now running only music and the official statements of the coup's leaders. The military has often seized control of the network's programming to address the population during political crises, as it did in February 2007.
Independent Guinean journalists I have spoken with said the situation was calm, but confusing. With no commercial activity and people staying at home, most radio stations in Conakry and the eastern town of Kankan were playing music, broadcasting official statements by the military, or re-broadcasting foreign news reports about the situation, the journalists said. Private newspapers, which have been significantly crippled by high printing costs and low readership, could not be sold yesterday, according to editor Ismaël Kabinè Camara.
With the traditional media virtually paralyzed, Guinea's electronic media, including a handful of news Web sites based outside of the country such as Africaguinee and GuineeConakryInfo, has emerged as the leading source of regular updates from reporters on the ground. As the only source of news to escape media censorship and repression during Conté's reign, this vanguard of online media may ironically own the coverage of these first days after his death.